Summer Institute Curriculum
The iUTAH Summer Institute brings together secondary education teachers and high school and undergraduate students to conduct research in the three iUTAH study watersheds.
The Model Earth curriculum module is being developed through a collaboration between scientists and teachers participating in past iUTAH and CI-WATER Summer Institutes. The supplementary curriculum materials explore different types of models, their strengths and limitations, and how they are used to learn about and address water issues in the American West. The first edition of this curriculum is now available as a resource for educators online: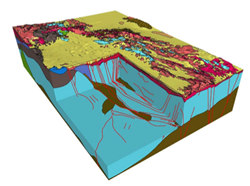 Model Earth is a set of interactive and other resources to help educators to bring water science into the classroom. Teacher materials are also available.
Additional curriculum materials will be added to the module following themes from the 2014, 2015 and 2016 iUTAH Summer Research Institutes.