Current and Past iUTAH Research Projects
Not all of iUTAH's research is carried out at one of the three research universities in the state.  Institutions serving primarily undergraduate populations in our state are also actively engaged in cutting-edge, cross-disciplinary research on important environmental issues through the iUTAH project.  Many of these efforts include substantial involvement by undergraduate students, and thereby help to train Utah's STEM workforce of tomorrow.
Methylmercury in the Great Salt Lake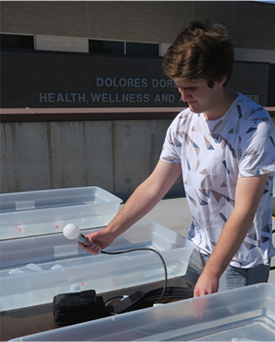 Monomethylmercury, or MMHg, is an organic form of mercury that is produced from inorganic mercury with the help of sulfate and iron-reducing bacteria.  Utah's Great Salt Lake has the highest concentration of MMHg ever measured anywhere on the planet.  As a result, Utah has the dubious distinction of having issued the only ever duck consumption advisory for the Great Salt Lake; this is because MMHg is subject to biomagnification as it moves up the food chain.
Westminster College researcher Dr. Frank Black and his students Chris Mansfield and Josh Schmidt are trying to determine why MMHg concentrations in the Great Salt Lake are so high, and what can be done to reduce environmental exposure to MMHg.  To do so, they have carried out photo-degradation experiments to look at the effect of light on MMHg degradation.  Because measuring MMHg is a difficult and laborious task, one of their first priorities was to devise a new method for quantifying MMHg in the laboratory, which has drawn considerable interest from other researchers and has since been published in the prestigious journal Limnology and Oceanograpy: Methods.
The Utah Water Survey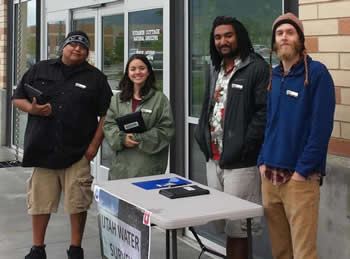 The Utah Water Survey was begun by Utah State University's Dr. Douglas Jackson-Smith as a teaching tool to give high school and undergraduate students hands-on experience in field survey methodologies and data analysis in the social sciences as part of the iUTAH Summer Institute.  The survey measures public perceptions about water and is administered on iPads via public intercepts at local grocery stores. This small effort, initially conducted at a single institution, has since grown into a statewide poll with participation from seven Utah colleges and universities, including five primarily undergraduate institutions, involving over 50 undergraduate students.  The survey has also been deployed by Rowland Hall High School's AP Statistics class. It has achieved a 42% response rate, having garnered 6500 responses to date.
One of the major cross-cutting outcomes of the Utah Water Survey is in the area of innovative data visualization.  The Survey Data Viewer allows users to interact with the survey, its data, and its results and analyses, and was born out of a partnership between iUTAH social science researchers, cyberinfrastructure (CI) team, and the iUTAH Visualization Lab (iVL).  Both of the latter efforts rely heavily on the involvement of undergraduate student programmers. 
Water Sustainability on the Weber State University Campus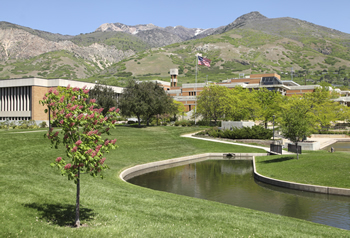 Large university campuses are major consumers of water, but also represent tremendous opportunities for water conservation efforts and education.  Weber State University faculty members Drs. Dan Bedford and Carla Trentelmann and their students are currently exploring water sustainability issues on their campus.  Their work is informing water conservation education and planning of the WSU Sustainability Office and has garnered the attention of university administrators, who have recently allocated additional resources to the WSU sustainability program as a result. Specifically, WSU is exploring defensible water consumption reduction targets that are in line with the Utah statewide goal of reducing per capita consumption by 25% by 2050.