Past and Current iUTAH Research
iUTAH's research portfolio spans an array of disciplines and interdisciplinary collaborations.  Learn more about iUTAH research.  Below are some highlights of current and past research efforts carried out by our participants:
The iUTAH Household Survey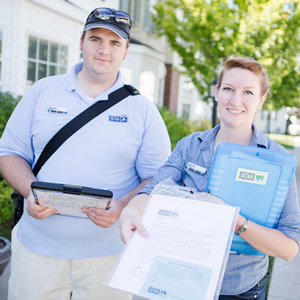 In summer of 2014, researchers from iUTAH's Research Focus Area 2 – Social and Engineered System implemented a major survey of over 2400.  The survey included questions to measure household water use behaviors and attitudes, perceptions and concerns about a range of water issues, and preferences for water policies at the local and state level. Nearly 4,200 households were approached over a 4-month period, and 2,413 people filled out the survey.  After accounting for vacant properties, the response rate was 62.3% of eligible households. The survey was administered in both English and Spanish by trained field enumerators ten undergraduate and five graduate students from Utah State University and the University of Utah) using a drop-off/pick up method. Field staff approached the selected addresses repeatedly until they contacted an adult, then made arrangements to return and pick up the completed survey over the next few days.

Neighborhoods that are adjacent to or bisected by one of the rivers instrumented as part of the iUTAH Gradients Along Mountain to Urban Transitions (GAMUT) environmental observatory network were prioritized when possible, allowing for the linking of survey data to biophysical data collected by GAMUT. In the summer of 2015, a series of follow-up data collection activities took take place in several of these 23 study neighborhoods that engaged iUTAH social science, engineering, and ecohydrology faculty and students.

The survey's findings suggest that Utahans are likely to adapt to changes in water availability, new technologies, water costs, and public policies that incentivize water conservation. There was generally strong support for a range of local- and state- level policies and programs to address water challenges the state is likely to face in the future. This should be encouraging to state officials and local water managers. Moving forward, it will be important to recognize that Utah's urban residents live in a wide variety of residential developments that impact citizens' water perceptions and management behavior.
Learn more about the Household Survey... 
How Can City Planners Contribute to Urban Water Conservation?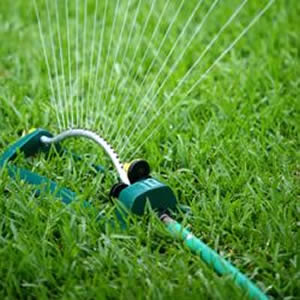 Urban populations across the U.S. are growing, and planning for urban water supplies is critical to ensure that this resource is available to support future populations. While urbanization poses a multitude of challenges for providing and sustaining water resources, there are opportunities that exist as well. Cities provide education and income and foster creativity and innovation.  Research Assistant Philip Stoker and his PhD advisor Dr. Sarah Hinners are asking how city planners can contribute to urban water conservation efforts.

Stoker has interviewed over a dozen water managers and city planners across four western states to answer this question. The interviews revealed insights into current conservation efforts, barriers to water conservation, and the role of the city planner. Stoker has found that the most important thing planners can do is to work water resources into their planning processes, and to consider water resources in every decision. The goal of this research is to highlight best practices so that water conservation efforts across the U.S. can achieve the results they seek.
Insights into the Urban Water Dynamics of Utah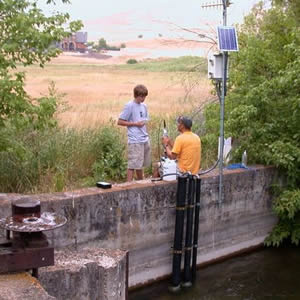 Public water supply systems are the life-blood of urban areas. How we use urban water systems affects more than human health and well-being. Our water use can alter a city's energy balance, including how much solar energy is absorbed as heat or reflected back into space. It affects relationships among all living things within the city, and flows of water and natural chemicals through it. The severity of these effects, and the need to better understand connections between climate, water extraction, water use, and water use impacts, is strongest in dry climates and places undergoing substantial land-use change – for example, the rapidly urbanizing areas of Utah that are the focus of the iUTAH poject.
Studying the water's "isotopic composition" – that is, the number and relative abundance of different isotope forms of common elements – can help us better understand these connections. University of Utah researcher Gabe Bowen and his PhD student, Yusuf Jameel, are studying how the isotopic composition of tap water in the Salt Lake Valley varies over space and time. With support from iUTAH, the group has gathered and analyzed stable water isotope data from a series of semi-annual hydrological surveys (spring and fall, 2013 and 2014) in urban tap water sampled across the Salt Lake Valley.
Their study has led to four major findings thus far: 1) Clear and substantial variation in tap water isotopic composition in space and time can be linked to different water sources and management practices within the urban area, 2) There is a strong correlation between the range of observed isotope values and the population of water districts, reflecting use of water from multiple local and non-local sources in districts with high water demand, 3) Water isotopes reflect significant and variable loss of water due to evaporation of surface water resources, and 4) Overall, tap water contains lower concentrations of the heavy H and O isotopes than does rainfall within the basin, reflecting the connection between city water supplies and mountain water sources. The effect is increased as the climate grows drier and warmer.
Testing Urban Evapotranspiration Models with Green Roofs
Green infrastructure has the potential to significantly impact urban water budgets.  The goal of iUTAH's green roof research, spearheaded by University of Utah researcher Dr. Steve Burian and his PhD student Youcan Feng, is to improve our ability to model these impacts.  Burian employs weighing lysimeters to quantify the water balance of green roofs and other bioretention structures.  Results are then used to improve algorithms for evapotranspiration for local climate and incorporated into into Stormwater Management Models (SWMM).
Software Development for Sensor Data Management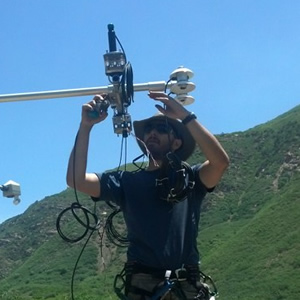 Advances in in situ environmental sensors have led to the widespread use of sensor networks in environmental monitoring for both research and resource management. Researchers and practitioners are collecting sensor data at high frequencies, for extended durations, and with spatial distributions that generate volumes of data that require management using advanced cyberinfrastructure (CI). Sensor network operators need CI tools for data import and storage, data discovery, access, and distribution. In addition to addressing challenges presented by data quantity, monitoring networks need practices to ensure high data quality, including procedures and tools for post-processing. Networks such as iUTAH's GAMUT, consisting of multiple data collection sites, sensors, and personnel, require consistency in data management for successful data integration.
The iUTAH CI team, lead by Dr. Jeff Horsburgh, has developed and automated a workflow for management and publication of in situ sensor data collected within environmental sensor networks using readily available software. Horsburgh and collaborators implemented and extended the Consortium of Universities for the Advancement of Hydrologic Science, Inc. (CUAHSI) Hydrologic Information System, developing new software tools for automated loading, scripted quality control, automated data quality alerts, online visualization, and publication of sensor data. The CI developed meets the needs for managing data from GAMUT, but also serves as an excellent example of how others in similar situations can manage their sensor networks.
Utahns Voice Their Ideas About Water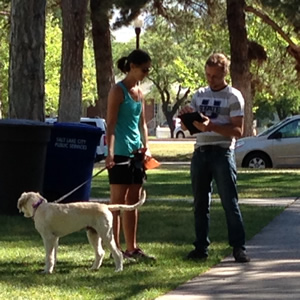 What's the first thing that comes to mind when you think of water?
Scientists tend to think of issues as problems – water scarcity, declining water quality, and so on. But how do community members in Utah think about water? The Utah Water Voices Project, led by Dr. Courtney Flint with iFellows Zack Oldroyd and Andre Valle along with other USU students, set out to open the water conversation with members of the public using social science research techniques.
The team selected six public spaces or parks along the Logan River to capture the iUTAH theme of a mountain-to-urban or valley gradient, and conduct public intercept interviews at different times of day throughout the summer. Interview questions probed people's views about the values or benefits of water, as well as perceived threats or problems related to water in and beyond their neighborhoods and communities. Incorporating their interest in technology, Flint's students set up an an interactive form on iPad tablets to guide paperless interviews and allow for quick collection of demographic data to help the survey team assess how well the opinions of their interviewees reflected the larger community.
Interviewees spoke openly on a range of issues – from their thoughts on how important water is for their health and recreation to concerns about flooding, safety, pollution, and drought. Over the course of the summer, Flint's team of six completed 101 interviews in Logan and 33 in a 3-day effort in Salt Lake City. They created digital story videos by combining narration and photos with audio and transcript quotes from interviews. In the fall of 2015, they will work on creating an interactive web portal that will not only share the interviews with the wider public, but also invite more people from across Utah to share their "Water Voices".