---

News Article
August 28, 2017
Changes in Utah Water Watch Staff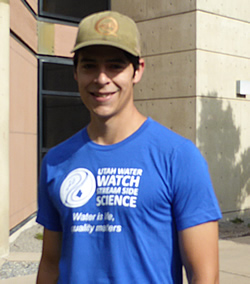 In June, Utah Water Watch (UWW), a Utah State University Water Quality Extension program, said goodbye to co-coordinator Eli Robinson. While working for Utah Water Watch, Eli spearheaded UWW's Harmful Algal Bloom (HAB) program. This program has been successful in working with citizen monitors to assist the Utah Department of Environmental Quality's Division of Water Quality in catching HABs before they release toxins and cause potential harm to people and animals. The UWW community will miss Eli's organizational expertise, sense of humor, and creativity, and wishes him well in the future.
With this change, Cade Andrus has joined UWW as the new co-coordinator. He is a 2017 graduate of the Quinney College of Natural Resources at USU and has a degree in environmental studies along with a strong interest in sustainable development. While in this new position, he hopes to reach a broader audience for water quality education and citizen monitoring. Cade's diverse background will bring new insights and ideas to the program.
In order to continue supporting and growing programs, UWW has added additional staff this season, including USU students Jose Pacheco, a senior in conservation and restoration ecology, and Hannah Johnson and Cole Patton, who are both incoming freshman and Quinney scholars studying conservation and restoration ecology.
UWW co-coordinator Ellen Bailey, based in Salt Lake City, works with watershed partners to develop advanced monitoring (Tier 2) volunteers in assisting with state monitoring needs, especially in measuring the effectiveness of projects to improve water quality. In her presentation this past July at the iUTAH Symposium, she shared the following numbers on the program's successes since 2012:
103 training events

1,025 volunteers trained

250 sites monitored overall in Utah
UWW maintains an active citizen science group supporting water stewardship in the state of Utah, including 100 active volunteers this year with 23 specializing in Tier 2 monitoring, and is a program that iUTAH is proud to partner with and support.
« Back to list of all news articles