---

Education and Outreach News
August 25, 2017
iUTAH Symposium Celebrates Five Years of Successes
The final iUTAH Annual Symposium and Summer All-Hands meeting was held over two-days, July 13 -14, on the campus of Utah State University in Logan UT. It was a time for reflection, sharing of successes and outcomes, and celebrating five years of collaborative research, training, education, and outreach for Utah's water future.
Thank you to all the iUTAH EPSCoR collaborators, partners, and friends who joined us as presenters, participants, and celebrants. For those of you that could not be in attendance, we wanted to fill you in on what you missed, along with personal reflections and comments from invited speakers.
Over 120 researchers and educators from universities, municipalities, and governmental agencies, including industry partners and non-profit organizations, came together on the first day to discuss successful water science programs conducted across the state. iUTAH team leaders talked about critical outcomes and lasting impacts in research on water quality and quantity, social and engineered water systems, and modeling and forecasting of future water supply and demand in the state. These updates were followed by short personal experience stories from five active participants whose research or career paths were altered by involvement in the iUTAH project.
Lunch was held in the company of this summer's iFellow undergraduate researchers who presented posters of their research and answered questions about what they learned. The symposium concluded with 40 talks in seven concurrent sessions on a broad spectrum of topics. It was exciting to hear about the many ways that iUTAH research, education, and outreach has reached the lives of Utahns across the state.
Friday's all-hands meeting provided a half-day forum for reflection and celebration. Talks from our three invited speakers kicked off with the Head of NSF EPSCoR, Denise Barnes. She listed the project's many accomplishments, including GAMUT, career catalyst, personal transformations, collaborative capacity, meaningful relationships with state and municipal agencies, and the surveys and social science data— all key components that have been achieved over five years, and are so valuable to Utah. She "encourages the iUTAH team to keep the collaborative momentum going, and continue to build on the project's success," and closed by saying "you make NSF EPSCoR look good."
Next, Tami Pyfer, Education Advisor for the Utah Governor's Office reflected on her experiences growing up with her dad, a Range Scientist and USU alumnus, including research trips to Ekalaka, MT. Pyfer reflected on our project by saying:
"Governor Herbert continually highlights the need to 'unite and focus' our efforts to solve problems and improve the lives of the citizens of Utah. The iUTAH project is a perfect example of what can happen when we truly unite and focus on important issues. It exemplifies the collaboration that is happening between education, government and community organizations, as well as the innovation happening within these entities. As a state we are moving more and more toward evidence-based policy making - which is a good thing - and the work of the iUTAH project provides great information and resources that can be used by local and state policymakers."
The third speaker of the day was Tamara Goetz, Executive Director of the UTAH STEM Action Center, who started her keynote address with a little history, noting that:
"The iUTAH project has been a fun story to watch unfold. When we first found out that we were qualified to become an EPSCoR state, it was met with mixed emotions. There were some who saw it as an opportunity to secure funding for which there were fewer competitors. However, there were others who were dismayed. They felt that it highlighted our inability to secure federal funding and labeled us as a low performing state. Fortunately the desire to collaborate to address a critical issue, such as water management, in our state prevailed. This positive, "can do" attitude is what has made the iUTAH project a success."
Goetz added that:
"I have been impressed with the iUTAH team and their desire to look beyond research and data generation. They made a commitment to look "outward" and engage a larger stakeholder group in the conversation. They brought the issues to the community, creating dialogue around water use and sustainability, through public perceptions studies and public exhibits such as the one at The Leonardo. They were self-reflective and acknowledged that they needed to improve their own public communication skills and worked with groups like the Alan Alda Center for Communicating Science to help researchers do a better job of communicating the value of their work to those that were not directly involved in research."
iUTAH Project Director Michelle Baker challenged everyone in the room to keep the ball rolling, with regards to collaborations and involvement. While the iUTAH project office will no longer host regular All-Hands meetings, she said that we should take every opportunity to organize iUTAH gatherings associated with other events in the state. Two upcoming examples mentioned were the Salt Lake County Watershed Symposium and Weber State University's Intermountain Sustainability Summit. This message was further reinforced by a pre-recorded video message from university administrators from across the state, prior to the awards and recognition portion of the morning.
In closing, the iUTAH EPSCoR project has been approved for a one-year no cost extension, through July 2018, and looks forward to connecting with each of you and continuing our valuable research, education, training, and outreach collaborations in the coming year. Our website and newsletters will continue to be updated with achievements, happenings, opportunities, and events of interest to our collaborators. We welcome you to stay in touch and continue to let us know what you are doing.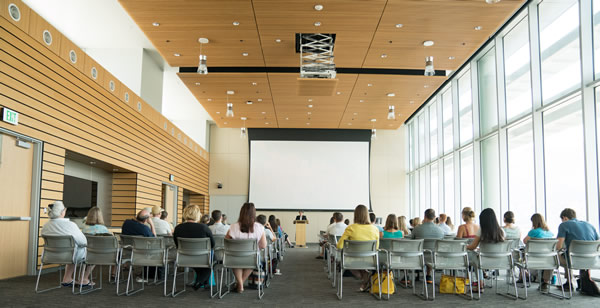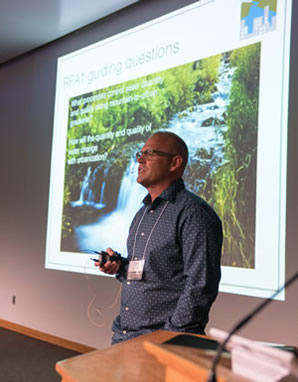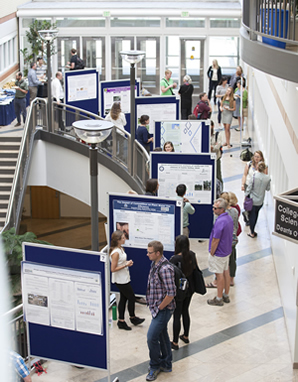 August 11, 2017
iUTAH Supports New Green Roof Display on USU Campus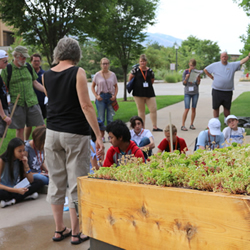 Middle school students and teachers from across the state were the first to see and learn about benefits of green roof construction in urban spaces through a new interactive display on the Utah State University Logan campus. Participants were part of the USU STARS! GEAR UP program, a combined effort of the Colleges of Engineering and Education at USU.
The display, located front of the Quinney College of Natural Resources, measures water runoff from traditional asphalt shingles verses green roof materials. In addition its visual appeal, the green roof portion is covered with a variety of living plants that slow down and cleanse the water runoff during storms. The side-by-side example allows students to see and count water amounts measured as they are coming off each roof. During a simulated rainstorm, the green roof reduced the amount of water running off to a surprising degree.
USU undergraduate student McKenna Drew said that development of the project came out of her experience working with Nancy Mesner, professor in the Department of Watershed Sciences and an Extension Specialist in Water Quality Extension at USU.
Drew said that while "teaching students and educators about ways that they could engage in monitoring water bodies throughout the state of Utah, she saw how effective hands-on activities were for learning."
"I saw an opportunity to implement this type of learning on campus," said Drew. "As a Landscape Architecture student, I thought that a green roof demonstration would be a great start to the potential of many more hands-on learning and research opportunities on USU's main campus," adding that "I have always had a big interest in green infrastructure and storm water management."
Drew was assisted in her project by USU faculty mentors, Nancy Mesner, Bo Yang, an associate professor of Landscape Architecture and Environmental Planning, and Mark Brunson, professor in the Department of Environment & Society and iUTAH Education, Outreach and Diversity director, as well as many others. She graduated in May 2017 with a Bachelor of Landscape Architecture, and now works for the Bureau of Land Management in Salt Lake City, UT.
The project was supported financially by iUTAH, a water research and education program funded by the National Science Foundation. The iUTAH project supports green infrastructure education programs on the University of Utah and Southern Utah University campuses, as well as at USU. They have partnered with groups such as Utah Water Watch on this project, and other education outreach signage to strengthen and promote an inclusive, diverse, water-wise community in Utah.
"My hope is that instructors on campus, and throughout Cache Valley, will not shy away from utilizing the display as a teaching opportunity and that people can see how easy it is to implement green infrastructure," said Drew. "I also hope that this project is a start to seeing more research displayed and monitored on campus, and am thrilled with the result of the display, thanks to the efforts of facilities, colleagues, mentors, and friends."
Press: Utah State Today | The Hearald Journal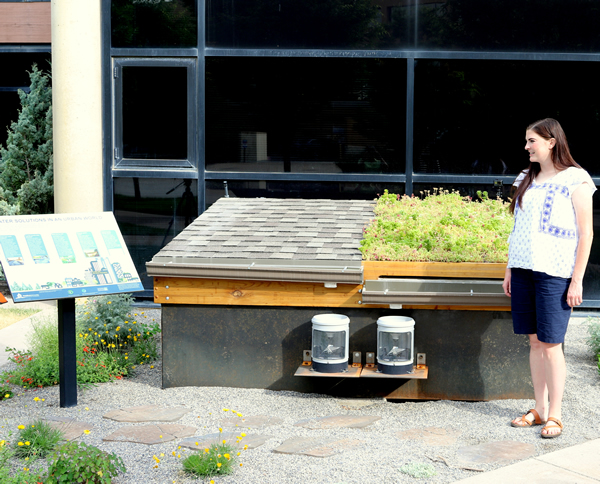 August 8, 2017
Engaging Community in Watershed Education at Utah Lake Festival
"Do you know what a watershed is?" This is the question asked of nearly 800 people by Erin Jones, Dylan Dalstrop, and Scott Collins who together ran an iUTAH/Brigham Young University booth during this year's Utah Lake Festival, which took place on June 3, at the Utah Lake State Park. Of those asked, only a few people, mostly 4th graders, were able to respond with any kind of coherent answer.
Asking this open-ended question led to a discussion on how a watershed is an area on the landscape where all the water drains to one place. In Utah, Utah Lake is one of these places, with water eventually making its way downstream to the Great Salt Lake. Through use of a hands-on display of a watershed, students were able to simulate a rainstorm by squirting spray bottles over the plastic model, and watch pollution they added flow down into the pretend lake.
After playing with the model, people were given examples of the personal connections they have to local water sources and what individuals and communities can choose to do to improve the water quality in their own landscape. Some of these choices that make a difference include picking up pet waste, not washing vehicles on lawns, and using less fertilizer and pesticides that flow back into Utah's waterways.
People visiting the booth were then told about iUTAH and shown the Utah Lake data on the Time Series analyst available to check on current water conditions at both GAMUT and Utah Lake sites. In the five years since the iUTAH started, the project has reached over 210,000 people through over 390 public outreach events statewide. Educational opportunities such as the Utah Lake Festival demonstrate the importance of ongoing outreach and education in building and maintaining a water-wise citizenry in the state.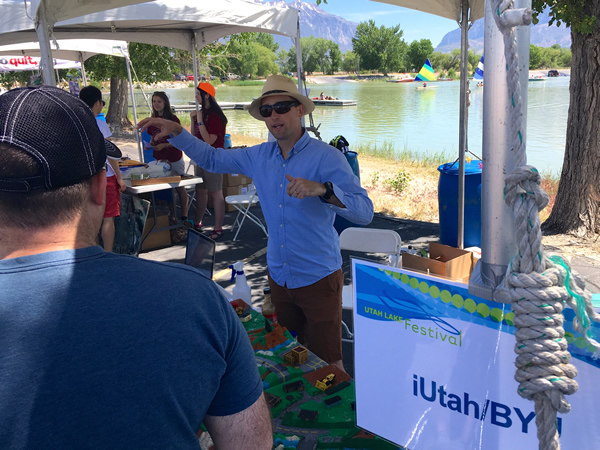 July 20, 2017
Undergraduate Student Research to Sustain Utah's Water Future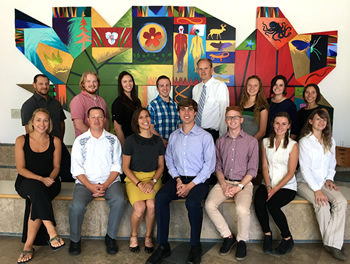 The iFellows program is an 11-week research experience program for undergraduates. For the past five years, a large number of students apply in early spring from universities across Utah for the opportunity to spend the summer doing water research with faculty members from Utah State University, the University of Utah, and Brigham Young University.
This year, 15 undergraduates from across the state were selected, and have spent the last 10 weeks doing water research in connection with the iUTAH project. Their experiences included fieldwork, research, and analysis. Working with faculty and student mentors, these students learned about the challenges and solutions needed to sustain the state's water supply over the next few decades.
The iFellow students have chronicled their work online in weekly recaps. Below is a list of this year's iFellow undergraduate researchers along with hometown, current institution, and iUTAH faculty mentor:
"We have a great group of engaged and eager iFellows this summer," says Ellen Eiriksson, iUTAH Education, Outreach and Diversity Coordinator. " In addition to building and expanding skills in research and data analysis throughout their time in the program, our hope is that iFellows become stronger science communicators."
In addition to posting weekly updates on their research experience, each student develops multiple research products to present. Students will present their findings individually during a conference on the University of Utah campus, on Wed. July 26.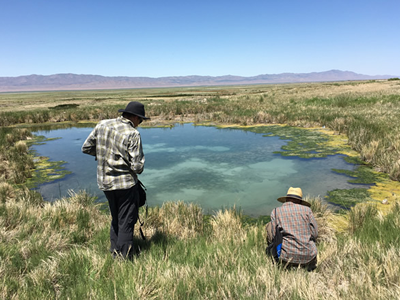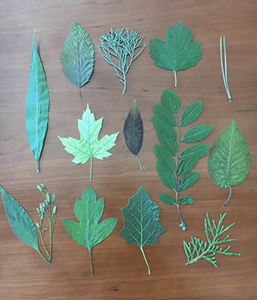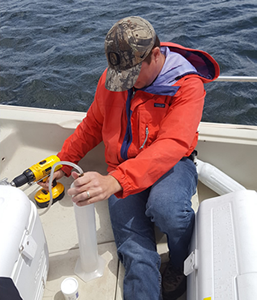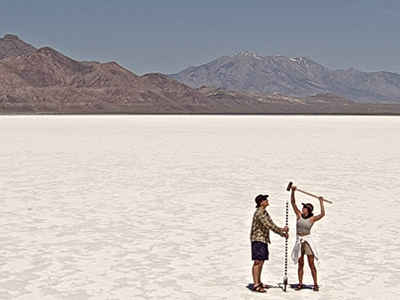 May 3, 2017
Climate Change Book Initiates Discussion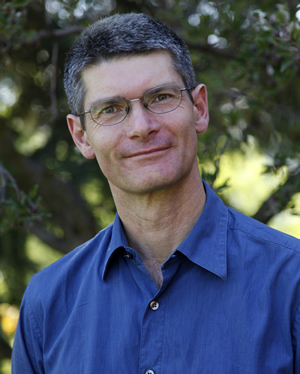 iUTAH researcher Dan Bedford was featured in a recent news story titled "Weber State professors respond to climate misinformation spun by recent book." The article appeared in the April 24 edition of the Standard Examiner. Bedford was one of three faculty members asked to respond to a book questioning the scientific consensus on climate change. Here's a short excerpt below:
"The book, titled "Why Scientists Disagree About Global Warming," was published by the Heartland Institute. It claims what its title suggests, despite the fact that 90 to 100 percent of climate scientists agree climate change is real, human-caused and warming the planet at an alarming rate. The Heartland Institute is a nonprofit think tank with funding ties to fossil fuel industries…. The book attempts to debunk studies finding consensus among scientists about human-caused climate change and discredit findings by the Intergovernmental Panel on Climate Change, or IPCC.
Dan Bedford, a geography professor at Weber State, also received a copy of the Heartland Institute book. 'My reaction to seeing this book is rather mixed,' he said. 'On the one hand, the whole idea of disseminating misinformation on a large scale about any scientific topic … that's fundamentally problematic. I was upset about that.' "