---

Research Catalyst Grant News
January 31, 2018
Dust on Snow Controls Springtime River Rise in West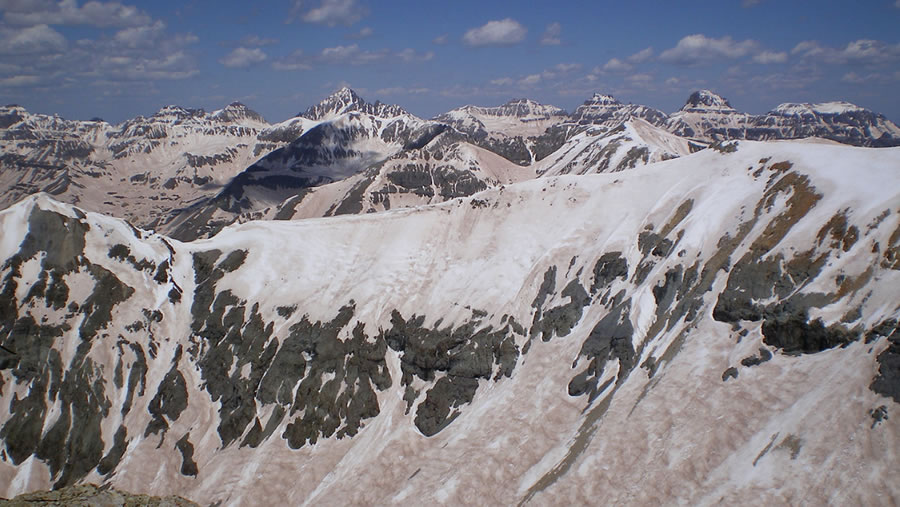 University of Utah and iUTAH researcher McKenzie Skiles has been in the news for her contribution to research on the effects of dust on mountain snowpack during spring runoff. Skiles received funding through an iUTAH Research Catalyst grant on snow hydrology along the Wasatch Front in 2017.
A media release provided by the University of Utah's science writer Lisa Potter said the "study has found that dust, not spring warmth, controls the pace of spring snowmelt that feeds the headwaters of the Colorado River. Contrary to conventional wisdom, the amount of dust on the mountain snowpack controls how fast the Colorado Basin's rivers rise in the spring regardless of air temperature, with more dust correlated with faster spring runoff and higher peak flows.
The finding is valuable for western water managers and advances our understanding of how freshwater resources, in the form of snow and ice, will respond to warming temperatures in the future. By improving knowledge of what controls the melting of snow, it improves understanding of the controls on how much solar heat Earth reflects back into space and how much it absorbs — an important factor in studies of weather and climate.
Coauthor McKenzie Skiles, an assistant professor in the University of Utah Department of Geography, said that while the impacts of dust in the air, such as reduced air quality, are well known, the impacts of the dust once it's been deposited on the land surface are not as well understood. 'Given the reliance of the western U.S. on the natural snow reservoir, and the Colorado River in particular, it is critical to evaluate the impact of increasing dust deposition on the mountain snowpack,' she said."
The article titled "Variation in rising limb of Colorado River snowmelt runoff hydrograph controlled by dust radiative forcing in snow" was published in the journal Geophysical Research Letters. Along with Tom Painter of NASA's Jet Propulsion Laboratory in Pasadena, California and McKenzie Skiles from the University of Utah, Salt Lake City, other coauthors are from University of Colorado, Boulder; and University of California, Santa Barbara.
Press: Jet Propulsion Laboratory website | UNews
December 20, 2017
WSU Symposium Showcases Student Research
Amid the hectic schedule of finals week, some Weber State University students made time in their busy schedules to present their research findings from participation in iUTAH's summer iFellows undergraduate research fellowship program and faculty Research Catalyst Grants (RCG). The event was co-hosted by Carla Trentelman, associate professor of Sociology, and Dan Bedford, professor of Geography and WSU honors program director, and attended by students, faculty, administrators, and friends of iUTAH.
This year, two WSU undergraduates, Maggie England and Mike Fowles, were part of a cohort of 15 students that participated in the 11-week summer research experience. During that time, they were actively involved in iUTAH fieldwork, research, and analysis. Working with faculty and student mentors, these students learned about the challenges and solutions needed to sustain the state's water supply over the next few decades and the environmental impacts that we have on bird species, and aquatic habitats in local watersheds.
Students presenting research at the WSU symposium include Maggie England, Mike Fowles, and Rebekah Holt. Past participant attendees included Cynthia Elliot, 2016 iFellow, William Soule, Summer Institute mentor, and Kassandra Sqrow, who participated in both an RCG and as a Summer Institute mentor.
Rebekah Holt worked with faculty mentor Bridget Hilbig, assistant professor of botany at WSU, on a RCG project focused on enhancing soil complexity to improve sustainable urban agriculture. They constructed a rooftop garden, adding Arbuscular mycorrhizal fungi (AMF) native to Utah to soil and measured growth responses in pepper plants. While the AMF plants grew better, challenges with the location and the growing boxes limited the growth of viable crops. Future research will involve changing the plants from peppers to parsley, and making adjustments to the boxes and watering schedule.
"Ever since iUTAH began, our colleagues at Weber State have been terrific supporters of undergraduate research," said Mark Brunson, iUTAH Education, Outreach and Diversity director and professor in the Department of Environment & Society at Utah State University. "Our research faculty have greatly enjoyed working with Weber students, and the work they've done has made a real contribution."
In the five years that WSU has partnered with iUTAH, 41 students have been involved in undergraduate research, including 14 iFellows, 7 Summer Research Institute mentors, and 24 student RCG researchers.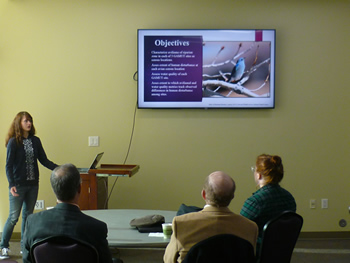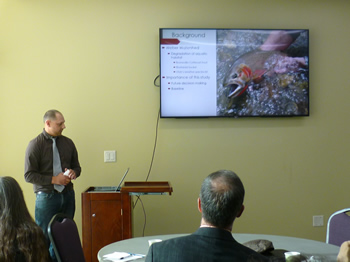 April 25, 2017
Mystery of the Missing Mercury at the Great Salt Lake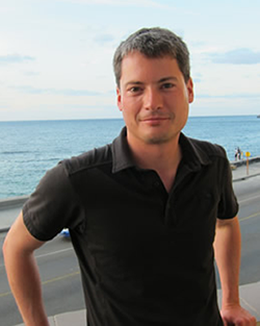 Westminster College and iUTAH researcher Frank Black has been in the news for his contributions to research on the changes in the toxic methylmercury levels in deep waters of Utah's Great Salt Lake, between 2010 and 2015. The story, conducted in collaboration with a team of 10 scientists from the University of Utah, Westminster College, and Utah Department of Natural Resources, came out in a paper published April 12 in Environmental Science & Technology.
A media release provided by the University of Utah's science writer Paul Gabrielsen said the "disappearance of the mercury was not due to aggressive environmental policies or a wide-ranging cleanup effort. Instead, it's part of a story involving a large-scale unplanned chemistry experiment, a sometimes-stinky lake, and ducks – in which the mercury did not disappear…. A Union Pacific railway line crosses the lake, dividing it into a smaller north arm and a larger south arm, with the line drawn right at the base of the bunny-ear-like northern extensions of the lake. Because the north arm has no major river inflow, it's much saltier than the south arm. Two culverts in the railroad line allowed briny north arm water to flow into the south arm and, because of its higher density, sink to the bottom of the south arm."
"The difference in density between the deep and shallow waters prevented mixing, says (University of Utah) geology and geophysics professor William Johnson, and kept fresh oxygen from infiltrating into the deeper water layers. Decaying organic matter on the lake floor sucked all the oxygen out of the briny layer, forcing microorganisms to find something else to "breathe." Without oxygen, some bacteria turn to nitrate to fuel the chemical processes of life. When the nitrate is gone, they turn to iron, manganese, and finally sulfate. Residents of the Salt Lake Valley may have noticed a byproduct of the sulfate-breathing bacteria – sulfide, a stinky rotten egg smell emanating from the lake. In another side effect, the bacteria turn elemental mercury into toxic methylmercury."
Research on this study was funded by iUTAH through two Research Catalyst Grants in 2014 and 2017. Black's current funding award builds upon his earlier work on the Great Salt Lake by examining wildfire ash and GSL dust as sources of heavy metals to Utah's aquatic ecosystems. RCG funding supports a collaborative culture of multi-institutional research, encouraging primarily undergraduate institutions such as Westminster College, to involve themselves and their students in current science research. Chris Mansfield, a recent graduate of Westminster College and one of Black's students, was involved in the team that published the study.
The study can be found in its entirety here.
Press: UNews | Phys.org | Science Newsline | ScienceAlert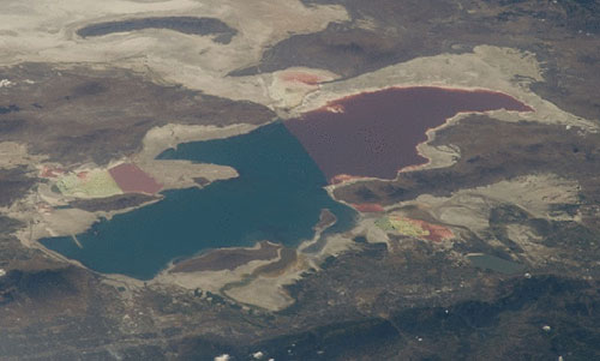 April 5, 2017
Dan Bedford Named Outstanding Faculty Mentor at WSU
The 2017 recipient of the Weber State University's Office of Undergraduate Research Outstanding Faculty Mentor for the College of Social and Behavioral Sciences is Dan Bedford, professor of Geography and WSU honors program director. The award was presented at WSU's Undergraduate Research Symposium in recognition of excellence among undergraduate research mentors. An outstanding mentor is a good listener who is accessible and available to students, guides student researchers toward independence, encourages excellence, and demonstrates expertise in their own discipline. Dan has been an active participant in the iUTAH project since its start in 2012. He says he appreciates the chance "to contribute to undergraduate research not just at WSU, but across the state," adding that "I couldn't have done any of this if it were not for the opportunities afforded by iUTAH."

"Dan has been instrumental in the success of our undergraduate research programs," says Mark Brunson, iUTAH Education, Outreach and Diversity director. "He manages iUTAH's Research Catalyst Grant program, which supports research at Utah's primarily undergraduate institutions by faculty members and their undergraduate research assistants." In addition to his work mentoring other faculty members, "he has actively recruited Weber State students into the iFellows and the Summer Institute programs, and then championed their accomplishments by making sure their work is seen by upper administration at WSU," says Brunson. "He sees talent in students who may not know they'd be good scientists, and helps them grow into confident researchers who are poised to make a difference."

WSU student Cynthia Elliott, a 2016 iFellow, is one of the many students to benefit from Dan's mentorship saying that it "inspired and encouraged me to do my very best work and test my limits. I will always acknowledge his support as critical in my success at Weber." iUTAH benefits from the students that Weber brings to our programs. Over four years, WSU has had 16 students participate in the iFellows undergraduate research experience, 11 students involved in faculty Research Catalyst Grants, and 7 students serve as Summer Institute peer mentors.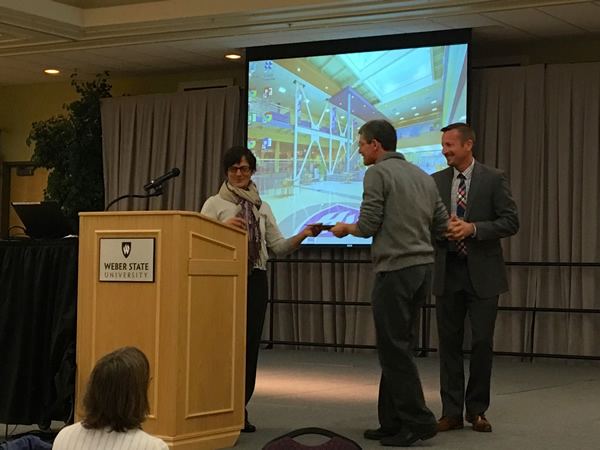 March 8, 2017
iUTAH Students Present At Undergraduate Research Conference
Undergraduate students from across the state, including 16 students working on iUTAH research, were selected to present posters/presentations at the 2017 Utah Conference on Undergraduate Research (UCUR) on Friday, February 17, at Utah Valley University in Orem UT.
Students from Southern Utah University, University of Utah, Utah Valley University, and Westminster College presented iUTAH research, in collaboration with faculty Research Catalyst Grants and the iUTAH iFellows undergraduate research experience. For many students, like SUU senior, Hailey Wallace, this was their first UCUR conference. Wallace worked with mentors from SUU and UU, and other students testing the ability of green roofs to contribute to urban invertebrate biodiversity.
"It has been an amazing experience to be a part of undergraduate research," said Wallace. "I am very grateful have been involved in this project since the beginning, and been able to have multiple projects of my own stemming from the main work, as well as present the research at multiple venues."
Wallace plans to use what she learned and continue her education as a graduate student in the Environmental Science and Management program at Portland State University in the fall. Below are topics and students presenting at UCUR:
Effect Of Phragmites Australis Control On Utah Lake Water Quality
Student(s): Arthur Evensen, Joshua Jackson, Jake Wood, Paul Morris, Ibrihim Alhassan, Kyle Fordham, and Victor Sanjinez (UVU)
Mentor(s): Eddy L Cadet
A Comparative Analysis On Attitudes Toward Drinking Water Quality Between Utah And The Nation
Student(s): Adam James Whalen (2016 iUTAH iFellow), and Meaghan McKasy (UU)
Mentor(s): Sara Yeo
Quantifying Nutrient And Trace Metal Input To Utah Lake From Orem Wastewater Treatment Effluent
Student(s): Sydney Hoopes and Serena Smith (UVU)
Mentor(s): Weihong Wang, and Eddy Cadet
Use Of Green Infrastructure to Increase Invertebrate Biodiversity In The Built Environment
Student(s): Hailey Wallace and Andrew Carlson (SUU)
Mentor(s): Jacqualine Grant, Matthew Weeg, Youcan Feng, and Steven Burian
Effect Of The Disappearance Of The Deep Brine Layer On Trace Element Uptake Into Great Salt Lake Food Webs
Student(s): Madelene Trentman, Abby Scott, and Alexandria Martin (Westminster College)
Mentor(s): Frank Black
Methylmercury In The Great Salt Lake
Student(s): Alexandria Martin (Westminster College)
Mentor(s): Frank Black
UCUR was created to showcase the best undergraduate work from students across the state of Utah. Undergraduates from all disciplines are invited to apply for the conference. Submissions to UCUR 2018, which held at SUU, will be due in the fall. For more information, visit www.ucur.org.
Press: UVU Press Release