---

Research Catalyst Grant News
April 5, 2017
Dan Bedford Named Outstanding Faculty Mentor at WSU
The 2017 recipient of the Weber State University's Office of Undergraduate Research Outstanding Faculty Mentor for the College of Social and Behavioral Sciences is Dan Bedford, professor of Geography and WSU honors program director. The award was presented at WSU's Undergraduate Research Symposium in recognition of excellence among undergraduate research mentors. An outstanding mentor is a good listener who is accessible and available to students, guides student researchers toward independence, encourages excellence, and demonstrates expertise in their own discipline. Dan has been an active participant in the iUTAH project since its start in 2012. He says he appreciates the chance "to contribute to undergraduate research not just at WSU, but across the state," adding that "I couldn't have done any of this if it were not for the opportunities afforded by iUTAH."

"Dan has been instrumental in the success of our undergraduate research programs," says Mark Brunson, iUTAH Education, Outreach and Diversity director. "He manages iUTAH's Research Catalyst Grant program, which supports research at Utah's primarily undergraduate institutions by faculty members and their undergraduate research assistants." In addition to his work mentoring other faculty members, "he has actively recruited Weber State students into the iFellows and the Summer Institute programs, and then championed their accomplishments by making sure their work is seen by upper administration at WSU," says Brunson. "He sees talent in students who may not know they'd be good scientists, and helps them grow into confident researchers who are poised to make a difference."

WSU student Cynthia Elliott, a 2016 iFellow, is one of the many students to benefit from Dan's mentorship saying that it "inspired and encouraged me to do my very best work and test my limits. I will always acknowledge his support as critical in my success at Weber." iUTAH benefits from the students that Weber brings to our programs. Over four years, WSU has had 16 students participate in the iFellows undergraduate research experience, 11 students involved in faculty Research Catalyst Grants, and 7 students serve as Summer Institute peer mentors.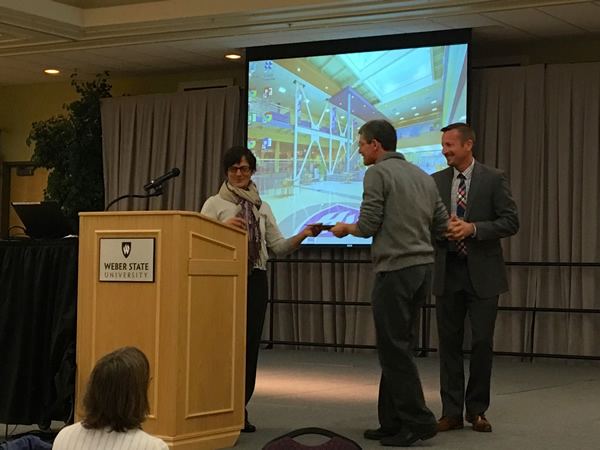 March 8, 2017
iUTAH Students Present At Undergraduate Research Conference
Undergraduate students from across the state, including 16 students working on iUTAH research, were selected to present posters/presentations at the 2017 Utah Conference on Undergraduate Research (UCUR) on Friday, February 17, at Utah Valley University in Orem UT.
Students from Southern Utah University, University of Utah, Utah Valley University, and Westminster College presented iUTAH research, in collaboration with faculty Research Catalyst Grants and the iUTAH iFellows undergraduate research experience. For many students, like SUU senior, Hailey Wallace, this was their first UCUR conference. Wallace worked with mentors from SUU and UU, and other students testing the ability of green roofs to contribute to urban invertebrate biodiversity.
"It has been an amazing experience to be a part of undergraduate research," said Wallace. "I am very grateful have been involved in this project since the beginning, and been able to have multiple projects of my own stemming from the main work, as well as present the research at multiple venues."
Wallace plans to use what she learned and continue her education as a graduate student in the Environmental Science and Management program at Portland State University in the fall. Below are topics and students presenting at UCUR:
Effect Of Phragmites Australis Control On Utah Lake Water Quality
Student(s): Arthur Evensen, Joshua Jackson, Jake Wood, Paul Morris, Ibrihim Alhassan, Kyle Fordham, and Victor Sanjinez (UVU)
Mentor(s): Eddy L Cadet
A Comparative Analysis On Attitudes Toward Drinking Water Quality Between Utah And The Nation
Student(s): Adam James Whalen (2016 iUTAH iFellow), and Meaghan McKasy (UU)
Mentor(s): Sara Yeo
Quantifying Nutrient And Trace Metal Input To Utah Lake From Orem Wastewater Treatment Effluent
Student(s): Sydney Hoopes and Serena Smith (UVU)
Mentor(s): Weihong Wang, and Eddy Cadet
Use Of Green Infrastructure to Increase Invertebrate Biodiversity In The Built Environment
Student(s): Hailey Wallace and Andrew Carlson (SUU)
Mentor(s): Jacqualine Grant, Matthew Weeg, Youcan Feng, and Steven Burian
Effect Of The Disappearance Of The Deep Brine Layer On Trace Element Uptake Into Great Salt Lake Food Webs
Student(s): Madelene Trentman, Abby Scott, and Alexandria Martin (Westminster College)
Mentor(s): Frank Black
Methylmercury In The Great Salt Lake
Student(s): Alexandria Martin (Westminster College)
Mentor(s): Frank Black
UCUR was created to showcase the best undergraduate work from students across the state of Utah. Undergraduates from all disciplines are invited to apply for the conference. Submissions to UCUR 2018, which held at SUU, will be due in the fall. For more information, visit www.ucur.org.
Press: UVU Press Release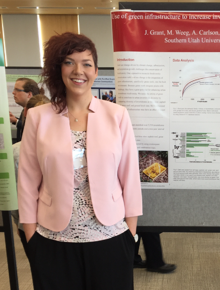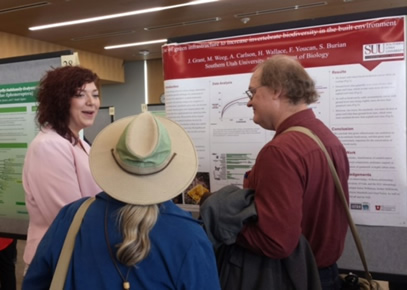 January 12, 2017
Utah Climate Scientists Anxious Over Threatened NASA Cuts...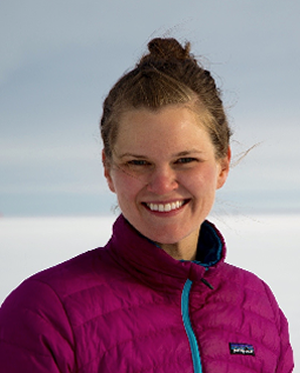 Utah Valley University and iUTAH researcher McKenzie Skiles was featured in the news. The Salt Lake Tribune recently reported on potential funding threats to NASA's climate research.
An excerpt from the news story said that Skiles "is worried about her ability to find future funding under Trump's administration. Her current funding doesn't come through NASA, Skiles said, but prior to accepting a position at UVU, she worked as a postdoctoral scholar in NASA's Jet Propulsion Laboratory. 'NASA is a place I would look to in the future" for funding, she said. "And if that funding is no longer available, that limits the opportunities.' Funding from NASA is especially important for young scholars."
Skiles is a recent recipient of an iUTAH 2017 Research Catalyst Grant which will fund her research looking at the constraining physical controls on snow hydrology along the Wasatch Front. The grant brings together collaborators from each of Utah's research institutions, including Janice Brahney, Utah State University, Greg Carling, Brigham Young University, and Jim Steenburgh, University of Utah.
Press: Salt Lake Tribune
December 6, 2016
Research Awards Build STEM Capacity
Building a scientific community in Utah means reaching a wide variety of citizens and students and giving them the opportunity to join in STEM-oriented research. Many of Utah's students attend universities throughout the state where the capacity to conduct scientific research is somewhat limited. Professors at these institutions, also called primarily undergraduate institutions (PUls), often have the inclination, but lack time and resources to involve themselves and their students in current science research.
This is why iUTAH, an interdisciplinary research and training program aimed at strengthening science for Utah's water future, has established a three-tiered approach to funding research awards. For the past four years, we have been working to extend our collaborative culture of multi-institutional research to PUIs across our state. By offering faculty at these institutions the opportunity to apply for traditional research awards, professional development grants, and release time awards, iUTAH is addressing, in a targeted, strategic way, the factors that most limit the participation of PUIs in research.
"As a former PUI faculty member myself, I understand the unique pressures and limitations that come with this environment," says Andy Leidolf, Assistant Director of iUTAH. "It is tremendously rewarding to be able to provide needed support to leverage the ample talent and enthusiasm for research that exists at these institutions on behalf of our statewide research enterprise."
In five years, iUTAH has funded over $300,000 towards this effort. This year, researchers at Utah Valley University (UVU), Westminster College, and Weber State University (WSU), will receive over $50,000, up to $20,000 per project, in funding as part of the 2017 iUTAH Research Catalyst Grant (RCG) initiative. Professors McKenzie Skiles, UVU, Frank Black, Westminster College, and Bridget Hilbig, WSU, have each received award funding to work with undergraduates, other faculty members, and with other research institutions, community groups, and professional organizations across the state.
"Looking at our most recent group of PUI awardees teaming up with research faculty, their proposed research is truly cutting edge," said University of Utah professor and State Program Director of EPSCoR Paul Brooks. "These proposals would be incredibly competitive at any national panel that I have sat on for the National Science Foundation or Department of Energy."
The project by McKenzie Skiles will look at the constraining physical controls on snow hydrology along the Wasatch Front. It brings together collaborators from each of Utah's research institutions, including Janice Brahney, Utah State University, Greg Carling, Brigham Young University, and Jim Steenburgh, University of Utah.
Frank Black's project will expand his earlier work on the Great Salt Lake (GSL) to examine wildfire ash and GSL dust as sources of heavy metals to Utah's aquatic ecosystems. Collaborators include Greg Carling, Brigham Young University and Evan Glenn, US Forest Service, Uinta-Wasatch-Cache National Forest.
The third RCG awardee, Bridget Hilbig, will focus her work on enhancing soil biological complexity to conserve water in urban agriculture, working with Steven Burian, University of Utah as a collaborator. By better understanding the factors affecting urban ecosystem water-use efficiency, she hopes to improve our ability to predict urban water cycles in Utah. Hilbig also received a professional development grant to attend a Council on Undergraduate Research (CUR) Institute. With this additional training, she aims to "develop an interdisciplinary, multi-institutional research group at WSU that includes undergraduate students learning from, and interacting directly with, graduate students, postdoctoral researchers, and faculty members at their own institution and beyond."
Among the 15 previous RCG grantees, Jacqualine Grant, an assistant professor of biology and museum curator of the Garth and Jerri Frehner Museum of Natural History at Southern Utah University, is the first to receive a release time award. Grant's previously funded project involving a demonstration green roof exhibit and associated outreach has reached over 1,800 faculty, undergraduates, and students K-12 since its installation in 2015. In discussing the project's accomplishments, she said "green infrastructure is an underutilized water-saving practice in southern Utah." She will use the release time to develop several proposals with colleagues at the University of Utah and Northern Arizona University.
"By having researchers at the PUIs engaging with faculty at the more research-intensive universities, it opens science as a process up to all the PUI students in all those classes," says Brooks. "And seeing that ability, the light bulb that goes off for those students, it's not just memorization; it's not just repeating the knowledge. They learn that they can contribute to something new."
In addition to these opportunities, iUTAH continues to offer ongoing professional development to its participants through co-sponsoring events such as the Alda Center for Communicating Science held this fall, in partnership with the Offices of the Vice President for Research at Utah State University and the University of Utah. The next collaborative effort will be a Broader Impacts Workshop in March 2017 in partnership with the Vice President for Research office at the University of Utah.
For more how the RCG awards are working to strengthen iUTAH's collaborative research network, visit the full article…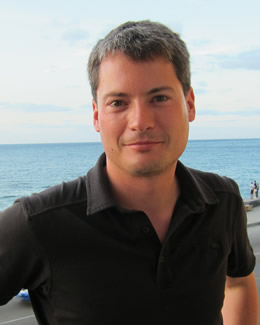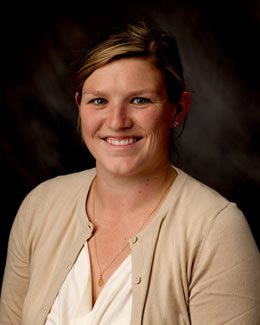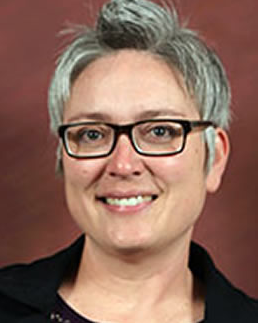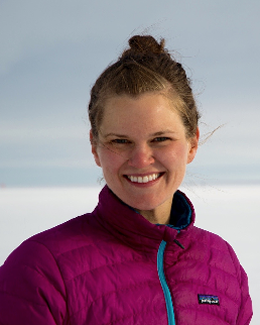 February 24, 2016
Undergrads Present Water-Related iUTAH Research at UCUR
Students from all over the state participated in the annual Utah Conference on Undergraduate Research (UCUR), held February 19, 2016 on the University of Utah campus. Six students associated with iUTAH EPSCoR presented research at this year's conference. Viviane Baji, Matthew Barnett, and Jordan Risley, all from Utah State University, examined different aspects of the Utah Water Survey/iPad Project conducted last summer. Student participants include:
Christopher Mansfield, Westminster College, working with RCG awardees, oral:
Environmental Influences of Methylmercury Photo-Degradation Rates at the Great Salt Lake

Hannah Peterson, UVU, working with RCG awardees, poster:
Temporal and Spatial Variations of Trace Metal Loading to Utah Lake

Jordan Risley, USU, iFellow, poster:
The Impact of Farm Ties on Concern About Climate Change

Matthew Barnett, USU, iFellow, poster:
Does Water-Based Outdoor Recreation have an Impact on the Environmental Concerns and Perceptions of Utahns?

Viviane Baji, USU, iFellow, poster:
Impact of Age on Water Shortage Concern

Zack Oldroyd, USU, iFellow, oral:
Utah Water Voices
Now in its 10th year, UCUR gives students the chance to formally present visual and/or oral presentations of their work in a scholarly setting to students, faculty, field specialists, and community members. It also offers an informal networking opportunity. State colleges and universities take turns hosting UCUR. Next year's Conference will be held at Utah Valley University.
Press: U of U Press Release | Daily Utah Chronicle | Deseret News | Fox 13 News