Data & Modeling
Cyberinfrastructure & iUTAH
The cyberinfrastructure (CI) of iUTAH merged diverse data collection and modeling tools to facilitate research. To this end, the CI Team implemented various tools, resources, and workflows to support the full data life cycle and increase capacity for data collection, organization, management, sharing, synthesis, and integration. The compilation of these resources is known as the iUTAH Modeling and Data Federation (MDF). In addition, the CI team coordinated the sharing of iUTAH research results, which comprise an open-access collection including datasets, models, and digital content available for public and private access and use.
iUTAH Data Access
HydroShare - Data Publication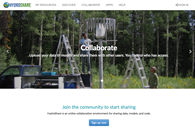 HydroShare is an online, collaborative environment for sharing hydrologic data, models, and code. Visit HydroShare to view and access iUTAH shared research resources.
iUTAH Ecohydrologic Observatory (GAMUT) Data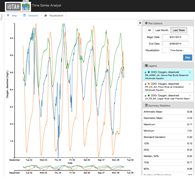 For iUTAH Participants
Data Publishing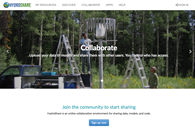 iUTAH participants have used HydroShare to publish data. HydroShare is a system operated by the Consortium of Universities for the Advancement of Hydrologic Science, Inc. (CUAHSI) that enables users to share and publish data and models in a variety of flexible formats, and to make this information available in a citable, shareable and discoverable manner. For more information, visit HydroShare.
Publishing Policies and Procedures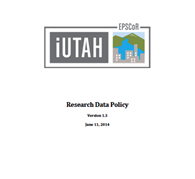 The
iUTAH Data Policy
formally governs all datasets developed as part of or supported by iUTAH. Since an emphasis of the iUTAH project was the sharing of data and research projects, data typology and timeframes have been specified for data and metadata submission and release.
Data Publication Tutorials
Detailed instructions for sharing and publishing data and models to HydroShare.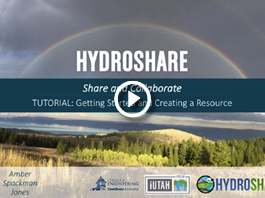 HydroShare: Getting Started
HydroShare is repository for sharing, collaborating around, and formally publishing scientific data. Data and models are organized as resources.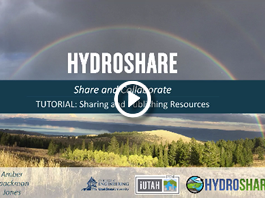 HydroShare: Publishing Resources
Resources can be shared publicly, or with individuals or groups, with permission levels specified. HydroShare can also be used for formal publication of data.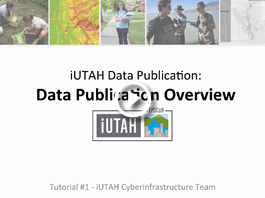 Data Publication Overview
Learn about the process for data publication within iUTAH. The goal for data publication in iUTAH is to combat information entropy and increase the information content for data.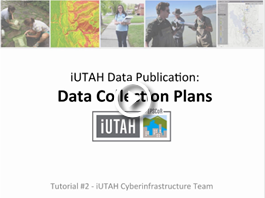 Data Collection Plans
This tutorial focuses on Data Collection Plans. Data collection plans are the first step in the data publication process. Learn about the Data Collection Plan template and how to fill it out.
Note: Data publication for iUTAH has migrated to HydroShare, so some details covered in the tutorials are outdated.
Software Development
The CI Team worked to develop various tools to support iUTAH research efforts. All of these products are open source and can be accessed via GitHub repositories.  More Information...