iFellows Program
The iFellows undergraduate research fellowship program was the only one of its kind bringing undergraduate students from across the state to Utah's three research institutions to enhance Utah's science, technology, engineering, and math (STEM) workforce and understanding about environmental sustainability. It expanded beyond a typical research experience for undergraduate students, engaging participants in multi-disciplinary and cross-institutional research and collaboration during the summer alongside iUTAH's statewide network of researchers. 
About Our Program: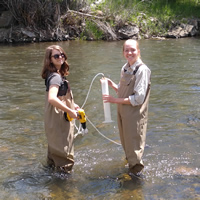 The iFellows program brought students into research faculty labs and involved them in research for eleven weeks each summer. Participating students trained side-by-side with iUTAH researchers and graduate students learning about environmental sustainability challenges facing the state. Their experience was both practical and applied as they developed posters, presentations, and papers in STEM areas for presentation at their home institutions, as well as at state and national conferences.
Student learning was enhanced by a multi-faceted mentoring approach. Participants worked not only with their faculty mentors, but also alongside experienced students in each research group who become near-peer mentors, working day-to-day with iFellow participants. A key component of the program was that iFellows were viewed as partners in the research process, often participating in research design, quality control, and occasionally even publication. Another unique aspect of the iFellows program was the cohort approach, wherein students trained at various institutions meeting regularly in order to learn from each other, as well as from their near-peer and faculty mentors.
Over the past five years, the program has hosted between 12 – 20 students annually to conduct research at Utah State University, Brigham Young University, and the University of Utah. This means that 78 students to-date have benefitted from the program receiving training in science communication techniques, research ethics, and other professional development sessions, as well as conduction research.
For more information on developing an REU-type program similar to iFellows, visit our online guide. This guide includes step-by-step instructions about recruiting, planning, cohort sessions, and more.
Past Programs: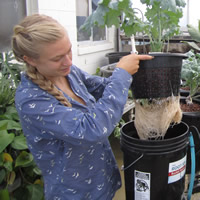 iFellows program participants were part of a large, diverse research community through organized and informal interactions with students, mentors, and faculty. Based on an active learning approach of doing research outside of classroom learning, the program provided a focused effort for mentoring and training undergraduates in research aimed at strengthening science on vital environmental issues facing Utah. See the Program Details page for information on past programs including participants, presentations, and resources. View previous research projects on the Participant Profiles page.
"The experience has been phenomenal, and more than I ever dreamed I could be a part of. I am sincerely grateful for the opportunity to develop my skills as a scientist and researcher. This summer was my first research opportunity and I learned so much from the time I spent with [my faculty and near-peer mentors]."
- 2016 iFellow from Salt Lake Community College
iFellows in the News: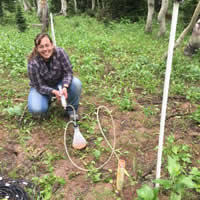 Read new stories and highlights on past iFellows below:
June 27, 2018
GRAs Continue Strong Ties to Water Research
Celebrating success with iUTAH's graduate research assistants at Utah State University's graduation ceremony. Credit Michelle Baker Over the past six years, the iUTAH community has benefitted greatly from the graduate students that
Read More...
May 15, 2018
Student Honors for Outstanding iFellows
iUTAH wants to congratulate graduates across the state, and highlight the outstanding achievements by a few of the undergraduates that lined up to receive their hard-earned degrees this May. Southern Utah University conferred a degree on Donald
Read More...
December 20, 2017
WSU Symposium Showcases Student Research
Amid the hectic schedule of finals week, some Weber State University students made time in their busy schedules to present their research findings from participation in iUTAH's summer iFellows undergraduate research fellowship program and
Read More...
July 20, 2017
Undergraduate Student Research to Sustain Utah's Water Future
15 undergraduate student researchers participated in the 2017 iFellows program The iFellows program is an 11-week research experience program for undergraduates. For the past five years, a large number of students apply in early spring from
Read More...
April 24, 2017
Former iFellow Kari Norman receives prestigious NSF fellowship
Kari Norman was one of eight Utah State University scholars selected for a 2017 National Science Foundation Graduate Research Fellowship. In 2013, Norman participated in iUTAH's iFellows program, which places undergraduate students in the
Read More...