Research Catalyst Grants
The Research Catalyst Grants (RCG) program offered competitively funded grants targeting faculty involved in water-related research at primarily undergraduate institutions (PUls). These opportunities also strongly encouraged undergraduate student participation in research, presentations, and publications.
About Our Program: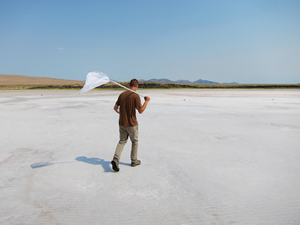 The Research Catalyst Grant program was originally started as seed funding for research, but eventually evolved to take a more holistic approach including professional development, release time from teaching, and funding for additional equipment and resources. As a result of the program, 20 researchers, 11 of them women, were awarded RCG funding totaling $300,000 over the past five years. The research involved four different PUIs: Southern Utah University, Utah Valley University, Weber State University, and Westminster College.  
Interdisciplinary research and cross-campus collaborations was a hallmark of the iUTAH RCG program. Research projects have involved 111 students to date, representing one third of the iUTAH undergraduate student cohort. Additionally, 14 of the awards involved collaborations with at least one of three academic research universities in the state. Three also involved collaborations with other PUIs. To date, RCGs have generated 7 publications, 51 presentations, and 8 submitted grant proposals. Five of these grant proposals were awarded, for a total of $169K.
In addition to funding, awardees have received professional development training through iUTAH-sponsored programs such as the Alan Alda Center for Communicating Science, the Broader Impact Forum, and workshops. 
Grantees and Testimonials: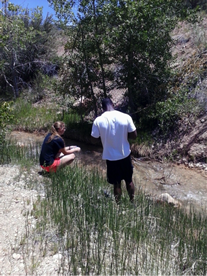 Awardees of the RCG program are part of a large, diverse research community involving cross-campus research collaborations between faculty. In addition to including undergraduates in research, the program also supported 23 outreach events to diverse audiences. See the RCG GRANTEE PROFILE pages for information on grantees including project titles, abstracts, and collaborators.
"The RCG grants and participation in iUTAH gave the PUI faculty opportunities to flex their professional muscles through research; it also provided a break from heavy teaching loads."  

- From a RCG grantee in a post-award focus group
"The whole RCG process had been instrumental in providing a relatively streamlined, low friction opportunity, which incentivized him to put together a proposal, and providing feedback that strengthened the proposal to the point where it could be competitive in another setting."  

- From RCG applicant that later received funding from a federal agency
Research Catalyst Grant Awardees in the News: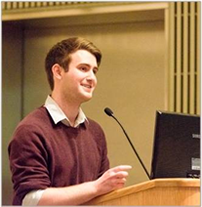 May 16, 2018
Brian Head Revisited: Outdoor Classroom
iUTAH researcher Jackie Grant has been in the news for her work to create a community classroom out of the charred remains of the 2017 Brian Head fire site, which damaged more than 72,000 acres of Dixie National Forest and Bureau of Land Management
Read More...
April 2, 2018
Building Cross-Campus STEM Collaboration in Utah
The iUTAH EPSCoR project has built Science, Technology, Engineering, and Math (STEM) capacity in Utah through its Research Catalyst Grant (RCG) program. These competitively funded grants targeted faculty at primarily undergraduate institutions
Read More...
January 31, 2018
Dust on Snow Controls Springtime River Rise in West
A coating of dust on snow speeds the pace of snowmelt in the spring. Credit: NASA University of Utah and iUTAH researcher McKenzie Skiles has been in the news for her contribution to research on the effects of dust on mountain
Read More...
December 20, 2017
WSU Symposium Showcases Student Research
Amid the hectic schedule of finals week, some Weber State University students made time in their busy schedules to present their research findings from participation in iUTAH's summer iFellows undergraduate research fellowship program and
Read More...
April 25, 2017
Mystery of the Missing Mercury at the Great Salt Lake
Westminster College and iUTAH researcher Frank Black has been in the news for his contributions to research on the changes in the toxic methylmercury levels in deep waters of Utah's Great Salt Lake, between 2010 and 2015. The story, conducted
Read More...