Diversity and Inclusion
iUTAH has made diversity and inclusion a priority, actively working to increase participation of women and underrepresented minorities in science, technology, engineering, and math (STEM). The project has worked to engage these groups in addressing water sustainability issues in the state by coordinating resources and activities to help faculty, students and partners create a more welcoming environment with sustainable support systems for the success of all participants in STEM disciplines.
About Diversity Enhancement
Diversity Enhancement is about helping Utah improve STEM education to an increasingly diverse population. For decades Utah's population has been among the fastest growing in the nation. Not only is Utah growing, but it's also changing. Nearly four out of every 10 new Utah residents identify as a racial or ethnic minority. More than one-quarter of Utah's preschool-aged populations are minority group members. To address this upward trend, it makes sense that the state's educated workforce should reflect Utah's growing diversity.
That's why iUTAH has worked hard to reach out to under-represented groups in Utah by targeting many public outreach activities to women and members of racial and ethnic minorities. Also, our workforce development programs have focused on encouraging members of under-represented groups to pursue careers in water science and engineering. In 2016, we joined in Utah State University's Native American STEM Mentorship Program (NASMP) for a second year, introducing water sustainability topics to the program's 22 participants and inviting two students from USU Eastern's Blanding campus to conduct research alongside iUTAH faculty and students for three weeks in May and June.
We redoubled our efforts to recruit under-represented students from Utah's primarily undergraduate institutions to join our iFellows summer research experience program. The iUTAH WaterGirls program, which offers a water-focused field experience for middle school girls mentored entirely by women scientists, grew to include an 8-week after-school program at a minority-serving school on Salt Lake City's west side.
iUTAH has seen success in its efforts to help build a more diverse STEM workforce for Utah's water future. In 2015, the Summer Research Institute program, geared toward high school students and teachers, served a population that was 44% female and 21% under-represented minorities. The following year, 71 percent of our summer iFellows participants were female, with 18 percent coming from under-represented minorities. Through efforts such as these, iUTAH has worked to build a STEM student population and eventual statewide environmental science workforce that is truly representative of the state that it serves.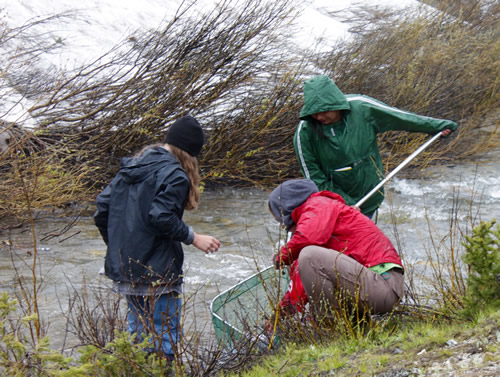 Diversity Enhancement News
April 6, 2018
Outdoor Learning Reaches a Larger Classroom
March 14, 2018
USU's Nancy Huntly Named Ecological Society of America Fellow
February 14, 2018
Traineeship Students Gain Real Skills
April 14, 2017
iUTAH Donates 235 Water Books to Area Libraries
December 6, 2016
Engaging Neighborhoods in Survey Results