Summer Research Institute
iUTAH's Summer Research Institute (SRI) engaged students at many levels in experiential methods, or learning by doing, offering students and teachers the chance to become scientists for one week each summer. SRI was designed to help teachers and prospective teachers understand what scientists do and how they collaborate on research. Director Louisa Stark and Senior Education Specialist Molly Malone from the Genetic Science Learning Center at the University of Utah organized and led the program using their expertise in developing online interactive curriculum materials for use by educators and their students.
About Our Program: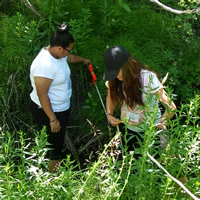 Over the four years, 2013 – 2016, that SRI was offered, the program reached 96 high school students and teachers, and undergraduates in 13 diverse research projects reflecting iUTAH's cross-disciplinary approach. Over half of the participants were female, and 70% of the student mentors were from schools like Utah Valley, Weber, and Dixie State Universities whose focus is on educating undergraduates.
The impact of the SRI program was two-fold. Students and teachers from across the state were able to engage in iUTAH's water research projects at a single campus for one week each year. Faculty, post-doctoral, and graduate student mentors learned how to prepare curricula through individual and group interactions. The program succeeded in widening the STEM pipeline in Utah, bringing students and teachers from different geographic, age, and underserved backgrounds together to learn.
The program, as a whole, supported peer mentoring in many different directions. High school students learned from undergraduates, undergraduates learned from graduate students, and teachers and university faculty learned from each other. This entire cross-pollination process produced curricula that have been widely shared, both nationally and internationally. The Model Earth curriculum is an open access online resource with over 18,823 visitors and 35,931 page views in 2016. Within this curriculum, the most popular module is Manage a Watershed, which combines lessons from both the CI-Water and iUTAH projects.       
SRI Interactive Curriculum Materials: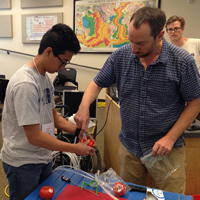 The Model Earth curriculum and Classroom Activities are available online through the learn.genetics website at the Genetic Science Learning Center, University of Utah, a partner in the iUTAH project, for use by educators and their students.
Classroom Activities for Teachers to accompany Model Earth module

SRI in the News: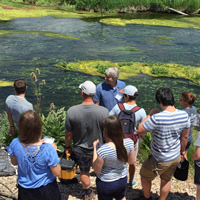 May 16, 2018
HESS Best Paper Award for iUTAH Collaboration
Former iUTAH postdoctoral researcher Erik Oerter, along with Molly Malone, Louisa Stark, and Gabriel Bowen, and others received the Jim Dooge Award 2017 for the best paper in the European Geophysical Union's flagship journal "Hydrology and Earth
Read More...
October 5, 2017
Classroom Lesson Leads to Publication
Former iUTAH postdoctoral researcher Erik Oerter has collaborated with Molly Malone, Louisa Stark, and Gabriel Bowen, and others to publish the paper "Every apple has a voice" in Hydrology and Earth System Sciences, a
Read More...
December 9, 2016
WSU Students Present Undergraduate Research
A mini-symposium was held for the fourth straight year on the campus of Weber State University. It featured research posters and presentations from iUTAH's Summer Institute and the Undergraduate Research Fellows (iFellows) Program. The event was
Read More...
August 3, 2016
Just Add Water: iUTAH's Summer Institute Engages Students and Teachers
As the fourth and final year of the iUTAH Summer Research Institute came to a close in July 2016, students, teachers, and faculty members reflected on the impact the program has had on them. Among the articles written about the weeklong program, the
Read More...
March 17, 2016
iUTAH Institute takes teachers, students back to Salt Lake City
The iUTAH Summer Research Institute will return to the Red Butte Creek watershed for five days, starting July 11, 2016. Beginning in 2013, the Institute has encouraged an interest in water science by including high school students, teachers, and
Read More...
November 8, 2013
Summer Institute Dates Announced
The iUTAH Summer Research Institute 2014 will be July 7 to 11 at Bear River watershed in Logan. More details to come.
Read More...