iUTAH Team - Undergraduate iFellows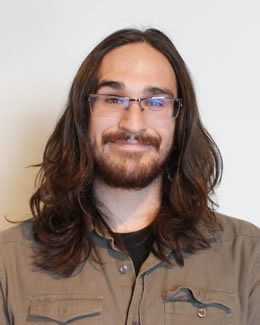 Phillip Andre Valle
Weber State University
Mentors:
Faculty: Courtney, Flint, USU
Graduate:
Research Focus:
Research Focus Area 2
Major:
Health Promotion Human Performance Management - Wellness
Biography:
André is a Utah native and is currently attending Weber State University in their Health Promotion department majoring in Human Performance Management with minors in Neuroscience and Spanish. After graduation Andre will apply for Physician Assistant school where he wants to graduate on to both practice and research at an academic hospital or university working towards travel and/or aviation medicine. Outside of academia he enjoys reading, gaming, skateboarding, snowboarding, half marathons, hiking, biking, cooking or finding local dives, dog time with his pair of shepherds, and the occasional band practice playing bass guitar. His group, Torrent, are amidst the production of their first release. "I'm enthralled to be apart of iUTAH. My global warming professor, Dan [Bedford], really helped me to understand some of the issues we all face that arise from climate change and to further realize that there are, in fact, ways we can engage with climate change to work towards sustainability and clean energy for the benefit of our future generations. For me, iUTAH is just one of those ways."
Weekly Recap:
Week 1 | Week 2 | Week 3 | Week 4 | Week 5 | Week 6 | Week 7 | Week 8 | Week 9 | Week 10 | Week 11
Week 1: May 18-22, 2015
My first week here with iUTAH has been challenging but very fun. It's been incredible to see just how innervated my professor is with so many projects that are relatable to iUTAH. USU is a beautiful campus and can't wait to see what next week brings.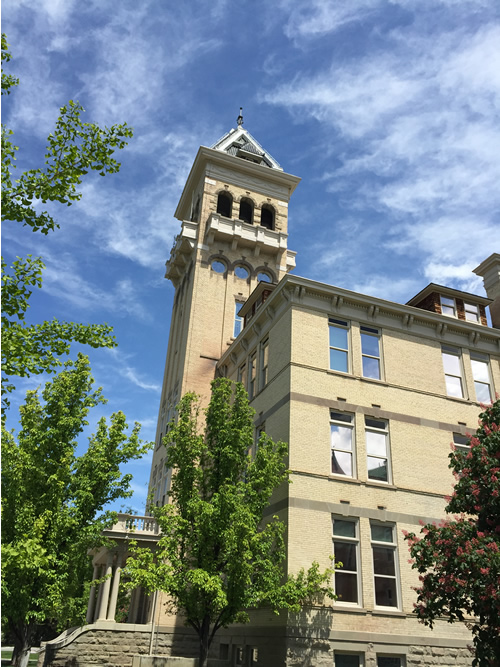 Week 2: May 25-29, 2015
Our team in RFA2 with Courtney Flint was flowing much better for the second week. Over the course of Tuesday-Friday we made some significant leaps and bounds with our survey processes and interview procedures. The IRB protocol was further ironed out, sent out, and was approved quickly. We pilot tested our interview process with USU students and staff, and it helped us to get loose and see what public intercept surveying was all about. We also met as a group each day. I got out into Logan and did some looking around the benches for site selection (for surveys), and found a place called Green Canyon.
All in all, 2nd week was great!
Week 3: June 1-5, 2015
No Entry
Week 4: June 8-12, 2015
For week 4 Utah Water Voices finally took flight. I got out into the field a lot more this week and upon performing more interviews I have begun to see some patterns and trends amongst the public perception of water up here in Logan. We expanded our site selection to an additional site (3rd dam) and it has thus far proven to be successful. On another note, we have now deployed a 3rd person on our team, Alex Brown, and this is exciting to us so we can further maximize our data collection. Next week, we'll be traveling down to SLC to attend a conference and subsequently sample down there for a few days. We have also begun developing our poster strategy and finally, we rounded up another week with an "all hands" team meeting. Something cool I saw? Someone's house I saw had a 'catio.' A hand-built patio for a cat that was fashioned onto a window without a sill -Catio.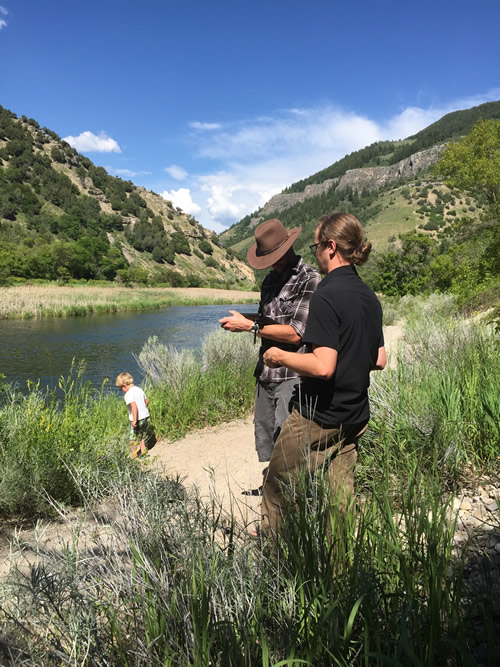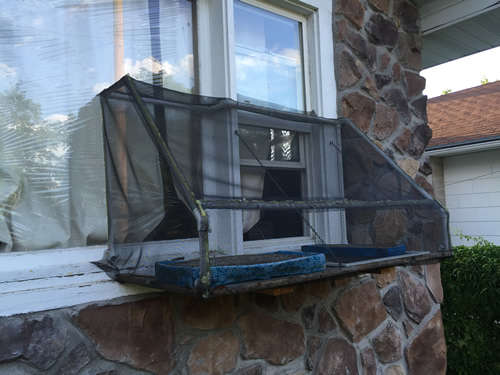 Week 5: June 15-19, 2015
My fifth week as an iFellow showed me a little bit of everything. Some travel, some more interviewing with the public of Logan, and a dose of poster development. On Monday, we went down to BYU to meet again as a cohort and we had some great presentations given by our staff as well as an in-service from one of BYU's librarians. In addition, we received a poster demonstration from one of the previous iFellows and as a result we learned a great deal more about presenting, speaking, and conferences. A few Logan iFellows and myself were able to carpool and this was great as we stopped for dinner and enjoyed the return commute. As for the rest of the week - Utah Water Voices was cruisin' right along. We tried our hand at various sampling strategies throughout the week (time of day, reversing orders, etc.), and in doing this it provided to us some valuable insight. We were able to become more efficient after nixing one of our site locations. An incredibly strong rain cell also blasted us up at 1st Dam! The rain was coming down in sheets and the gusts of wind were quite gnarly. There were even decent sized waves being generated in the waters of 1st Dam. On other terms, overall, we had our best sampling day during this week and I got my first full-on Spanish interview down. I began collecting some literature to add to our poster ideas and Zack drew up a layout strategy. All in all I think this was a very productive week.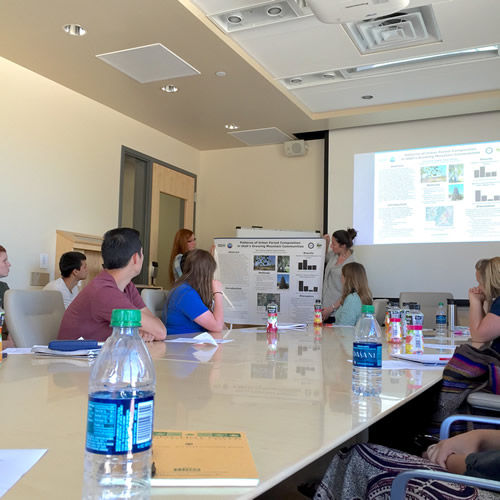 Week 6: June 22-26, 2015
The 6th week as an iFellow set the bar high. We went to SLC and sampled down there for a few days. We used the Red Butte Creek as our water body, and had some good success in the public parks. We collected unique and diverse interviews. In addition to sampling, we went to the office of the Division of Natural Resources of Utah and sat in on a Great Salt Lake Advisory Council meeting regarding the future of the Salt Lake and surrounding watersheds of northern Utah. Here's an excerpt from their website:
In 2012, the Great Salt Lake Advisory Council (GSLAC) recommended the development of an Integrated Water Resource Management (IWRM) model to help address the need and answer these pressing questions. "Understanding changes in future water supply and its relationship to Great Salt Lake levels is central to sustainable economic benefits from the lake and is important to sustain critical habitat and a healthy ecosystem" (Great Salt Lake Advisory Council, 2013). Source: DNR's website for the IWRM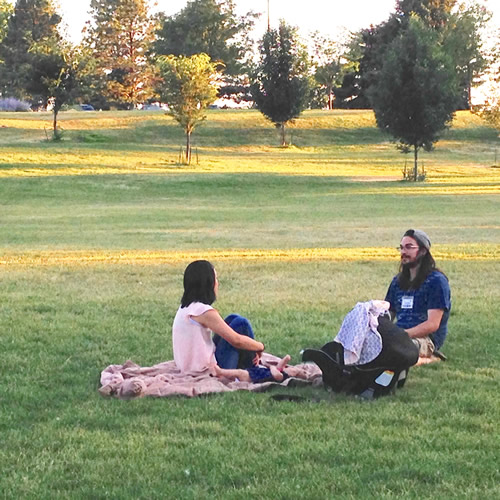 Week 7: June 29-July 3, 2015
In the 7th week the iFellows met again as a group and we all presented and discussed our research projects. We brought drafts of our poster presentations and everyone did a fantastic job at putting their information together as well as presenting. I was thoroughly impressed with the high degree of ownership that the iFellows had over their research. The remaining weeks have been planned out for Utah Water Voices. We have now begun our coding process and there is excitement to see the preliminary findings. For week 8, we will begin to develop the digital story telling component of the Utah Water Voices project. More to come!
Week 8: July 6-10, 2015
Our 8th week in Utah Water Voices has been a lot of fun. We have innovated a way to present a multimedia "story" for what we've collected and observed thus far. At the time everything appears to be working on our device, and the content and video productions are coming along nicely without any major roadblocks. We have done some preliminary coding, spent time in excel a bit, and we will be looking at shedding some light on what analysis might look like next week.
Week 9: July 13-17, 2015
The 9th week as an iFellow was stellar. The pressure was on this week. It was really fun and engaging to be with the team this week and see our efforts come to fruition with our completed posters and supplemental video. We launched our project to the iUTAH community and beyond and we got some really great questions about our project as well as some great feedback about our supplemental Utah Water Voices videos. The symposium was certainly the highlight of this week.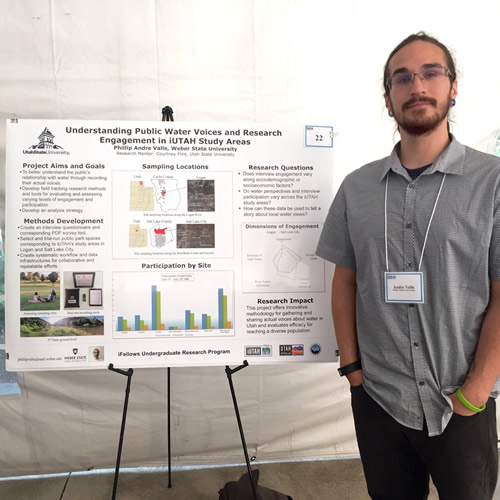 Week 10: July 20-24, 2015
For my tenth week as an iFellow - I began to learn what social science coding was all about. In our project, we'd collected lots of samples of water voices and it was during this week that we began to manually code the transcriptions. In our scenario coding involved going through and selecting excerpts and content from the interviewees for our projects' selected topics through as many interview transcriptions possible. This was a computer-heavy week and it was a different change of pace for the project. We coded just over 80 interviews over the span of a few days.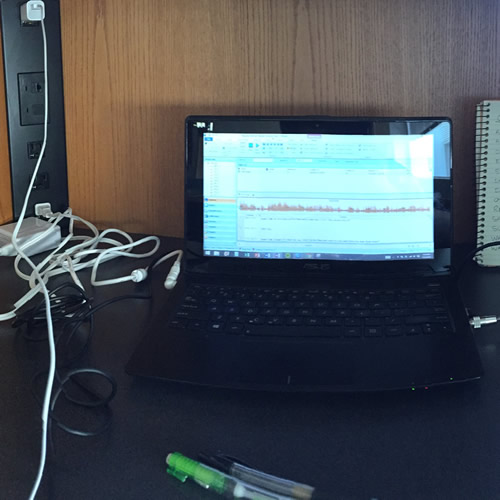 Week 11: July 27-31, 2015
This was the last week of the iFellow program. For Utah Water Voices, we'd finished what we could for coding and had prepared a presentation for the iFellow symposium that was on the 29th of July. This was a great symposium - all iFellows presented their summer work and everyone did an absolutely amazing job at showing what they'd learned and experienced over the program. The 2015 iFellows group was a terrific, steadfast, strong and wise group that will be remembered for a long time to come! For now, I'll be signing off but look out for future Utah Water Voices material on coming up on the horizon.