iUTAH Team - Undergraduate iFellows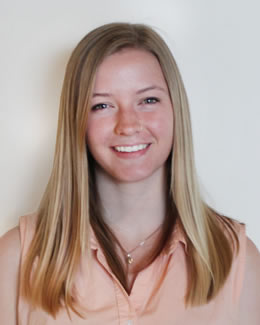 Heather King
University of Utah
Mentors:
Faculty: Rob Stoll, UU
Faculty: Eric Pardyjak, UU
Graduate: Brian Bailey, UU
Research Focus:
Research Focus Area 3
Major:
Social Work
Biography:
Heather King is planning to graduate from the University of Utah in the spring of 2016 with a degree in Social Work. She is interested in the connection between people and the environment and how each impacts the health of the other. The past three years she has worked at the Huntsman Cancer Institute as a lab aide assisting with genetic research on melanoma tumors. She is excited to gain new research skills this summer with the iUTAH team and learn more about water research. When she's not studying or working in the lab she spends her time helping in community gardens, training with Salt Lake Capoeira, and playing in the mountains.
iFellow Presentation
Weekly Recap:
Week 1 | Week 2 | Week 3 | Week 4 | Week 5 | Week 6 | Week 7 | Week 8 | Week 9 | Week 10 | Week 11
Week 1: May 18-22, 2015
During my first week as an iFellow I was introduced to the iFellow cohort at the Natural History Museum of Utah and learned the goals and expectations for the summer. Later in the week I met with my mentors Rob Stoll, Eric Pardyjak and several graduate students to discuss our first task of installing Local Energy Measurement Stations (LEMS) to measure radiation, wind direction/speed, soil moisture, humidity, etc. The other iFellow, Saywer and myself installed 11 devices.
Week 2: May 25-29, 2015
This week the other iFellow Sawyer and myself checked up on all the LEMS installed and began collecting data to be analyzed. We also began building an albedo measurement device with Brian Baily to determine the reflectivity of various surfaces. Additionally, we created a spread and map to identify each tree on the University of Utah engineering quad.
Week 3: June 1-5, 2015
On Monday of week three, the cohort met for our second time at Utah State University where we visited two GAMUT sites and discussed important components of a research poster and learned about diversity awareness. Back at the University of Utah we began exploring how to build and install a rooftop Local Energy Measurement Station on one of the engineering buildings. We were also able to test our albedo measurement device, and continued collecting the LEMS data to be analyzed.
Week 4: June 8-12, 2015
This week it has been exciting to see our project take shape. We have accomplished quite a bit thus far. One of our biggest tasks was converting our tree data in an excel spreadsheet into an xml file, which took quite some time experimenting to find the best way to easily convert the data. Another large task, which we accomplished was installing the flux tower on the University of Utah campus.
Week 5: June 15-19, 2015
The iFellows met in Provo for our third cohort meeting where we talked about research presentations and literature searches. This week we continued collecting the data from the LEMS devices and checking them with our Matlab program. We went to the store to purchase all the parts to make our rooftop LEMS. We also started the process to set up our tree sensors. We tested the equipment, soldered a few parts, and set the post up by the tree to attach the equipment.
Week 6: June 22-26, 2015
This week we put up the tree measurement devices. We spent the first part of the week getting the instruments ready to be deployed. Then we installed the devices using a bucket truck to reach the top of the trees. We learned how to make and install sap flux needles and installed those as well.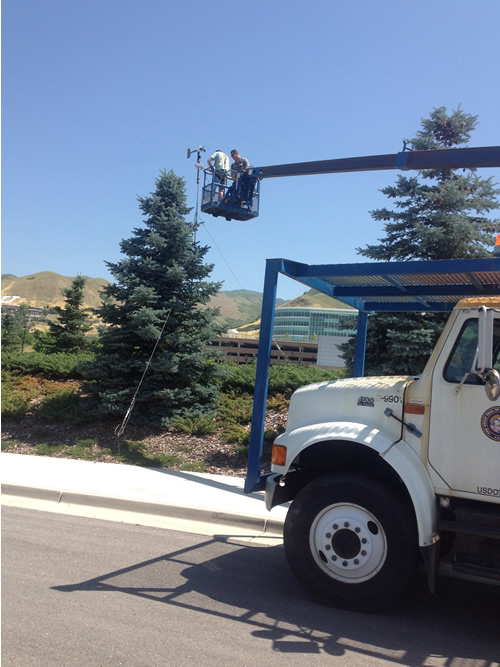 Week 7: June 29-July 3, 2015
This week the iFellows met in Logan where we presented our posters to receive feedback. This was very helpful and gave me some ideas of how to improve. Back in the lab we finished installing the final equipment on the trees to start collecting data. During the installation the sprinklers surprised us and turned on twice, soaking us with water. We also installed another LEMS device and discovered the location is actually an underground rooftop, which will be interesting to study. However, this will change how we measure the area.
Week 8: July 6-10, 2015
During week eight, I got items ordered to make more sap flux measurement probes. We checked up on all the devices we have installed to make sure they are running properly and all the measurements look correct. I was also able to spend more time on my poster getting all the information finalized for the poster session coming up during week nine.
Week 9: July 13-17, 2015
We spent this week collecting millions of data points with a lidar scanner to create a 3-D image of specific trees being studied at the University of Utah. I also spent time with Matlab to represent my results graphically, and finalized my poster. Friday at the iUTAH symposium, I met many people who are working to advance the goals of iUTAH, and learned about the research being conducted by this group. The symposium was a great experience to present my research formally in a poster session and hear the feedback from professionals in the field.
Week 10: July 20-24, 2015
Week ten we checked up on all our devices we have installed, replaced the batteries, and downloaded the data. Most of the stations look good but we have had to adjust and replace parts on a few. We were able to measure and make additional sap flux sensors but we ran out of wire to finish making them so we ordered additional parts to complete the project. The process of making them has been interesting to learn and is pretty detailed since you are working with such small parts.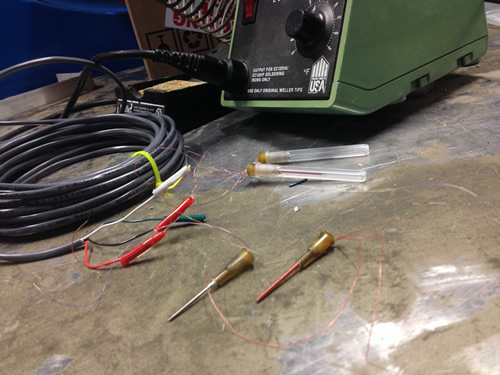 Week 11: July 27-31, 2015
Week 11 we spent busily wrapping up our final projects. We presented our research on Wednesday at the University of Utah. Most of our shipments came in so we finished building all the sap flux measurements and installed them on three trees, along with additional thermocouples to get a better representation of the trees in the area. We also hauled up all the equipment for the rooftop Local Energy Measurement Station. The project will continue throughout the fall and into the winter collecting data. The entire iUTAH research experience has been a great opportunity for me to dive into environmental research and learn more about the importance of water research in the state of Utah.