iUTAH Team - Undergraduate iFellows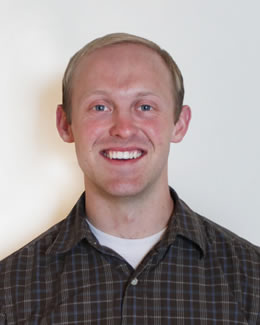 Josh Gathro
Utah State University
Mentors:
Faculty: Ryan Dupont, USU
Faculty: Joan McLean, USU
Researcher: Will Fullmer, USU
Research Focus:
Research Focus Area 2
Major:
Geology – Hydrogeology/Engineering Geology
Biography:
Josh Gathro grew up in Jacksonville, FL and currently attends Utah State University. He is majoring in geology with particular interests in hydrogeology and engineering geology. His experience and research at USU has helped him become a well-rounded scientist and he hopes that being an iFellow will expose him to additional fields of research. After graduating in the summer of 2016, he intends to pursue a Master's degree in Geological Engineering. In his free time, Josh enjoys running, biking, hiking, and learning new things.
iFellow Presentation
Weekly Recap:
Week 1 | Week 2 | Week 3 | Week 4 | Week 5 | Week 6 | Week 7 | Week 8 | Week 9 | Week 10 | Week 11
Week 1: May 18-22, 2015
It's been an exciting first week! I have been getting familiar with the facilities and faces here at the Water Lab and diving into my project. On Tuesday I got to hit the streets of Logan and grab some stormwater samples after a big rainstorm blew through. Another highlight was going to a private well site on Thursday and doing fieldwork with our collected groundwater samples to prepare for laboratory analysis. I'm learning so much fascinating chemistry in addition to learning about the various geologic factors contributing to groundwater contamination in the valley. I'm really excited to learn a lot and to figure out the problem that nature has given us.
Week 2: May 25-29, 2015
This project is really starting to become my own. In my research this week, I have learned a lot about arsenic and its anthropogenic and natural sources as well as its behavior under different conditions. It's amazing how complex natural systems can be. We went into the field on Friday to collect groundwater samples from another well. I'm getting the hang of things now and our in-field analysis is fun to learn. From what I've discovered in my literature review this week, it looks like we'll be able to sample water from geothermal springs this summer! I'm looking forward to the exciting weeks ahead!
Week 3: June 1-5, 2015
Wow, what a busy week! On Monday we had our second cohort session, which went really well. It was a great chance to mingle with the other iFellows, learn about poster presentations, and to go visit a couple GAMUT stations. It was fun to hear how everyone's first few weeks of research have been. Tuesday I met with a geochemist on campus and his undergraduate researcher to collaborate on our projects. They have collected and preserved samples from nearby geothermal springs that we at the water lab are going to analyze for anions and trace elements, including arsenic. Wednesday and Thursday I spent learning more laboratory procedures in order to prepare the samples for analysis. I'm eager to get the results back and to see what we find. On Friday, Will Fullmer and I went out sampling wells again in order to see how the chemical parameters have changed since last November. I'm getting more confident with all the procedures and I'm learning a lot on this project.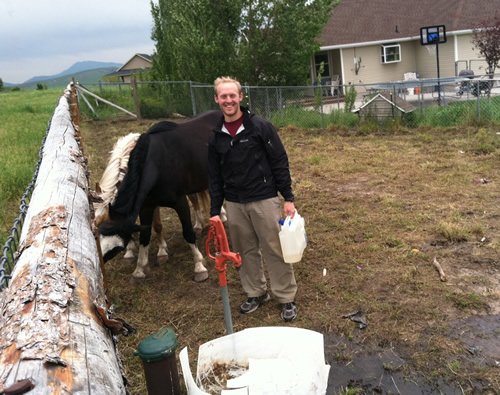 Week 4: June 8-12, 2015
This was another great week. On Monday and Thursday we got to go sample some more wells, 5 in total. It has been a lot of fun to see new sites and learn about the different wells. It turned out that one man we visited on Monday, who we knew owned a well, also owned rights to a spring near his property that he tapped into as his primary source of drinking water. So we went back on Thursday to sample the spring, and there was a noticeable difference in the quality of his spring water versus the quality of his well water. The results of our hot spring samples analysis also came back this week. Arsenic levels aren't as high as we anticipated, although they are still higher than any of the wells we've sampled. And we got another lead on an area with remarkably high levels of arsenic. We'll be doing more next week to sort out and further investigate the clues.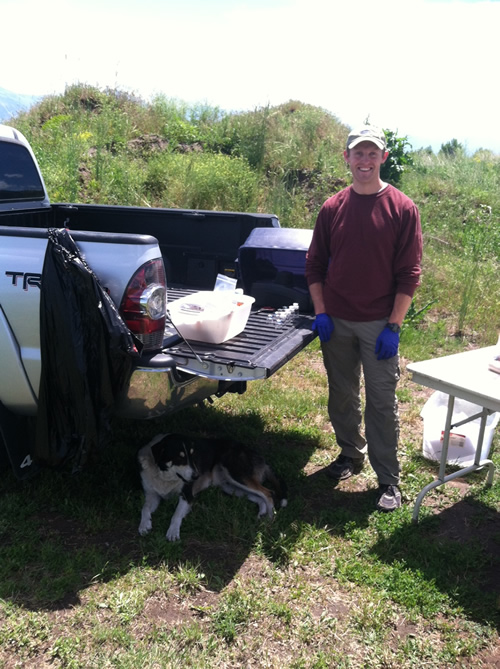 Week 5: June 15-19, 2015
With our iFellows cohort session on Monday, the rest of the week seemed to go by quickly. Our goal for the week was to have all the well samples we've gathered thus far analyzed for Arsenic in order to see some preliminary results of our seasonal comparison. To prepare our samples we did a nitric acid digestion, then diluted and filtered our samples and transferred them to vials for analysis in the ICP-MS. It looks like we'll have the results back on Monday, and from there we can decide whether or not to continue sampling or redirect our efforts. A lot of questions about the soil have also emerged that we hope to address in the coming weeks.
Week 6: June 22-26, 2015
We have the analysis results back from all of our May/June wells! Interestingly, all of the well water samples show lower arsenic levels in the spring than the levels obtained from last fall. I'm not sure why that is but I've been organizing and summarizing the data this week to make comparisons and see patterns. We've also gone out multiple times this week to collect soil samples from key locations around the valley. Hopefully those will tell us more about the nature of the processes involved in As release. In addition I'm getting my poster ready for our initial presentations at the iFellow meeting next Monday. Things are coming together.
Week 7: June 29-July 3, 2015
The iFellow meeting on Monday went great. We got a lot of feedback from each other and were able to see in greater depth what everyone else has been researching this summer. With my presentation in mind, I went back this week to review some of the chemical and biological processes related to arsenic in order to better address any questions I get asked at the symposium. Now that I'm more familiar with it all, I'm capturing a lot more of the literature concepts than I originally did. I was also able to compare the rest of the fall and spring well data to see that all the iron levels went down in spring, as did arsenic. In addition, we prepared our soil samples from last week so that sequential extractions can be performed in order to analyze the soil chemistry.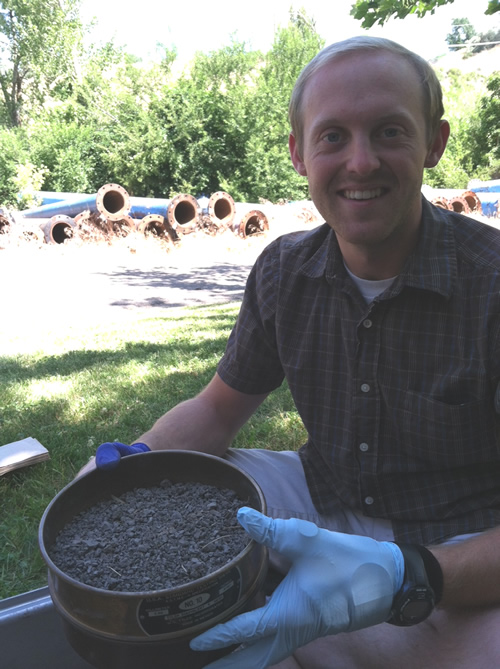 Week 8: July 6-10, 2015
The sequential extraction process for our soil samples began on Monday. I got to spend a lot of time in the lab doing different steps, which were fun to learn. This week I was also able to help a graduate student install 10 lysimeters at her field site in town. I used a hand auger to get soil samples and create the small borehole while they placed and set the lysimeters. It was fun to learn and it's always cool to catch a glimpse of the subsurface. I revised my poster quite a bit this week too. I'm looking forward to sharing my research next week at the iUTAH Symposium.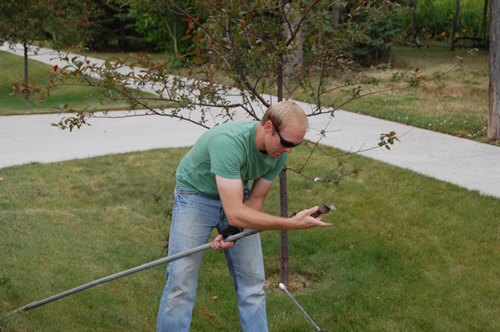 Week 9: July 13-17, 2015
After our online iFellow meeting on Monday, a lot of this week was spent focusing on my poster and presentation: formatting, revising, revising again, gathering resources, and printing. The iUTAH Symposium on Friday was our culminating event. Despite the long drive, it was fun going to Midway and seeing new scenery. The conference was terrific! There were a ton of people and the sessions were very informative and strengthening. My poster presentation went well, and I really enjoyed talking to others about my research. It almost felt too short. It's sad the summer is coming to a close.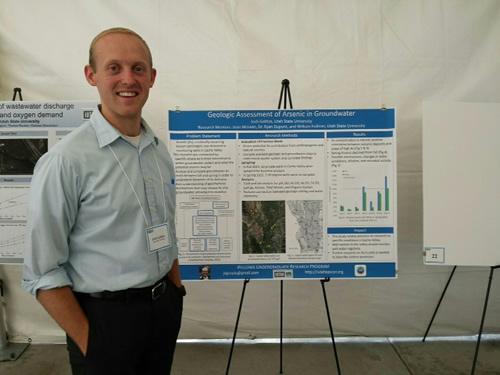 Week 10: July 20-24, 2015
This week I was able to help out a bit in the lab and go with Trixie Rife and Dee Willey to set up a weather station for Trixie's project. Our final iFellow Symposium is coming up so I've been putting together my PowerPoint presentation as well. The Responsible Conduct of Research Training also took some time to complete but it was helpful to learn about research integrity.
Week 11: July 27-31, 2015
Our final week of the iFellow internship! Wow, it's gone by fast. The iFellow Symposium on Wednesday was really enjoyable. It was fun to present my own summer research and listen to others in the cohort report on the projects we have been doing all summer. The past 11 weeks have been a tremendous learning experience for me. And it's just the beginning of my research career.