iUTAH Team - Undergraduate iFellows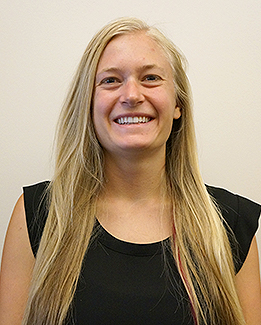 Georgie Corkery
University of Utah
Mentors:
Faculty: Steve Burian, UU
Graduate: TBD         
Research Focus:
Research Focus Area 2
Major:
Environmental and Sustainability Studies, Urban Ecology
Biography:
Georgie Corkery is an undergraduate student at the University of Utah studying Environmental and Sustainability Studies, Urban Ecology, and Design. She works at the University of Utah's Edible Campus Gardens as the lead garden steward, is a member of the Sustainable Leadership Committee, is project executive of the high tunnel hoop house installation on campus, and is working on publishing an educational coloring book that teaches people how to make eco-friendly cleaning products. Her interests are sustainable development, urban agriculture, environmental justice, and wilderness conservation.
iFellow Presentation:
Utilizing Hydroponic Systems to Optimize Food Production in Salt Lake City, Utah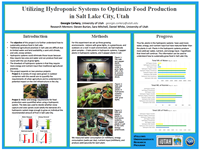 Presented by: Georgie Corkery
July 2016

Weekly Recap:
Week 1 | Week 2 | Week 3 | Week 4 | Week 5 | Week 6 | Week 7 | Week 8 | Week 9 | Week 10 | Week 11
Week 1: May 16-20, 2016
With my mentor it has been decided that I will be working on three projects; 1) testing what lighting is best to grow crops with hydroponic systems and container gardening, 2) developing a cost effective hydroponic system or container gardening system that can be used by the general public, and 3) potentially looking at the feasibility of commercial urban agriculture farms, including water use, labor costs and hours, etc.
This week a fellow undergraduate student and I came up with the methodology for the first project and wrote up a budget request for the supplies that we will use. We decided to have three hydroponic pots of kale, three hydroponic pots of peppers, and three soil pots of peppers at each of our three location; indoors, in a greenhouse, and outdoors. So far we have planted all of our seeds, started recording input data, and solidified 3 locations.
Next week I look forward to creating a set of experiments for my second project and start testing what growing systems would work best for an at home container or hydroponic system. I have to have a budget written up and ready to submit by the end of next week.

I also connected with Frog Bench Farms to coordinate a tour of their farm and to discuss details of potentially using their farm as a case study for the third project. I am excited to see how they operate and if they will be a good fit for my research.
Week 2: May 23-27, 2016
For the Hydroponic Lighting experiment, Sara and I set up the lights in our indoor space as well as reseeded our kale plants because they died - most likely because they were initially too close to the light fixtures. Together we also created a spreadsheet and decided how and what data we wanted to record. We have been watering daily since, and adding nutrients as needed.
On Wednesday we saw that there were gnats on our soil blocks and rock wool. Gnats reproduce quickly and eat the roots of plants. So, to nip the problem in the bud, I set up a on the plants to prevent the gnats from staying on the starts and laying more eggs. On Thursday the gnats were almost gone so we turned off the fan and put out sticky traps and carnivorous plants.
Danny and I created a potential design for the Home Hydroponic Kit, made a tentative budget, and purchased a pump, a tube for the pump, a light, a shelving unit, and a basin. These materials put together will be our first step in the design process to see how everything fits together. Next week we plan on setting it up, testing it out, troubleshooting, and looking into different materials to use for the end product as well as an instruction sheet on how to use it.
For the Urban Agriculture Farm project I connected with Frog Bench farm and plan on touring and discussing project details with them next week Thursday!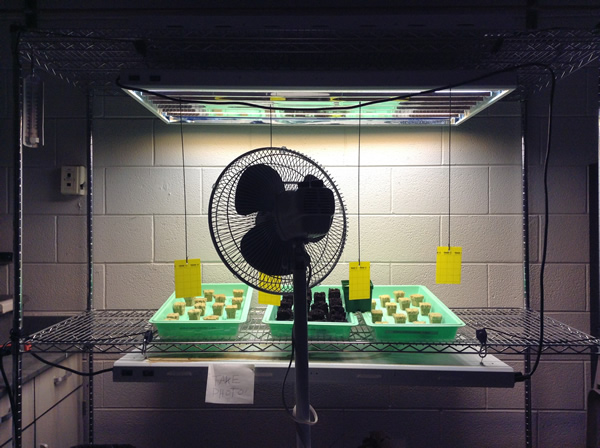 Week 3: May 30-June 3, 2016
Monday I reseeded the plants for the Hydroponic Lighting project because only 4 of the kale in rock wool, peppers in rock wool, and peppers in soil have sprouted. By the end of the week however, they all started to sprout! I am excited to watch them grow and finally up pot them into the hydroponic systems and larger soil containers.
For the Home Hydroponic Kit we set up our first prototype and discussed the use of solar energy to run either the aeration pump or the light fixtures, or both. There are LED camp lights that are solar powered that we are looking into, however, the energy needed for a standard grow lamp might require too large of a solar panel for this project.
Lastly, my mentor Steve and I went to Frog Bench Farms to take a tour and see if it would be a good case study to demonstrate water use in urban agriculture. I was blown away by how efficient, organized, and beautiful the farm was. I think it would work great as a case study because they use water efficiently via drip irrigation, and they have 6000 gallons water tank system that harvests rainwater, as well as a computer system that water the plants only when it is needed. Frog Bench Farms would be a great case study to show how water can be efficiently used to grow food in a city.
Week 4: June 6-10, 2016
This week my mentor and I discussed how we would want to incorporate Frog Bench Farms into our research. Together we came up with using Frog Bench as model, not in a case study sense, to create a hypothetical environmentally sustainable urban agribusiness that could feed a larger percentage of Salt Lake throughout the year. I would use parts of their operational data to parameterize a hypothetical example (water use, labor, yield, etc.). I could possibly mix this data with data from other urban agribusinesses.
I am defining environmentally sustainable as net zero energy, water, and nutrients. Net zero energy entails using renewable energy (solar, wind) to generate on site lighting, growth, pumping, storing, etc. Net zero water entails using a rainwater harvest system similar to the one at Frog Bench, and possibly a graywater system as ways to use local water in a drip irrigation system. Net zero nutrients entails using household waste, animal waste, and compost as source of nutrients to organically fertilize crops.

Though I am still working on my other two water use in urban agriculture projects, I am going to focus on using Frog Bench Farms as an environmentally sustainable urban agribusiness for my iUTAH poster, presentation, and paper. It has been exciting to see different growing systems and what they require to succeed as a continuation of my mentor's long-term study of urban agriculture, and developing this farm model will be a fun contribution!
Week 5: June 13-17, 2016
This week my research partner Sarah and I set up our hydroponic systems for our Hydroponic Lighting experiment! I am so excited to have the ball rolling on the project, however we have hit some bumps that I am trying to smooth out; the additional hydroponic systems that we ordered had a slightly smaller basket to hold the plants than the four we already had. This inconsistency would require us to put more water into the new systems than the old in order for the plants to be submerged. Therefore, I picked up four smaller baskets for the systems we already had and will transplant the plants into them this weekend!
To finish setting up for this project, next week I will transplant the peppers started in soil into larger containers. Overall, I am glad everything is in place (or on its way) for the experiment.

For my Home Hydroponic Kit project, we put together all of the material, planted five kale starts into our system, and hooked up the lights and air pump, and the system works! There are a few aspects of it that we would change, the size, color, etc., but we are well on our way through the design process!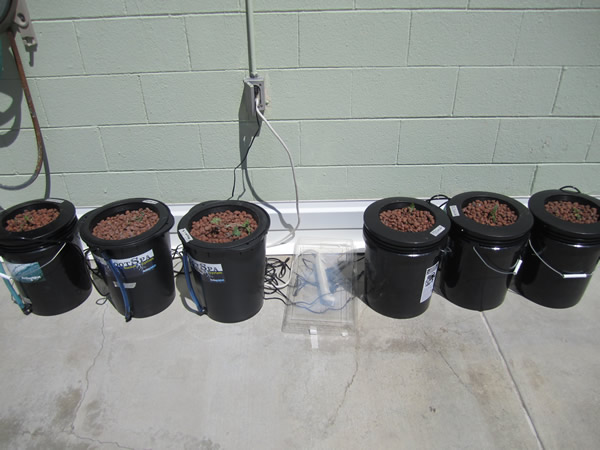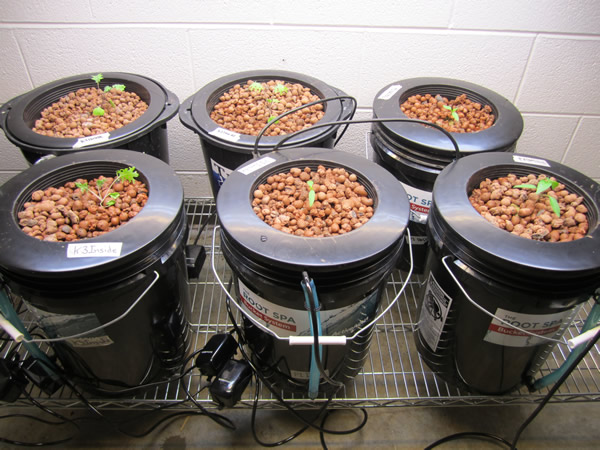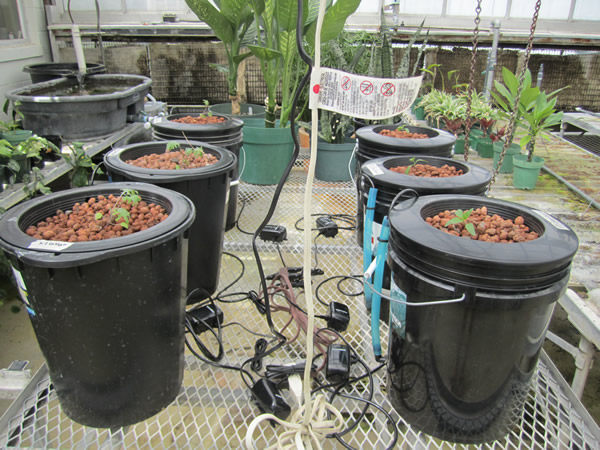 Week 6: June 20-24, 2016
This week has been very successful! Everything is finally all set up for my Hydroponics Lighting experiment! It took a lot of trouble shooting due to unexpected variables, but now there are three kale plants in hydroponic systems, three pepper plants in hydroponic systems, and three pepper plants in pots of soil each under grow lights indoors, in the biology greenhouse, and outdoors! Along with that, I have made many adjustments to the data collection method and am excited to watch the experiment unfold.
For the Home Hydroponic Kit project, my research partner and I went on a tour of a local hydroponic company named Harvest Squared. We had the privilege of taking a tour of their shipping container hydroponics unit, and asked a lot of questions. For me it was interesting to contrast the ecological footprint of this hydroponics farm to local organic farms and larger conventional monoculture farms. This hydroponics farm in a shipping container uses less water per yield, but the energy and nutrient input is quite high! This has furthered our interest in making a system that is more energy efficient as well as water efficient.

The environmentally sustainable Urban Agribusiness project has again shifted and transformed. After talking with my team and mentor, we think we have come up with a way to tie my projects together with past research conducted by my fellow research partners (also regarding water use in urban agriculture). I have been rereading through their research and want to use it all to fit into the generation of a large scale environmentally sustainable urban agricultural system model for Salt Lake. This way I will be able to showcase my experiments and look at the bigger picture.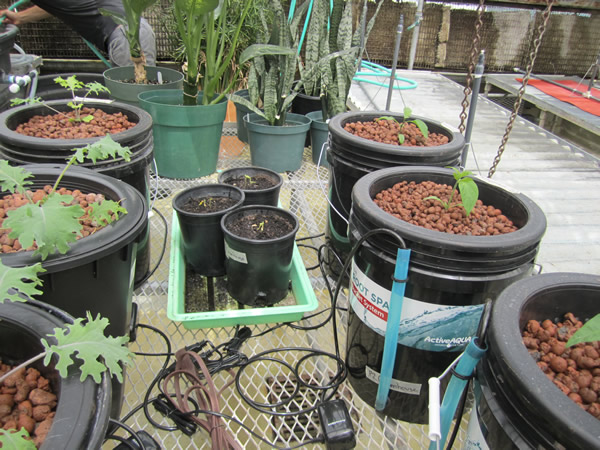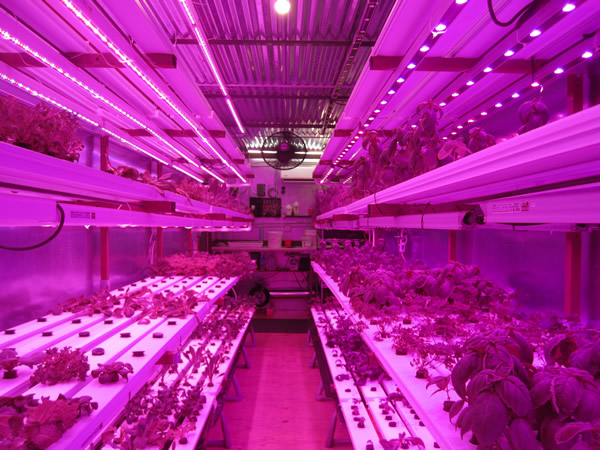 Week 7: June 27-July 1, 2016
This week I maintained the Hydroponic Lighting experiment, reviewed the research papers written by my research partners regarding their experiments with hydroponic systems and container gardening, and worked out the the focus of my project for iUTAH.
In terms of maintenance of the Hydroponic Lighting experiment, we changed out the water and nutrients for the plants outside (of which four of the six have died) and watered almost daily the peppers in soil in each of the three locations. Clearly, the peppers in soil will use more water than the hydroponic plants, and the plants outside will use more water and nutrients than the plants inside or in the greenhouse, and the plants inside will use more energy than the plants outside or in the greenhouse.
The focus of my project is becoming more clear as time goes on. From the general question of What is the water use in different urban agricultural settings? to Can Salt Lake City sustain a large percentage of their food supply off of environmentally sustainable urban agriculture? we are more specifically looking at What urban agricultural setting in Salt Lake City, Utah provide the largest pounds of yield for the least amount of water, energy, and nutrient input?
Week 8: July 4-8, 2016
This week I started to harvest kale in the Hydroponic Lighting experiment! It is exciting because we finally are able to compare the input to output, and as hypothesized the plants in the greenhouse are producing more pounds of produce than the plants indoors and outdoors while using less water and nutrient input. However, we have to factor in the energy and water input that maintains the humidity, temperature, and air circulation that maintains the environment, which could change the outcome.
I have also concentrated on condensing all the information from my project to fit onto my poster and deciding what images to use. It has been hard because a big part of the my research is the fact that it is an extension of two past projects. One was conducted in the summer of 2015 looking at the evapotranspiration of hydroponic plants indoors and container gardening outdoors. The second was in the winter and fall of 2016 where the question was could collecting snow capture and solar panels Could satisfy the demands of a hydroponic system large enough to grow an individual the recommended amount of fruit in Salt Lake City?
Overall, the project is coming together. I am consolidating my data and working through the unexpected challenges that come with conducting research.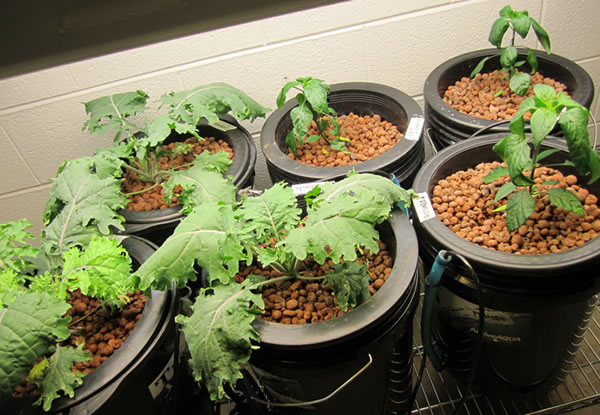 Week 9: July 11-15, 2016
This week I completed my poster for my project and presented it at the iUTAH symposium. It was a excited to share what I have been learning to new people, and to receive feedback from folks who have experimented with hydroponic systems or greenhouses before. My project is not complete, so my poster did not have a conclusion on it, and that enabled contributions to my hypothesis to be made from the people who visited my poster. Overall, I felt good about my presentation skills and the aesthetics and content of my poster.
Week 10: July 18-22, 2016
This week I dived into the details of my paper, trying to explain the setting of my experiment to the fullest. This has been tricky because the greenhouse environment used as one of my three locations has fans and humidifiers that require energy and water that should be quantified into the resource inputs of my project.
One lesson I am learning in conducting this experiment is that the more time you have, the better. As I have been drawing near to my conclusion with my work for iUTAH there are so many variables and metrics that I would have liked to incorporate into my research from the start.

Now that I am almost complete with the program I see that I should have been measuring the amount of water the hydroponic systems did NOT use when I switched out the water. We switch out the water bi weekly to prevent diseases and bacterial growth, so by default we are using about the same amount of water for each plant in a hydroponic system. If I had measured the amount of water not used by each plant when switching out the water it would have been more clear as to which environment and plant (kale or pepper) used more water. However, I do plan on discussing the amount of water that each plant didn't use in my final presentation and paper.
Hydroponic systems could be an optimal way to grow food in Salt Lake City because Salt Lake poses many challenges to grow food in traditional urban agricultural setting. This video reviews the pros and cons to using hydroponic systems versus traditional urban agricultural practices and discusses a research experiment being done at the University of Utah in which hydroponic systems are grown in different settings. Data collected on water, energy, and nutrient input as well as pounds of yield (output) in this experiment will be used to determine optimal food production methods in Salt Lake City, Utah.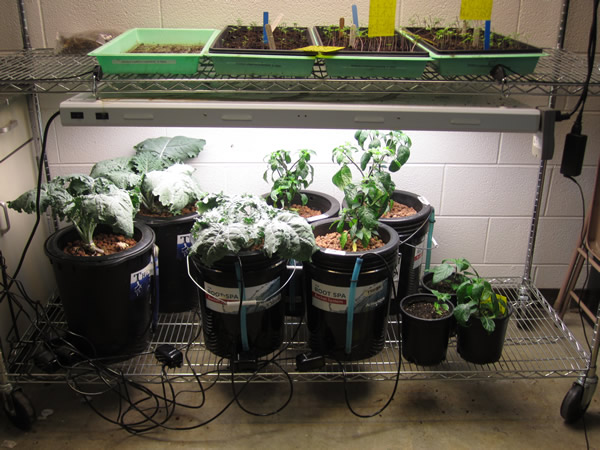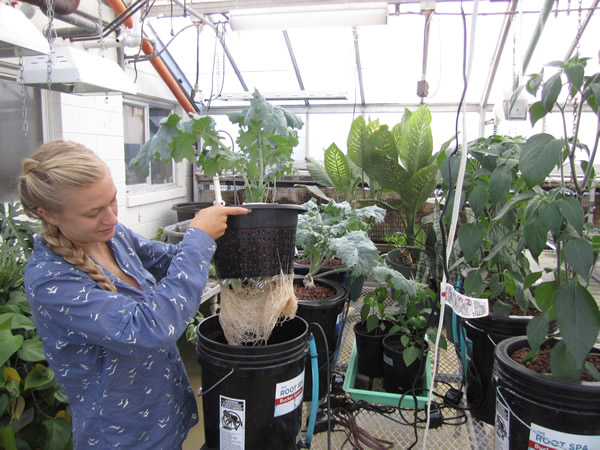 Week 11: July 25-29, 2016
This week has been to most rewarding and quite possibly the most challenging. I logged in many hours to put together my presentation and paper together. I knew almost everything I wanted to say during the presentation by heart, but had to consolidate it and make it as clear as possible. At the symposium it was exciting to hear my fellow iFellow present on their research after seeing their progress throughout the past 11 weeks.

Writing my paper was difficult because I had never written a scientific paper before. It is much different from what I was used to, but I think in the end I explained my research well. I would love to one day redo the entire experiment and fix all the flaws in the project. I plan on continuing to collect data from the experiment through at least the end of the summer, and potentially through the fall semester.