iUTAH Team - Undergraduate iFellows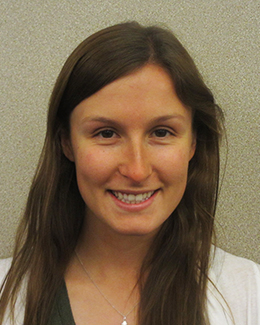 Rosanise Odell
Westminster College
Mentors:
Faculty: William Anderegg, UU
Near-Peer: Kailiang Yu, UU
Research Focus:
Research Focus Area
Project: Climate change and forest water use efficiency: using experiments and observations to gain insight into forest adaptation to climate change
Major:
Environmental Science
Biography:
Rosanise Odell is currently an environmental science major and Spanish minor at Westminster College. Originally from Salt Lake City, she enjoys spending her free time hiking, climbing, skiing and spending time in the outdoors. She is excited to contribute to research with the iFellows program, and learn more about how climate change will influence plant water use and the implications of these findings.
Research Abstract:
The impact of competition on plant water use efficiency 
Plants experience stress competing for water with neighboring plants, both with members of the same species (intraspecific competition) and different species (interspecific competition). As plants conduct photosynthesis, they open pores in their leaves called stomata to uptake carbon dioxide from the atmosphere. However, there is a tradeoff: as carbon is gained, water is lost through evaporation as stomata open during the transpiration process. This tradeoff—the carbon gain to water lost during photosynthesis—represents the plant's water use efficiency. Plant physiological stress due to external factors may affect stomatal regulation and water use efficiency. Through two experiments, one in a controlled growth chamber and the other in the natural area of Red Butte Garden, this study analyzes the differences in water use efficiency of native Utah plant species (Populus tremuloides, Quercus gambelii, Acer grandidentatum and Acer negundo) as they face differing levels of interspecific and intraspecific competition. I found that intraspecific competition negatively impacts plant water use efficiency, but, plants that face interspecific competition improve their water use efficiency as the interspecific competition increases. Understanding the correlation between competition and water use efficiency will help predict future plant and forest success not only to stressors such as competition, but also to changing water availability resulting from global climate change. 
Weekly Recap:
Week 1 | Week 2 | Week 3 | Week 4 | Week 5 | Week 6 | Week 7 | Week 8 | Week 9 | Week 10 | Week 11
Week 1: May 15-21, 2017
The first week of summer research has finished! This week was mostly focused on catching up to speed and fully understanding the background of what the Anderegg lab is studying. I spent a fair amount of time reading related research papers and jotting down notes and definitions. I definitely feel like I've learned a semester's worth of information on a relatively small subject. Next week will involve some training on how to use instruments to collect data for our projects.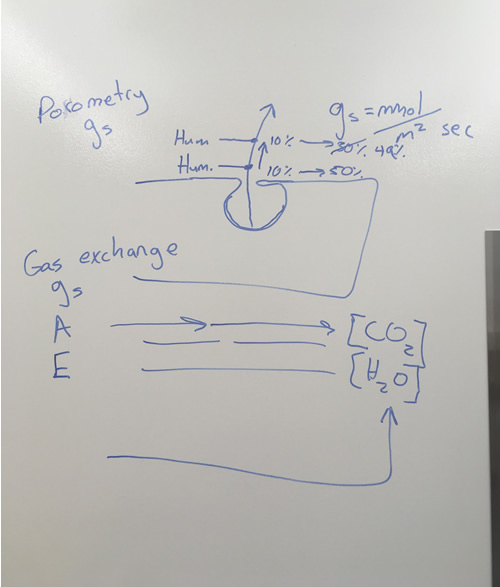 Week 2: May 22-28, 2017
This week I continued to read a literature on plant water use efficiency. I starting thinking about my individual research project, and Bill sent me some published papers relating to the topic I'm thinking of focusing on. On Thursday, the whole lab adventured out to Red Butte Garden to identify species for one of the experiments we're doing this summer. It was really nice to get outside and walk around the Natural Area and Botanical Gardens. I'm excited to take measurements with the LiCor, which we'll start training for next week.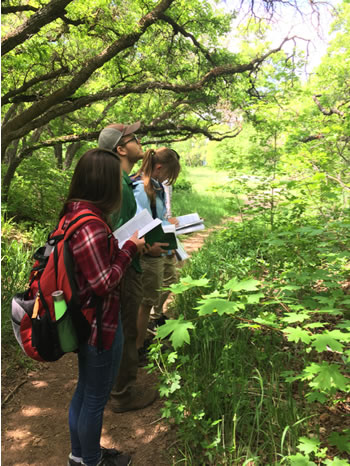 Week 3: May 29-June 2, 2017
This week I spent a lot of time outside in Red Butte Garden, which was amazing! Kai and I spent three days measuring stomatal conductance, photosynthesis, and transpiration among other things with the LiCor, to eventually compare to the measurements Kai takes in the middle of the night. This project is looking at nighttime stomatal conductance, when plants open their stomata at night (photosynthesis is not possible) and seemingly lose water—something that evolutionarily doesn't make sense. Bill ran through a quick training as well on using the LiCor, and we'll start taking measurements in the growth chamber in about two weeks.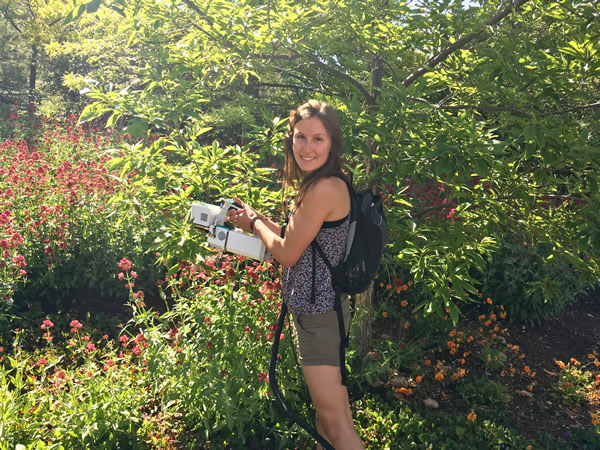 Week 4: June 5-9, 2017
This week I spent a lot of time working on a meta-analysis, which mostly involves extracting data from already published research. Friday Kai and I went out to Red Butte Garden for some more measurements with the LiCor. Next week Bill and Kai will both be gone, so I'm hoping things don't get too crazy without supervision!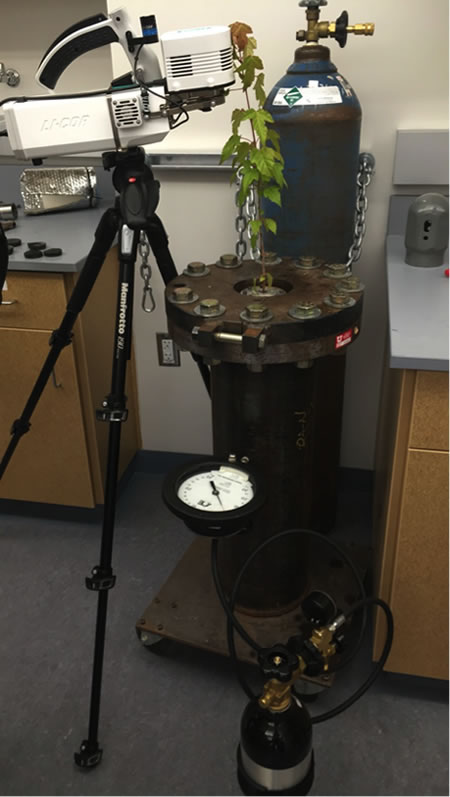 Week 5: June 12-16, 2017
With both Bill and Kai gone this week, the undergrads in the lab had a bit of problem solving to do on our own. We're still working on a meta-analysis, and received a large dataset from a couple of authors whose paper we're extracting data from. It's awesome that we have access to the raw data, but organizing it all is challenging. I was also in charge of watering the plants in the growth chamber while Kai is gone. The growth chamber experiment was pushed back to begin in July/August, which is a bummer since I won't be around to help with that part of the process. However, I've narrowed down my approach to my individual research project, and will hopefully get the chance to go into Red Butte Garden next week to work on that.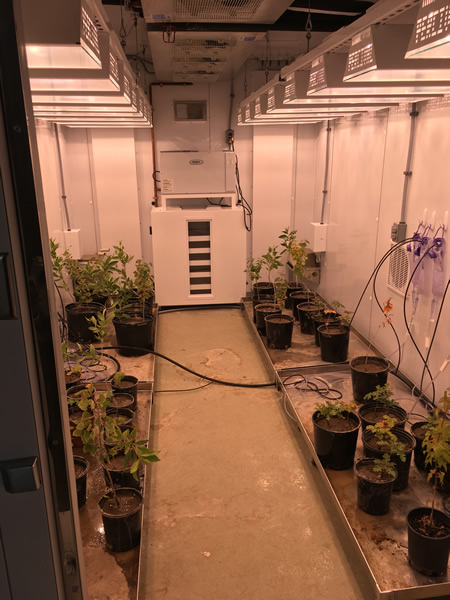 Week 6: June 19-23, 2017
This week I spent a lot of time in Red Butte Garden measuring distance between trees and their trunk diameters to figure out how much competition each individual tree faces. I walked around with a large measuring tape in a 7.0 meter radius from each tree of interest and used the distance of neighboring trees and how thick their trunks were to calculate the competition indices. Every day I went out into the Natural Area of Red Butte I made sure I had someone with me, because I didn't want to run into any rattlesnakes alone. We actually saw two rattlesnakes slither into the area we were leaving on Tuesday, which made me rethink my decision to wear sandals. I'm finally starting to feel like I have a handle on the project I'm developing, now I just need to start collecting some data!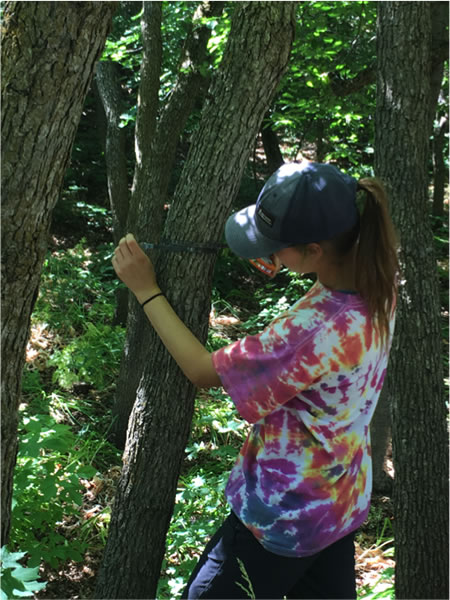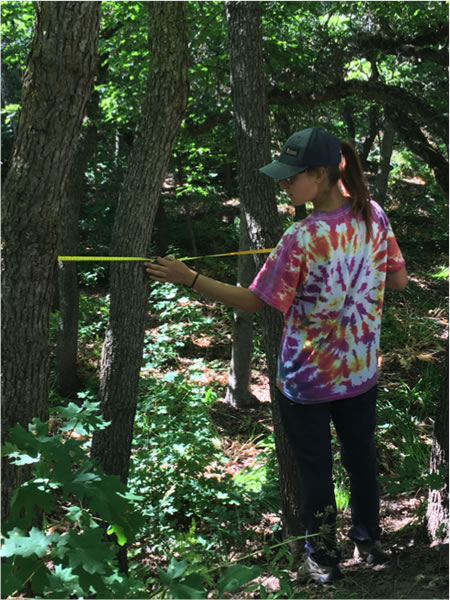 Week 7: June 26-30, 2017
This week I finished up calculating the competition index for the trees I'm studying. Then, I went out to Red Butte Garden to take my first measurements with the LiCor—it seemed like a big deal to take the instrument out myself and make sure all the settings and conditions were correct, and then to finally get some of my own original data. We also started a second round of daytime stomatal conductance measurements for another ongoing project in the lab. I spent a fair amount of time working with R Studio to create figures of the data I already have from the experiment last fall, and learned some new commands from the new post-doc in the lab, Anna. I'm feeling more confident than before with using R to analyze data, and am excited to see what figures I'll end up with for my poster presentation.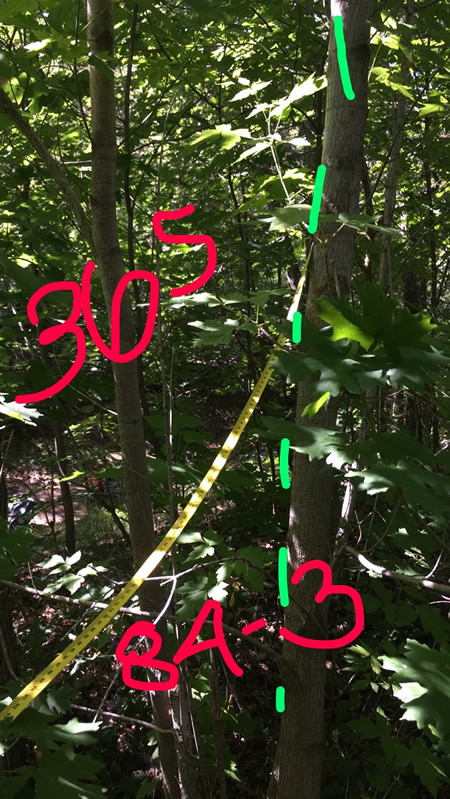 Week 8: July 3-7, 2017
This week I finished up LiCor measurements in Red Butte Garden. I finalized and submitted the abstract for my research poster and finished a draft of the poster I'm presenting next week. I learned more about using R studio with Anna's help, and started to feel more confident about the research I've done. On Friday, we went on a field trip to the Red Butte Canyon research area and dam, which was exciting because I've never been there. We learned about the history and workings of the dam and a bit about hydrology and conservation efforts of Red Butte Canyon and Creek. I'm getting nervous to present my poster at the iUtah Symposium next week, but it was nice to practice and get feedback at our cohort session this week.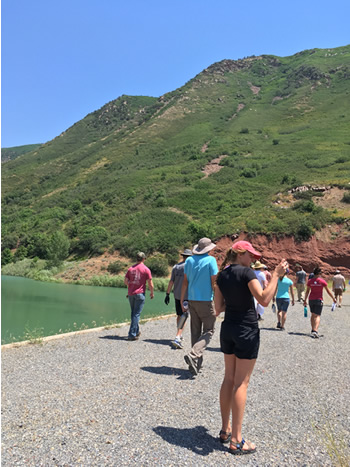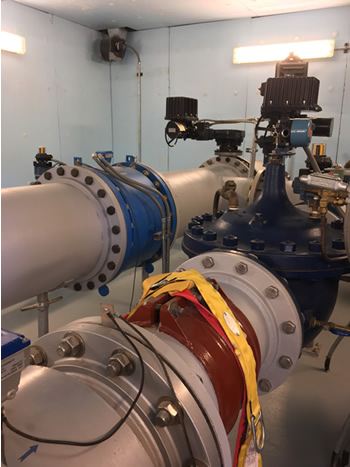 Week 9: July 10-14, 2017
This week was the iUtah Summer Symposium! It was a two-day event, and we (iFellows) presented our summer research in a poster session. I was nervous before the poster session started, but after it kicked off and I spoke to a couple people about my research, I got into the groove of things and it wasn't nerve-wracking to tell people about my poster titled, "The Impact of Competition on Plant Water Use Efficiency." It felt similar to the science fairs I participated in as an elementary school student. Overall, it was great to share my findings with a broader audience, and the feedback I received was helpful and optimistic.
The final day of the symposium focused on the success of iUtah as an entire program, after five years of operations. I had no idea how important and instrumental the work of iUtah was for both the future of water use in the state of Utah, as well as the future of higher education for Utah students. I really enjoyed hearing the personal stories of support and success through iUtah, and now have a new appreciation for the program and the support I've received through it. I hope to one day be a part of a group or organization with as much success, personal connections and impact as the iUtah program.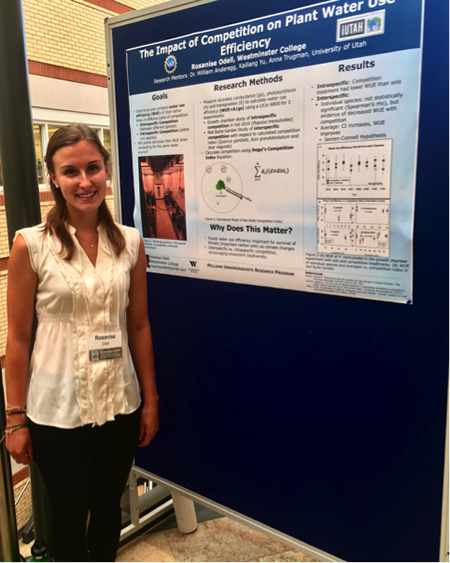 Week 10: July 17-21, 2017
Week 11: July 24-28, 2017
Somehow, it's already the last week of the 2017 iFellow Program. It's been an amazing summer! I've learned so much more than I thought was possible in 11 short weeks, and made new friends and connections in my lab and the iFellows cohort. This week we had the iFellow Symposium where we gave PowerPoint presentations of our research. I was nervous to present in front of everyone, but things went pretty well. It was incredible to see everyone's research and how far we've all come from day one. We've all grown and learned so much. Scott Bates gave a presentation on future conferences and poster sessions, as well as information about graduate school, which made me excited about my future in the field of research. Finally, to wrap up the week I finished my extended abstract. I'm definitely sad my time as an iFellow is over, but excited about the opportunities I'm now aware of and the experience I had this summer. I plan to use all I've learned to continue my education and participation in research science, and am proud of what I've already accomplished.