iUTAH Team - Undergraduate iFellows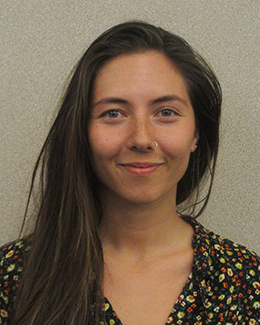 Gabrielle Regenhardt
University of Utah
Mentors:
Faculty: Brenda Bowen, UU
Near-Peer: Evan Kipnis, UU
Research Focus:
Research Focus Area 1
Project: Evaluating spatial and temporal changes in the character, fluxes, chemistry of Utah groundwater systems
Major:
Urban Ecology
Biography:
Gabrielle Regenhardt is a third year student at the University of Utah studying urban planning/ecology and civil engineering. Spending most of her free time in the outdoors, she found interest in the hydrology of Utah while on climbing trips in the desert or skiing the Wasatch Range. She hopes to pursue her master's degree in environmental and water resources engineering.
Research Abstract:
Impacts of salinity on photo-reactive fluorescent tracer dyes
The Bonneville Salt Flats (BSF) is a large saline evaporite playa located in the most western part of the Great Salt Lake Desert of Utah. BSF changes over annual, seasonal, and climate cycles in response to changes in the water and solute balance. The north half of the playa includes the historic Bonneville Speedway and is public land managed by the U.S. Bureau of Land Management (BLM). Its south half is mainly private and is used by for commercial potash production. The public land has been a prominent site for Hollywood films, land speed records, and is often cited as a must-see destination to visitors of Utah. Over the last few decades, concerns about possible changes in salt content and the character have called into question the best land use management and mining mitigation practices to promote long-term sustainability of this ephemeral landscape.

Despite numerous studies on salt crust thickness change within the BSF, little is understood about the geohydrology of the playa. Fluorescent tracer dyes are commonly used for the accurate characterization of water movement within both surface and groundwater systems and could potentially be very useful in quantifying water movement at BSF. However, these photoreactive dyes have yet to be used in a highly saline environment. This research tests the effects of BSF level salinity (~30% salinity brine) on two particular dyes of interest, Eosin (EOS) and Rhodamine WT (RWT). Using concentrated and diluted brine from the BSF, an experiment was conducted to test the impact of salinity on the photo-degrading capacity of the dyes. Changes in the amount of dye degradation over time were quantified through the experiment using visible to near infrared reflectance spectroscopy.
Weekly Recap:
Week 1 | Week 2 | Week 3 | Week 4 | Week 5 | Week 6 | Week 7 | Week 8 | Week 9 | Week 10 | Week 11
Week 1: May 15-21, 2017
One week down, ten more to go. This first week of research and joining the iUTAH iFellows program has been stimulating and exciting. Each day has been filled with information and insights from my new colleagues and mentors in the Bowen Lab as well as readings. The first few days of the week were filled with reading as I am attempting to develop a foundational understanding of both the background of our research topic and the objectives of our research itself. Thankfully, I already feel as though I have been placed in the excellent guiding hands of my mentor Dr. Brenda Bowen and my near-peer mentor Evan Kipnis. Talking with them this week gave me a glimpse at not merely the data driven aspect of our research out in the West Desert, but provided context for the human component of our study, because if we aren't doing research or science that makes a difference for the communities we are a part of- what is the point? So, in a short five days, I have acquired a number of safety certifications, instrument use certifications, rooftop access, become acquainted with my network of mentors and peers in the Bowen Lab, and have become only more excited for this summer as an iFellow.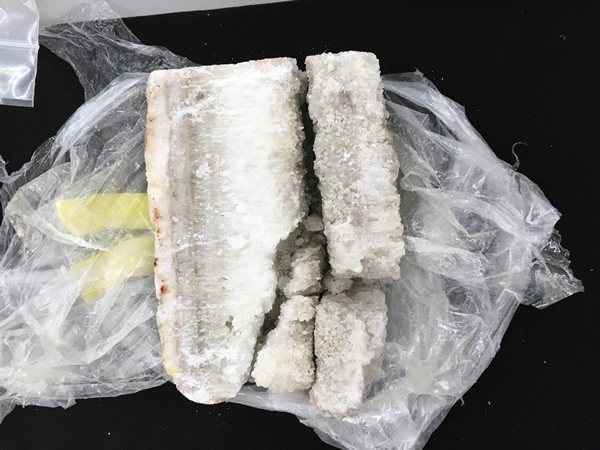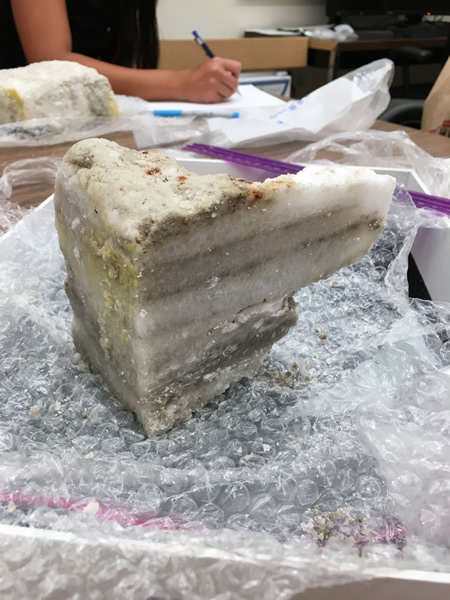 Week 2: May 22-28, 2017
The iFellows meeting on Monday revealed to me that I was not the only one feeling a little out of depth and totally under-qualified. That being said, both Dr. Bowen and Evan have been readily available for me to ask questions and bounce ideas off of as I develop my experimental design. The Bowen Lab is exploring the hydrology and salt-crust thickness of the Bonneville Salt Flats in the West Desert and a big question I discovered we have is whether the area is a discharge or recharge site. To determine this, I have been tasked with developing an experiment using fluorescent dye tracers to lead us towards answering this question by helping us address where the water is going. I have never been responsible for developing a methodology and supplies list before so I was nervous at first. However through additional reading and discussion with my mentors, I was able to come to a conclusion on what would be the best way to study the tracers. To supplement my time once the experiment is complete, I will also be aiding in analyzing the geochemistry of core samples from the Salt Flats with one of my colleagues. Everyone has been so encouraging and welcoming that even my lack of understanding and points of discomfort are easily overcome thanks to the community at the Bowen Lab.
Week 3: May 29-June 2, 2017
This week I finally got to go out into the field to conduct some spring sampling along with identifying viable well sites for one of the master's students in our Lab out in Skull Valley. Field work as it turns out is a lot of trouble shooting. Finding viable well sites that our lab can both have access to and contain water to sample from proved to be a bit more troublesome than I had anticipated. The human aspect of research became very this week out in Skull Valley. We spent a lot of time asking for permission from private landowners if we could have access to their wells in the future, we spent a good amount of time figuring out which sites we would need to contact BLM colleagues for access to wells, and a surprising amount of the day talking to community leaders of the township Iosepa. Iosepa was once home to over 200 Hawaiian members of The Church of Jesus Christ of Latter-day Saints (LDS church) and was inhabited between 1889-1917. Today, it is the site of an annual Memorial Day gathering that, as we found out, draws islanders ad others from all over. We had the chance to talk to them about their relationship to water in the West Desert and learn about the well that they use on the settlement. It was an unexpected part of the field trip but showed me a glimpse of the varying communities that cherish and rely on the ecosystem of the West Desert.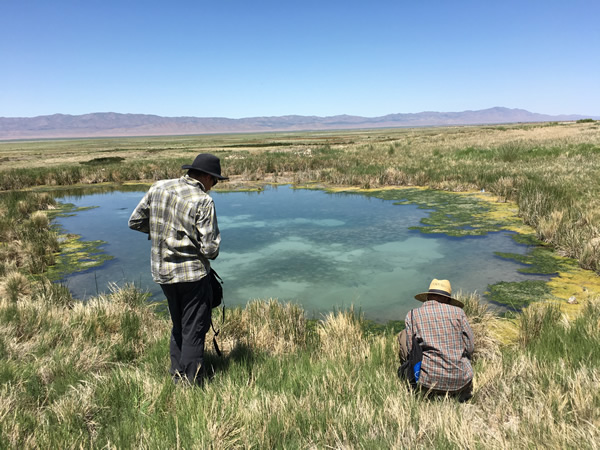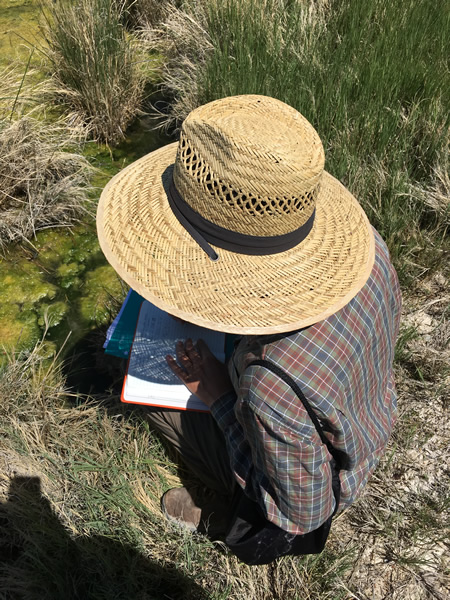 Week 4: June 5-9, 2017
The focus of this week was a field work expedition on the Bonneville Salt Flats (BSF). Evan and I spent three days identifying and sampling wells across the BSF. On top of using a multiparameter probe and becoming familiar with our pump, I also gained skills in driving a UTV and towing a trailer this week. The days were hot and lacking in shade most of the time but it was still a magnificent and valuable experience. I was able to interact with our USGS collaborators, microbiology team collaborators from Billy Braselton's lab, and learn more from my own team from the Bowen lab. Throughout the three days, we were able to interact with members from the racing community as well as tourists simply passing by hoping to catch a glimpse of this surreal landscape. We also assisted collaborators from MesoWest install a brand new camera at their weather station and one of the very first images to be captured from the camera is of myself and Evan hammering away at a steel post on the salt flats! It's exciting to know that not only am I producing data for our lab but that I am now also considered data!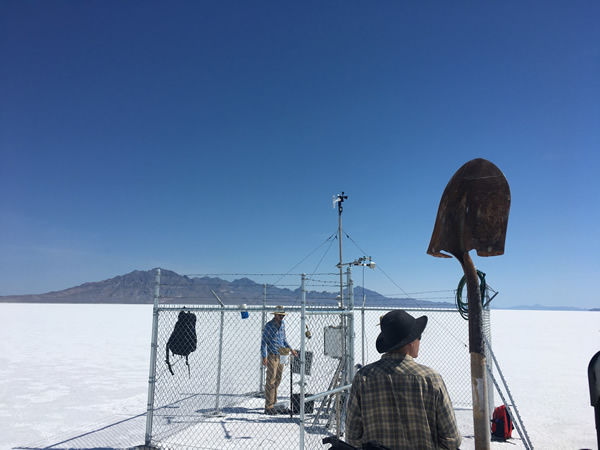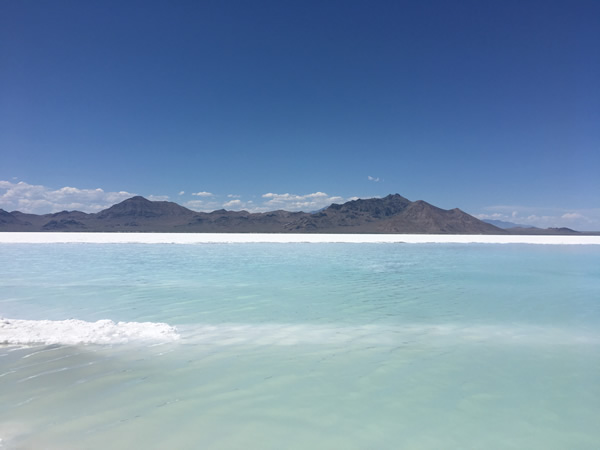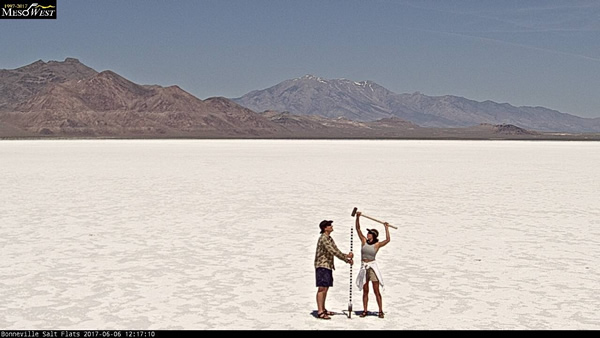 Week 5: June 12-16, 2017
No entry
Week 6: June 19-23, 2017
No entry
Week 7: June 26-30, 2017
No entry
Week 8: July 3-7, 2017
No entry
Week 9: July 10-14, 2017
No entry
Week 10: July 17-21, 2017
No entry
Week 11: July 24-28, 2017
No entry