iUTAH Team - Undergraduate iFellows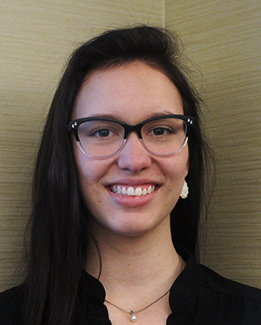 Agatha Roese
Utah State University - Eastern-Price
Mentors:
Faculty: Zach Aanderud, BYU
Near-Peer: Erin Jones, BYU
Research Focus:
Research Focus Area 1
Project: Linking Utah Lake Harmful Algal Bloom (HAB) to Cyanotoxin Production
Major:
Biology
Biography:
Agatha Kalani Roese attends Utah State University Eastern in price Utah, and just finished her freshman year. Born in Kailua, Hawaii, Agatha currently plays volleyball at USU Eastern. She is engaged to be married this year. She plans on majoring in microbiology and later moving on to become a physician assistant. Agatha speaks English, Portuguese and a little bit of Spanish and has been blessed to travel to different parts of the world, including China, Peru, and France.
Research Abstract:
Measuring cyanobacteria growth response to changes in phosphorus
My research is on the algal blooms in Utah Lake and why they bloom. This affects us because the cyanobacteria that is in the algal blooms create toxins that, in large doses, can kill us. This also effects the fish in the water and all uses of the water because it becomes toxic after an algal bloom. I will be focusing on the isolation of certain cyanobacteria and how they grow when added to different concentrations of phosphorus. I believe that the results will correspond with how much phosphorus we add. The more phosphorus, the more cyanobacteria will be able to grow. This data will help us understand if the blooms are occurring when the lake is higher in phosphorus and help us control how much phosphorous we put into the lake to help contain the algal blooms to a minimum.
Weekly Recap:
Week 1 | Week 2 | Week 3 | Week 4 | Week 5 | Week 6 | Week 7 | Week 8 | Week 9 | Week 10 | Week 11
Week 1: May 15-21, 2017
Orientation was a blast and I learned so much about what iUTAH is all about. In my mentor's institution I learned a lot about the bacteria that I will be researching this summer and meeting everyone who will also be in the lab researching their own projects. The next day we had a fire drill when it was snowing. But it was okay because I got to meet a lot more people in the lab who are usually to busy doing their research to talk to anyone. Later that day we had a team meeting where we did introductions and talked about what I was going to be doing this summer. I am going to be helping Erin Jones, the PhD student with her project, along with the other iFellow in what he is doing. Overall I am going to learn a lot about algae and the toxins cyanobacteria produce. Friday we got to go out on Utah lake and learn how to collect samples and what to do with them once you got them. Overall this week was amazing and I got to read a lot about different toxins and other people's research to get myself better acquainted with what kind of research the lab is doing. I am really excited to see what else they have in store for me.
Week 2: May 22-28, 2017
This week I was able to read a lot about protocols to measuring toxin. I spent all of Tuesday reading and finding articles on measuring and how to get specific toxins that we will be testing. On Wednesday and Thursday I got to work on the data sheets. I learned how to read the data, and learn how to make a master sheet by making a lot of little sheets, and than combining all of them into a master sheet that is more simple to read. On Friday we got to go to Utah lake and sample the water there, except it was way to windy and dangerous to actually go out. The waves were five feet high and it felt like we were on a rollercoaster. We came back to the lab and learned out to Quality Control (QC) instead. Which I really enjoy doing with all the coding and making the data usable for scientists that actually need good quality data. And that was my second week on my research project!
Week 3: May 29-June 2, 2017
This week I was able to read some articles about different protocols about measuring toxins, and how to use the Utermohl Chambers. I also got to look at some metadata and summarize all of it. The data was all about the E coli results that they have been doing for two years now. I also got to add the data into the master sheet and add more data onto our water sampling sheet. We also got to go to Farmington Bay, where we took samples. Except we only made it to the third site before we realized that it was going to be too shallow. We also hit the prop, which really slowed us down trying to get back. But we did get to see a lot of bison and look at all the birds. I also got to settle some water and look at it under a microscope. We saw a cyanobacteria, which is something that we weren't expecting to see. We weren't able to continue because we didn't know how to work the microscope, so we had to stop looking at our samples. But overall this week has been amazing with a lot of fun and I am really excited to see how the project progresses.
Week 4: June 5-9, 2017
We learned a lot about GAMUT sites and it was so cool to finally see one in person. I also got to learn how to acid wash bottles, and how to acidify samples to use in a TOC machine. I honestly thought that acid washing bottles would be a little more difficult, but it was a lot easier and really fun to do. A TOC machine can measure different elements in the water, which was really cool to learn how to do that. I also learned how to make agar, BG-11 agar to be more specific. I even got to pour some plates to learn how to do that. I got to see examples of cyanobacteria under a microscope, and an inverted microscope and learned how to use each of those machines. I also got to read more articles about measuring toxins, and make a EPA for what we plan on doing for measuring toxins.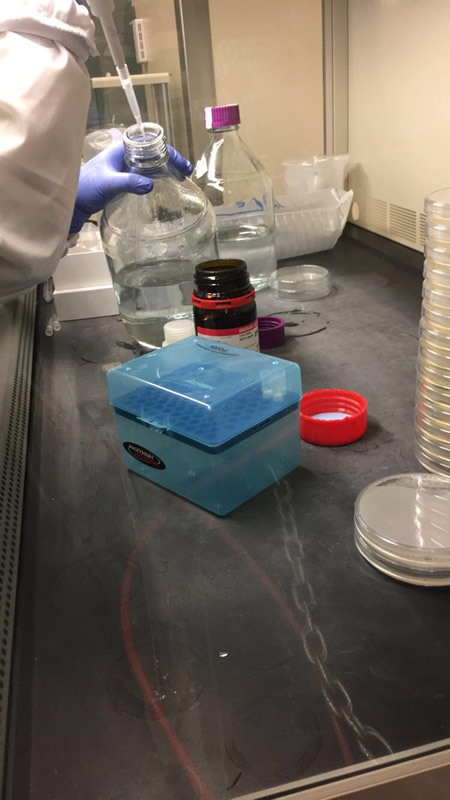 Week 5: June 12-16, 2017
This week we tried to find the plates that would be ideal to look at under the microscope. I also got to read a lot about how algae likes to clump together with a lot of different organisms to form a biofilm. Which is really useful for the bacteria, but not for us to look at under a microscope. We also had to problem solve because some issues started to come up about how we needed to treat the water samples once collected and how fast they needed to be tested. All in all this was a good week with a lot of new knowledge and fun. I also got married on Friday, making this a very busy week overall.
Week 6: June 19-23, 2017
This week we got to finally start testing our samples for phosphorous. I learned how to make a reagent, how to convert, and how to dilute concentrations. We spent the entire week just running samples to find out what the total amount of phosphorus was in the samples, along with the dissolved reactive phosphorous in the water. At first the numbers came back all negative, which is not correct. So as the week went one we learned how to work the machine better and was able to get the numbers that looked a lot better. We also found at Utah Lake what looks like a bloom, which we took samples from and it was just amazing. We found a type of cyanobacteria in it which produces a toxin and we sent that information to the state. Overall this week has been really productive and I learned a lot about phosphorous testing.
Week 7: June 26-30, 2017
This week was a tough week. I got really sick on Monday and couldn't work on Tuesday. So when I came back we were a little behind on running phosphorous tests. But now that we understand what we are doing, we run it a lot faster and easier. They sampled on Wednesday and Thursday and we were able to run dissolved reactive phosphorous and total reactive phosphorous on both the days. Which is really good because those are time sensitive and should be done as soon as the samples are in the lab. On Thursday I also got to make agar and plate samples for the first time while I have been here. I was here until eight o'clock at night just plates and making sure to get the sample in the right plates and I am really excited to see if something will grow on the plates I made.
Week 8: July 3-7, 2017
This week I got to run more total phosphorous samples and more dissolved reactive phosphorous. We also started to read protocol on how to run an experiment on how phosphorous levels change help make a certain type of bacteria grow or not. I also got to go to the chemistry store here on campus to purchase tubing for the bottle that we will be running the tests on because it needs to be autoclaved and we didn't have the correct tubing to autoclave it all together. I also got to cut those tubes into appropriate lengths and we are still waiting for more tubing because we have a lot of experiments to run. Also my plates that I made 2 weeks ago didn't grow anything from Farmington Bay and I am not sure if I made them wrong or if there just wasn't any cyanobacteria in the samples I used. On Friday we had our cohort meeting and I got a lot of good advice for my poster and I realized how much I don't know about what I am presenting and I hope to learn and create a better one by Thursday, which is the symposium.
Week 9: July 10-14, 2017
All we really did this week was prepare for the symposium because everyone in the lab had a talk or a poster to complete for the symposium. The symposium was amazing it was so much fun to listen to all the professors talk about their research and to learn more about iUtah and the five years of them doing this. Presenting my poster to all the different professors was really nerve wrecking at first. But as I presented I released that they aren't as intimidating as I thought and it went really smoothly after that. I am just so grateful for the opportunity to share my research to these amazing scientists, and getting their feedback on how to make my research better.
Week 10: July 17-21, 2017
This week we got everything situated so that we could run phosphorus on a specific cyanobacteria, aphanizomenon flow-aquae. In order to get ready we got one of the bottles which we call microcosms, and poured BG-11 liquid media into it and with the 3 tubes we added the cyanobacteria, filtered the air that makes it bubble and applied a chemistry wipe to one to allow air to escape. After that we made 2 more microcosms by drilling 3 holes in two lids, and autoclaved the bottles and the lids. The tubing that we were trying to use was autoclavable, except the chemistry store ordered the wrong size tubing for us, and so we were left to use the tubes that aren't autoclavable. So in order to try to sterilize it we cleaned them off with ethanol and used UV light for 15 minutes. We than concocted our own media, because the BG-11 media had way to much phosphorus. So we added different chemicals and found out the amount of each chemical coming in and we finally made one that closely resembled the water in Utah Lake. This will help us see if phosphorus does have anything to do with the algal blooms. I am really excited to see how the bottles and the algae turn out.
Week 11: July 24-28, 2017
No entry