iUTAH Team - Undergraduate iFellows
Eric Shipp
Brigham Young University
Mentors:
Faculty: Zach Aanderud, BYU
Near-Peer: Dylan Dastrup, BYU
Research Focus:
Research Focus Area 1
Project: Utah Lake Harmful Algal Bloom (HAB) Tracking
Major:
Environmental Science
Biography:
Eric Shipp is a junior majoring in environmental science at Brigham Young University with a focus on water conservation and resources. His interest in the field includes ecology, chemistry and watershed management. When he is not in school he enjoys spending time with his family doing outdoor activities, riding off-road motorcycles, and gardening. As an iFellow Eric is excited to learn more about the ecology of Utah Lake and the chemistry that drives it.
Research Abstract:
Harmful algal blooms on Utah Lake
The water that flows into Utah Lake comes from a variety of rivers and streams that originate high in the mountains.  Along the way, these water bodies bring many different nutrients, and minerals with them that end up in Utah Lake.  Cyanobacteria, microscopic photosynthetic organisms, feed on these nutrients and can grow into large communities of algae that can possibly have negative impacts. The quality of water in Utah Lake has impacts on public health, outdoor recreation, local revenue streams, and lake ecology. Water samples were collected weekly at 7 sites on Utah Lake, and biweekly at 5 sites on Farmington Bay and 3 sites on Deer Creek Reservoir.  Data was collected using a handheld meter, TOC-L analyzer, and spectrophotometer.  It is expected to see higher levels of phosphorus (P) in the Utah Lake than in Deer Creek Reservoir, and we already see higher turbidity in Utah Lake than in Farmington Bay and Deer Creek. Because Utah Lake is shallow, warm, and high in P we expect to see a bloom at some point in Utah Lake during our sampling period.  As more data is collected we expect to better understand the conditions present before, during, and after an algal bloom.
Weekly Recap:
Week 1 | Week 2 | Week 3 | Week 4 | Week 5 | Week 6 | Week 7 | Week 8 | Week 9 | Week 10 | Week 11
Week 1: May 15-21, 2017
This week started off with a bang. On my first day, I was surprised to learn that I would go directly into the field to take water samples from Deer Creek Reservoir. We are sampling more than one water body so we can compare the environmental factors that lead to harmful algal blooms. Because I didn't know we were going out on the water, I didn't bring my jacket for the wet weather we were having. Luckily, Dylan, an iUtah employee that works with the GAMUT stations, brought an extra jacket. It was pink, but I was dry. The rest of the week was setting up the next round of sampling which took place on Friday at Utah Lake. We made sure the equipment was calibrated, sample bottles were sanitized, and sample site names were clear and organized. Utah Lake on Friday was much calmer than at Deer Creek on Tuesday. I was able to get up close to the Utah Lake water and could clearly see the difference in the water there.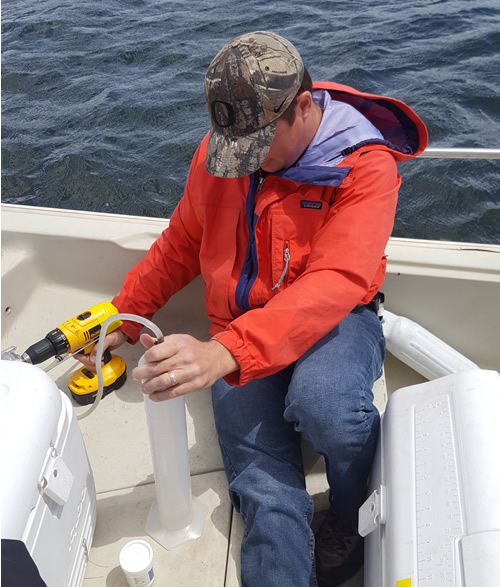 Week 2: May 22-28, 2017
This last week we were supposed to take some samples from Utah Lake, but the wind was so bad that it was not safe to be out on the water. I was fortunate enough to do some additional reading through the week on cyanobacteria and the cyanotoxin that they can produce. I was also trained on QC for the data collected from the GAMUT stations. I'm not a huge fan of it, but I can see why it's important. I was also able to learn more about some cleaning procedures using UV light and our autoclave.
Week 3: May 29-June 2, 2017
This week we went to Deer Creek Reservoir and Farmington Bay to take some water samples. At Farmington Bay we saw some bison. One of our O-rings for our water filter malfunctioned in the fields so we had to improvise a bit. This is a good lesson to keep a few extras around in case things happen. I was also able to digitize some old research from the 70's. Erin found some graduate degree research papers of Utah Lake that were not published. She was allowed to take pictures of them, and I copied the information down onto an Excel spreadsheet.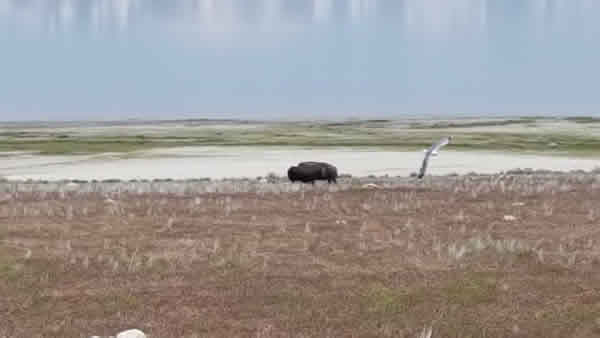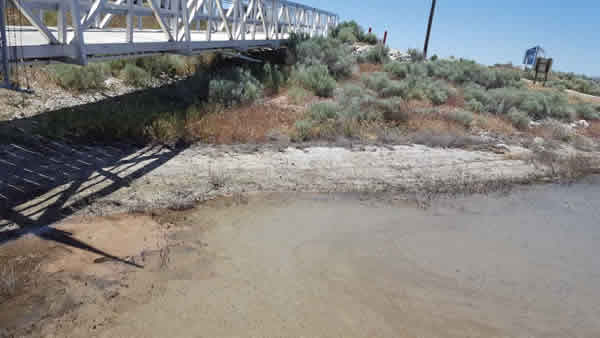 Week 4: June 5-9, 2017
This week we were able to take water samples at both Utah Lake and Deer Creek Reservoir. While at Deer Creek we were bombarded by high winds and large swells. Our boat had a hard time anchoring due to the conditions, and we didn't feel that it was safe to continue. Our filter o-rings didn't arrive yet, so I had to manually create pressure to filter our samples in the lab. (See the picture attached.)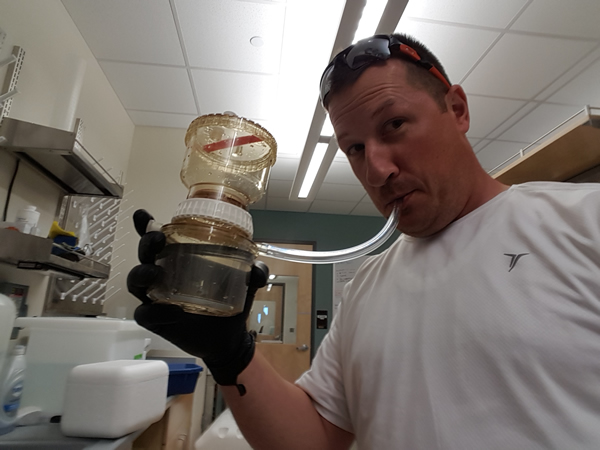 Week 5: June 12-16, 2017
Our team was able to collect samples from Farmington Bay and Utah Lake this week. I was able to participate in acidifying some of our water samples in order to prevent the samples from changing during storage. I had my first opportunity to extract DNA from our filter medium as well. We followed the protocol for extraction and successfully extracted DNA from all 4 filters. Very exciting!! Next week we will need to start analyzing sample for P. I can't wait.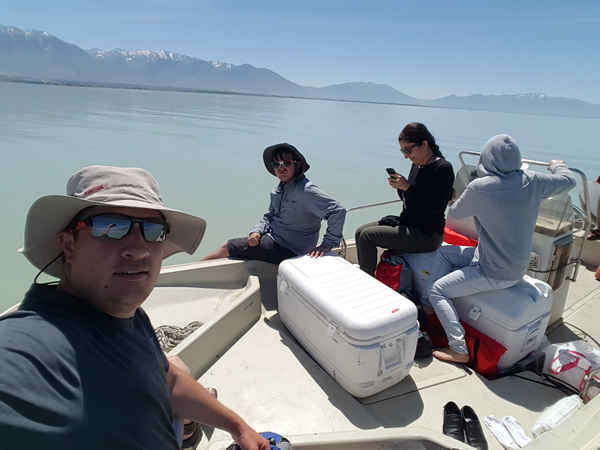 Week 6: June 19-23, 2017
This week was very exciting. We were able to take some Utah Lake samples from Provo Bay that had an active algae bloom. The water was emerald green and as we coasted in on the boat we could see the algae part to the side of the boat. Our samples were brought back to the lab, and looked at by Erin. She called the DWQ and the story made the local newspapers. They sensationalized it of course, but it was satisfying none the less.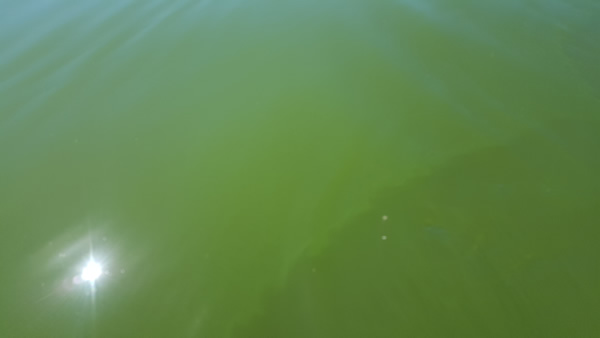 Week 7: June 26-30, 2017
Our team had the opportunity to take some of our samples, and run them on the total organic carbon analyzer in the Environmental Analytical Laboratory on campus. It's very interesting to learn how to use these highly sophisticated and accurate systems to measure different nutrients in our water. We are also running more of our samples on the spectrophotometer to measure the amount of phosphorus in our filtered and non-filtered water samples. This is a fun but short week due to the holiday and the cohort session.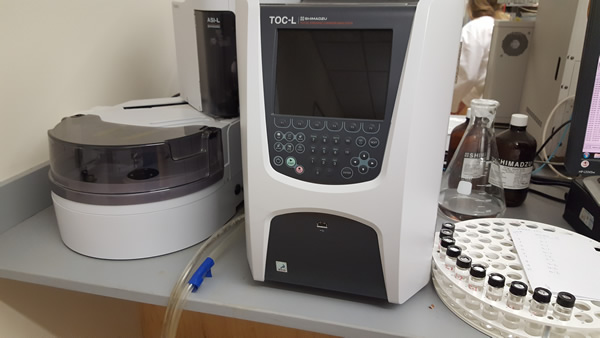 Week 8: July 3-7, 2017
This week we have been focusing on testing our water samples in the lab. We are using our spectrophotometer more, but are getting some wonky readings. Wonky is the technical term apparently. We will be taking our samples to another researchers lab to see if their machine gives us the same readings or not.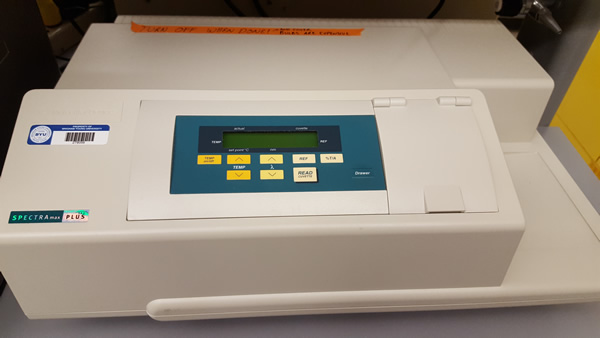 Week 9: July 10-14, 2017
This was our week to finalize our posters for the iUtah Symposium. I don't have very much data at this point, so I had to use pictures of us sampling and of the water at Utah Lake. The Symposium was a wonderful experience because I was able to talk about my research, network with scientists from around the state, and get to know more about iUtah in general.
Week 10: July 17-21, 2017
This week in our lab has been spent focussing on presentations and finalizing our projects. I have found it a little difficult to work on my extended abstract because I've been so focused on the field work. We sample 2 times a week at different locations, so there isn't much time left for writing after getting our equipment ready for the next sample date. I'm working on my writing and have some help from my mentors as well.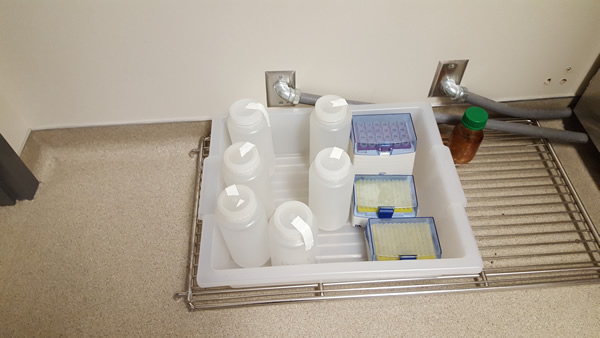 Week 11: July 25-29, 2016
No entry