---

News Article
December 4, 2017
Researcher and Team Contribute to Restoration Efforts
iUTAH Education, Outreach and Diversity Director Mark Brunson, professor in the Department of Environment & Society at Utah State University, is contributing to restoration efforts by the Shoshone Nation on the site of the Bear River Massacre near Preston ID.
An excerpt from the Herald Journal writer Sean Dolan said "When Darren Parry was a child, his grandmother took him to the site of the Bear River Massacre. He didn't quite understand why she always had a tear in her eye she when pointed out where the lodges used to be. As he has grown older and taken on leadership roles in the Northwestern Band of The Shoshone Nation, he now understands how important it is to honor a request she made before passing away five years ago.
Brunson and his team, "after consulting with Parry, [will be} preparing a description of what that restoration might look like. One of the main challenges will be removing the invasive Russian olive trees, which Utah classifies as noxious weeds. Then, Parry and Brunson hope to plant native grasses, shrubs and trees. Part of the process is gathering information on what the land used to look like and what plants are indigenous to that area.
"During his research, Brunson said he came across a map drawn by a soldier led by Col. Patrick Connor that included several willow thickets around the Bear River. Willows are no longer found in that area, which Brunson said could be due to the river shifting and cattle grazing. Parry said willows were vital to the Shoshone people. 'They used the willows as protection from the weather, and they made things out of it,' he said. The willows were just one aspect that made that valley an ideal winter camp. Parry said the largest natural spring in the county is nearby, and there are several natural hot springs around the river."
Brunson said that a team, including Molly Cannon, director of the Museum of Anthropology, Eugene Schupp, professor in the Department of Wildland Resources, and Matt Munson, an undergrad researcher, all from USU, are conducting assessments and preparing a proposal to develop a restoration plan.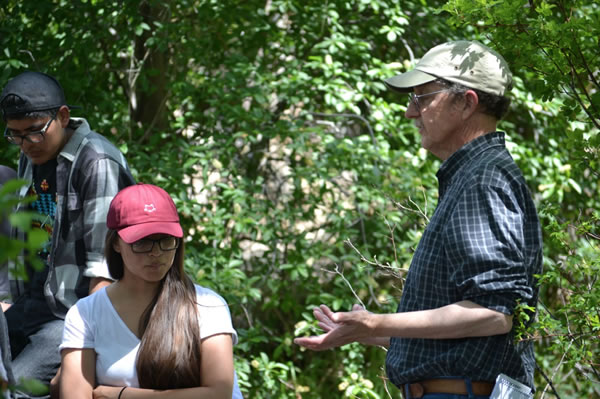 « Back to list of all news articles