---

News Article
January 31, 2018
Social Position Influences Water Perception Gap
A new study has found that city leader's views may not be aligned with the public they serve on key water issues. Melissa Haeffner, former iUTAH post-doctoral researcher, and colleagues looked at how socio-hydrology models may oversimplify results by suggesting that social structure are equally and fully informed of the issues or would respond to cues in the same way.
Researchers were able to compare concerns about the current and future water supply, water shortages, quality, cost, and infrastructure through the use of surveys and interviews with urban Utah Mayors, City Council persons, public utilities staff, and residents. More information on surveys can be found at Utah's Water Future - 2014 Household Survey and the Utah Water Survey found on the HydroShare data repository.
Results of the surveys suggest that residents were more concerned about future water shortages and high water costs while leaders were more concerned with deteriorating water infrastructure. This view remained consistent independent of where cities were located or what water source they used. It was found that leaders thought that their relationship with their residents was largely reactive.
The finding is valuable in demonstrating how misaligned expectations between leaders and constituents may result in unintended consequences. It suggests that a greater attention to the values, norms, and attitudes held by each group of people with different roles serves both policymakers as well as researchers developing socio-hydrological models.
This study has many connections to iUTAH project research, including the model introduced by researchers in the published study "iSAW: Integrating Structure, Actors, and Water to Study Socio-Hydro-Ecological Systems," which appeared in the journal Earth's Future in March 2015. The iSAW model is an integrated framework for human-water system sustainability and has been used in this new study.
Authors of the article include Melissa Haeffner, Douglas Jackson-Smith, and Courtney G. Flint. While the article will be released later in 2018 under the title "Social Position Influencing the Water Perception Gap Between Local Leaders and Constituents in a Socio-Hydrological System," it is available ahead of publication through the journal Water Resources Research.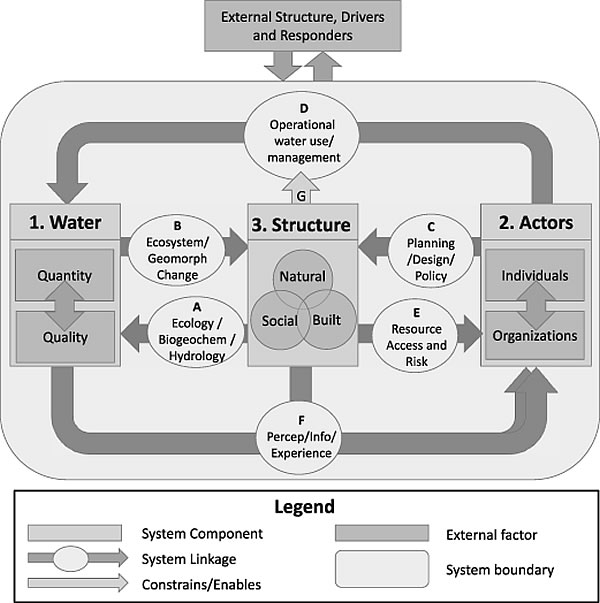 « Back to list of all news articles