---

News Article
June 28, 2018
Going with the Flow: iUTAH GAMUT Transitions

The Utah Center for Water Resources Research (UCWRR) at Utah State University recently featured a story on what is happening to the GAMUT (Gradients Along Mountain to Urban Transitions) network in the Logan River. Water bLog, a semi-annual newsletter produced by UCWRR, is part of the Utah Water Research Laboratory at USU. In his introduction, Director Mac McKee says that GAMUT, now the Logan River Observatory, is "a valuable resource that is supporting local policy and water management decisions that address local water related challenges."
Writer Carri Richards goes on to characterize the transition this way, "Now as the iUTAH project comes to a close, the Logan GAMUT network is transitioning to become the Logan River Observatory due to continued support from the USU Office of Research and Graduate Studies, the College of Engineering, the College of Natural Resources, the Ecology Center, and the Utah Water Research Laboratory. Drs. Bethany Neilson, Jeffery Horsburgh, and Michelle Baker are working to maintain and expand the partnerships forged over the past five years to ensure that the wealth of data continues to benefit the stakeholders who rely on it."
"Thanks to iUTAH, the GAMUT infrastructure is already in place and we have some key baseline data," says Neilson. "Now with the Logan River Observatory, we will be able to continue long-term data collection throughout the Logan River basin and expand the infrastructure in Cache Valley to address local water management questions. The Observatory will provide a foundation to develop new partnerships with various stakeholders and an opportunity to engage with the community to protect this valuable local resource."
So, what's next for GAMUT? "The Logan River Observatory team will work with various stakeholders, including Cache Water District, Logan City, the Nature Conservancy, the Utah Division of Water Quality, and the Logan River Task Force, to build and support existing infrastructure. For example:
An upcoming project is the monitoring network to include stormwater monitoring in local canals.
The team will further encourage the use of these data sets in K-12 and community education via educational outreach activities.
They will work to establish the Observatory as a teaching watershed to train university students in water-related fields


After the iUTAH project ends this summer, the Logan River Observatory will continue to provide data to inform local policy and water management decisions to address water related problems (stormwater, Total Maximum Daily Load studies, etc.). Over the coming years, the Logan River Observatory team will continue to develop partnerships with individuals and groups, both in the valley and across the state, who are interested in monitoring, understanding, and managing local water systems."
Read the complete June 2018 issue of The Water bLog Newsletter.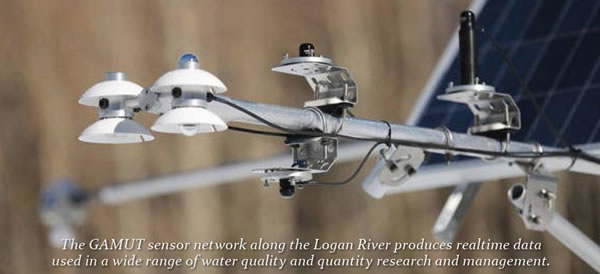 « Back to list of all news articles