iUTAH Team - Undergraduate iFellows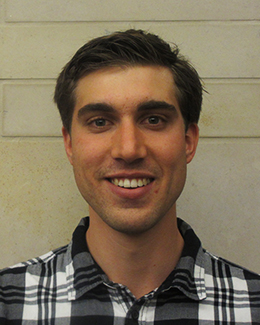 Andrew Luymes
Brigham Young University
Mentors:
Faculty: Greg Carling, BYU
Near-Peer: Brian Packer, BYU
Near-Peer: Colin Hale, BYU
Research Focus:
Research Focus Area 1
Project: Soil chemistry and mineralogy in the Uinta Mountains
Major:
Environmental Science
Biography:
Studying environmental science at Brigham Young University, Andrew feels at home with the outdoors. With a minor in international strategy and diplomacy, he hopes to travel the world solving the world's fresh water crisis. He enjoys track and field, soccer, his lab and research friends, and traveling the world.
Research Abstract:
Mapping the Upper Provo River watershed via soil and plant analysis
In conjunction with tracking mercury and strontium in the Upper Provo River watershed, mapping the physical and chemical characteristics of the soil, and plants are of vital importance to obtaining a complete picture of how the previous mentioned metals move throughout the watershed. It was sought to examine potential areas of reserves where these trace metals might be held in the biosphere. Samples were collected from 21 sites and analyzed in the Brigham Young University Environmental Analytical Lab. Plant species were selected based on the two most populous species at each site. Soil samples were taken using a standard soil T-probe. Analyses were chosen for their potential impact at increasing understanding of the relationship between the metals and their movement within the watershed.
Weekly Recap:
Week 1 | Week 2 | Week 3 | Week 4 | Week 5 | Week 6 | Week 7 | Week 8 | Week 9 | Week 10 | Week 11
Week 1: May 15-21, 2017
My first week as an iUTAH intern was great. This week has been all about helping me identify the research question, what has been done and learned so far, identifying the challenges going forward and helping me understand what I can contribute to the research. Our research is looking at mercury as it settles from the atmosphere as particulates onto snow. When the snow melts, the mercury moves through the ecosystem in either the soil water, or surface run off. Eventually entering the Provo river, we want to know what forms of mercury are being added from these settling particulates, and how they move through the ecosystem. My contributions to the project thus far are focused on understanding the challenges of extracting soil water. I've been looking into the literature of the subject, and talking to some of my professors to better understand the process. In preparation for our field work on Friday (5/19/17) I proposed taking soil samples that will be used to run texture and organic matter analysis, this will help us understand the soil physics, and what we need in order to extract soil water. A few additional things that I have done through the week are becoming familiar with the operating procedures of the mercury lab at BYU, and preparing bottles, instruments, and sample bags for our field day.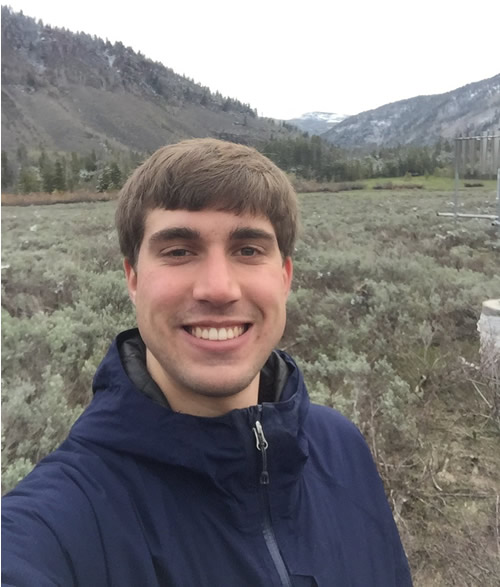 Week 2: May 22-28, 2017
I got to meet the second grad student this week, and get briefed on his project. I'm also getting to know the people in my lab a lot better, and understand the dynamics of the lab. This has put me in a position where I'm being more involved in the lab and field work, which helps as I become more familiar with the specific techniques for sampling and testing of trace metals. Our field work on Thursday (5/25/17) was very enjoyable, although shorter than expected. We hope to be able to start extracting soil water next week, and take more soil core samples. If we begin to see success in our efforts to extract soil water, it would be a big break for the team.
Although not directly related to iUTAH, while I was home for Memorial Day weekend. I went to my cousins wedding in San Diego. During the reception, many of my aunts and uncles were curious about what I was doing for this summer. I felt very smart as I explained to them what iUTAH is and does, and what my research team is doing. They had many smart questions for me and I was impressed with myself as I was able to answer most of them after only being involved with iUTAH for only two weeks.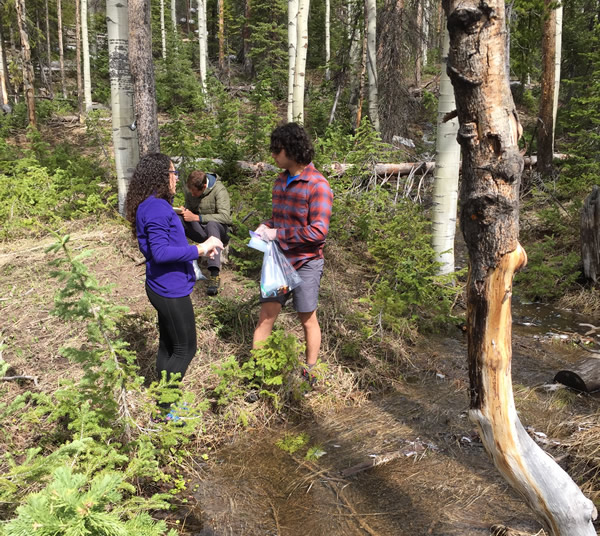 Week 3: May 29-June 2, 2017
If I could send a title with this weeks update it would be: My forearms hurt. With good reason to. On Tuesday, after a full day, the lab got together in Rock Canyon and went rock climbing for 3 hours. It was great to spend time with the other students in a non school environment. We were originally going to eat dinner too but that didn't quit work out. On Wednesday, we spent 3-4 hours filtering water samples through .45 micrometer filters. This was hard work as my back, shoulders, biceps and forearms gradually got tired. Then on Friday, after spending a whole day field sampling, we returned to the lab and filtered our new water samples with more .45 micrometer filters. Who needs a gym when you can get a full upper body work out from filtering water samples?
This week was capped off with some moderate success. We tried using the portable vacuum pump on Friday during our field sampling excursion. The team has been attempting to use the vacuum pump to extract soil water as the snow melts during the spring and summer seasons. The purpose of this is too further analyze mercury movement in the ecology. However, past attempts have been unfruitful, until Friday. We extracted 60ml of soil water, which isn't enough for all the required analysis, but was significantly more soil water than in past attempts. We are hoping to do better at timing the snow melt so that we can begin extraction during peak soil saturation.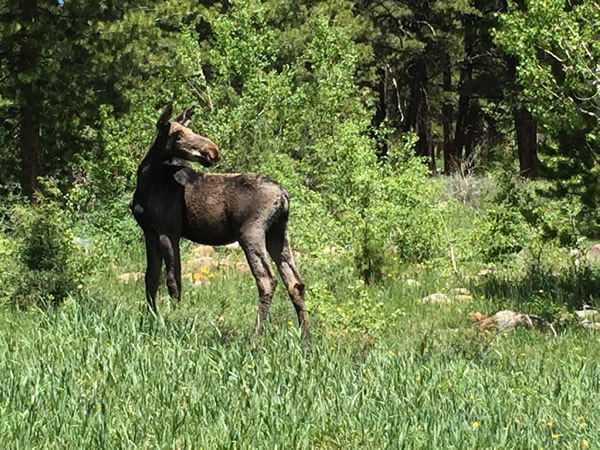 Week 4: June 5-9, 2017
We went field sampling twice this week! Although our first trip on Tuesday 6/6 was largely unfruitful and turned into a snow pack observation day. We were slightly disappointed to still see 4 ft of snow on top of our second lysimeter site. When we went again on Thursday 6/8 we could easily see that about 2 ft of snow had melted. This has us hoping that by early next week the second lysimeter might be uncovered and that we'll be able attempt soil water extraction again.
Another large chunk of our week was dedicated to determining what future sampling we want to do. Some things discussed were adding more river sampling sites in the upper Provo river. We hope that by doing so will help us to better map out the spacial variations of Strontium in the river. if we observe a jump in concentrations at some point in the river, we can infer that there is potentially a point source. We also want to start characterizing the soil physics more. By sampling and testing the soil we hope to gain a better understanding of the rate that Mercury moves in the soil. Because soil physical properties impact the permeability of water in the soil. It was also discussed that we might want to start looking into the amount of Strontium that is captured in the plant life. We are considering taking trunk cores, and leaf samples from the top, middle, and bottom of the tree, and shrub. We will continue to think about how we best want to approach this future sampling, and find literature that will give us established methods of analysis.

Week 5: June 12-16, 2017
It was an uneventful week. We went river sampling, the river is still very high, but we are noticing the thinning snow pack. Its finally warm enough to wear a t-shirt and shorts, even at the higher elevations. I spent some of my week reading some literature on lysimeters and on mercury and strontium. Its going to get very busy for me the next three weeks as my project will begin and hit full stride.
Week 6: June 19-23, 2017
Its not everyday that you get paid to enjoy the mountain fresh air, and a lake side view. Watch the video as I explain my research project with iUTAH, and why water research is important.
Week 7: June 26-30, 2017
This week is the start of my own project. On Monday I woke up at 6am, and left on my own for the Upper Provo River. Starting at the Soapstone campsite and hitting 20 different sample sites all over the watershed. I didn't get back home till 11:30pm. It was an exhausting day doing all the work on my own.
My project, I have been tasked with taking soil samples through out the Upper Provo River Watershed, and testing the soil for spatial variations that will hopefully give us insight into specific areas of the watershed that we can focus on for future work. Dr. Carling and his grad students are interested in mercury and strontium as they cycle and interact with the ecosystem. By increasing our knowledge of the soil characteristics of the watershed, we hope to gain insight into areas where there are increased concentrations of these trace metals.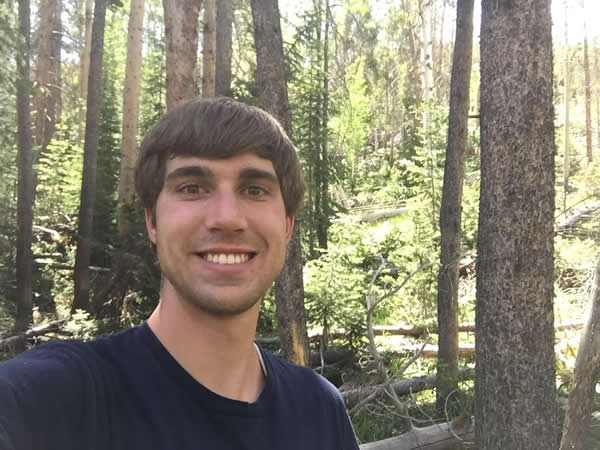 Week 8: July 3-7, 2017
I have never spent so much time in a lab than this past week. Everyday I would wake up at 7am and get to the lab by 8am, and not get home till 8pm or later. The longest day being 8am-11:30pm. With all my soil and plant tissue samples finally dried and ground it was time to finally start analyzing. For the soil samples I have decided to test for: Texture, organic matter, nitrate, pH, electrical conductivity, total carbon, and a total ICP-OES test. For my plant samples I am testing for: total carbon and nitrogen, and running a plant nutrient test on the ICP-OES.
After four long and hard days in the lab, I finally had some results that I could work with in preparing my rough draft poser. Although i'm still not done with the analysis phase, It feels good to have a couple graphs that I can look at. So far from what I have seen, there is a noticeably higher concentration of soil organic matter near the Soapstone campsite. Since OM significantly influences mercury and strontium in the biosphere, it is possible that this area may be holding more of the trace metals and will need more attention for future sampling.
Week 9: July 10-14, 2017
Without a doubt, the highlight of the week was presenting my poster to the greater iUTAH team. It has been an exceptionally difficult three weeks with all the planning, sampling, and analyzing that has taken place. All that doesn't truly describe all that has gone on as I also had to interpret results and put together a poster that would articulate what all was done, and every other in and out that comes into preparing a poster.
I'm very happy with how my poster came together, and look forward to presenting later this month.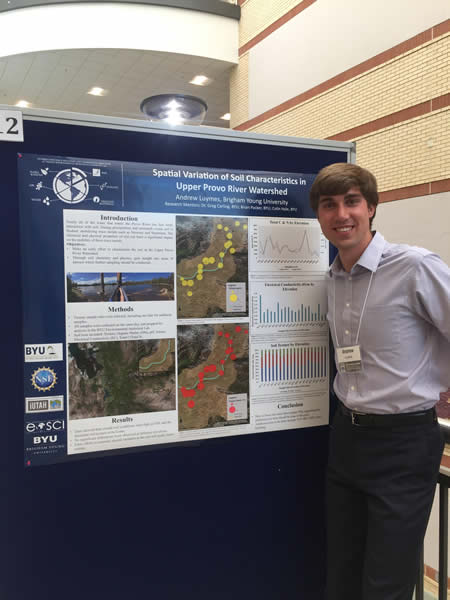 Week 10: July 17-21, 2017
This week was primarily spent finishing lab analysis on my samples. With all that done, and putting the finishing touches on it to make sure that lab tests were done with care and quality. The data is looking good, I feel that I have made a big impact on measuring the spatial variation of soil characteristics in the Upper Provo River Watershed. I know that in my discussions with Brian and Colin (the Grad students I work with) they are both excited to see the finished product, and use the data in their thesis papers.
We attempted to run my soil samples on the XRD instrument but it was in use by another lab. We also had hoped to run our summer 2017 Provo River samples on the TOC-L but that instrument ran out of gas as it was analyzing another lab's samples. Lab work has its highs and lows, namely that when things work you can get a lot done and its very reliable data. But when you run out of chemicals, instruments need maintenance, or any other lab mishaps, like contamination, it can be a pain. Learning how to work around the problem is an ongoing learning effort.
Week 11: July 24-28, 2017
iUTAH may be done for the summer, but I can now say that I have planned and executed my own research project. I know how to test for trace metals in a river, and I've made great new friends that will be of help in the near future as I continue to learn more about water quality, and hydrology. Being a 2017 iFellow is a great experience, a great internship, and I'm happy with how everything turned out. The experience of creating and presenting a poster, and oral presentation are valuable.

Thank you iUTAH!