---

News Article
February 15, 2016
City Councils Hear Water Survey Results
Throughout January, iUTAH researchers Doug Jackson-Smith, Melissa Haeffner, and Sarah Hinners presented the findings of the iUTAH 2014 survey to city councils in the greater Salt Lake Valley area.
Initially, more than 2,300 households were surveyed in Cache, Salt Lake, and Wasatch counties in the summer of 2014. The survey collected detailed information about how local residents in distinctive neighborhoods use and think about water in their daily lives. Since that time, survey results have been compiled and processed, and are available to researchers, water managers, and the general public at the iUTAH website. The survey provides extensive scientific data on current residential water management and public support for a range of water policies.
The next step of this process is to share these findings with local and state water managers. So far, presentations on how local residents use and think about water in their daily lives have been made to the South Jordan, Riverton, and West Jordan city councils, reaching between 35 and 60 participants. "We are excited to continue building our relationship with the people of the Salt Lake Valley," said Doug Jackson-Smith. "It was a great opportunity to return to the city to share our survey results while introducing our ongoing project to elected city council persons. "
More presentations will be made in the coming months, including one to the Salt Lake City council.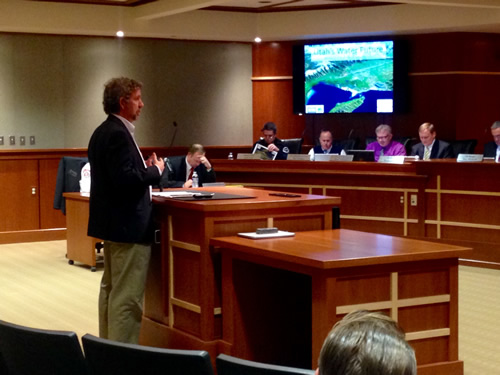 « Back to list of all news articles