---

News Article
December 20, 2017
WSU Symposium Showcases Student Research
Amid the hectic schedule of finals week, some Weber State University students made time in their busy schedules to present their research findings from participation in iUTAH's summer iFellows undergraduate research fellowship program and faculty Research Catalyst Grants (RCG). The event was co-hosted by Carla Trentelman, associate professor of Sociology, and Dan Bedford, professor of Geography and WSU honors program director, and attended by students, faculty, administrators, and friends of iUTAH.
This year, two WSU undergraduates, Maggie England and Mike Fowles, were part of a cohort of 15 students that participated in the 11-week summer research experience. During that time, they were actively involved in iUTAH fieldwork, research, and analysis. Working with faculty and student mentors, these students learned about the challenges and solutions needed to sustain the state's water supply over the next few decades and the environmental impacts that we have on bird species, and aquatic habitats in local watersheds.
Students presenting research at the WSU symposium include Maggie England, Mike Fowles, and Rebekah Holt. Past participant attendees included Cynthia Elliot, 2016 iFellow, William Soule, Summer Institute mentor, and Kassandra Sqrow, who participated in both an RCG and as a Summer Institute mentor.
Rebekah Holt worked with faculty mentor Bridget Hilbig, assistant professor of botany at WSU, on a RCG project focused on enhancing soil complexity to improve sustainable urban agriculture. They constructed a rooftop garden, adding Arbuscular mycorrhizal fungi (AMF) native to Utah to soil and measured growth responses in pepper plants. While the AMF plants grew better, challenges with the location and the growing boxes limited the growth of viable crops. Future research will involve changing the plants from peppers to parsley, and making adjustments to the boxes and watering schedule.
"Ever since iUTAH began, our colleagues at Weber State have been terrific supporters of undergraduate research," said Mark Brunson, iUTAH Education, Outreach and Diversity director and professor in the Department of Environment & Society at Utah State University. "Our research faculty have greatly enjoyed working with Weber students, and the work they've done has made a real contribution."
In the five years that WSU has partnered with iUTAH, 41 students have been involved in undergraduate research, including 14 iFellows, 7 Summer Research Institute mentors, and 24 student RCG researchers.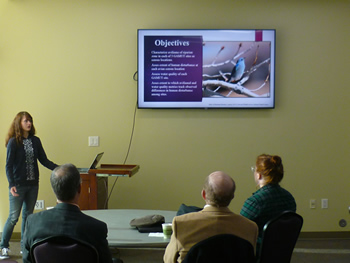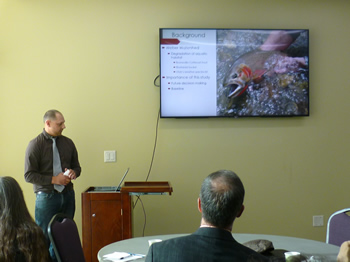 « Back to list of all news articles