Research Catalyst Grants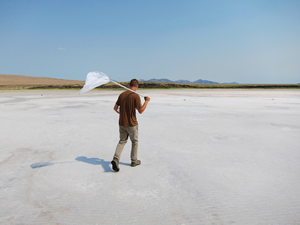 iUTAH's Research Catalyst Grant (RCG) program addresses several key goals of our project. RCGs stimulate research at primarily undergraduate institutions (PUIs) across the state of Utah, building our state's STEM capacity by (1) engaging undergraduate students in hands-on research; and (2) growing a network of collaboration between PUIs, research universities, and local, state, and federal agencies and other stakeholders.  In this way it allows us to provide big payoffs for relatively small investments.
Now in its fifth year, iUTAH has awarded 20 grants totaling more than $300,000 through a competitive application process. To be considered for funding, prospective principal investigators (PIs) must be based at a PUI, and proposals must target research questions that fall broadly within one or more of iUTAH's research focus areas. In addition, undergraduate student engagement—while not required—is strongly encouraged, and most successful proposals have included a comprehensive undergraduate research component. Awardees are also encouraged to collaborate on proposals with researchers at Utah's three research universities, thereby helping to strengthen iUTAH's collaborative research network.
Of course, the ultimate goal of RCGs is to catalyze further research.  Some Year 1 (2013) RCGs have already resulted in new, successful grant proposals co-authored by PUI and research university faculty.  This has set the stage for RCG awardees to enter a virtuous cycle: the initial RCG enhances the PI's capacity to compete for additional research funding, which further builds the institution's capacity to grow the Utah STEM enterprise.
2017 Grantees
Frank J. Black
Westminster College
Project:
Wildfire ash and Great Salt Lake dust as sources of heavy metals to Utah's aquatic ecosystems
Bridget E. Hilbig
Weber State University
Project:
Enhancing soil biological complexity to conserve water in urban agriculture
Jacqualine Grant
Southern Utah University
Project:
Green infrastructure for water quality and pollinator community improvement
S. McKenzie Skiles
Utah Valley University
Project:
Constraining physical controls on snow hydrology along the Wasatch Front
Research Catalyst Grant Highlights: