---

News Article
January 31, 2018
Dust on Snow Controls Springtime River Rise in West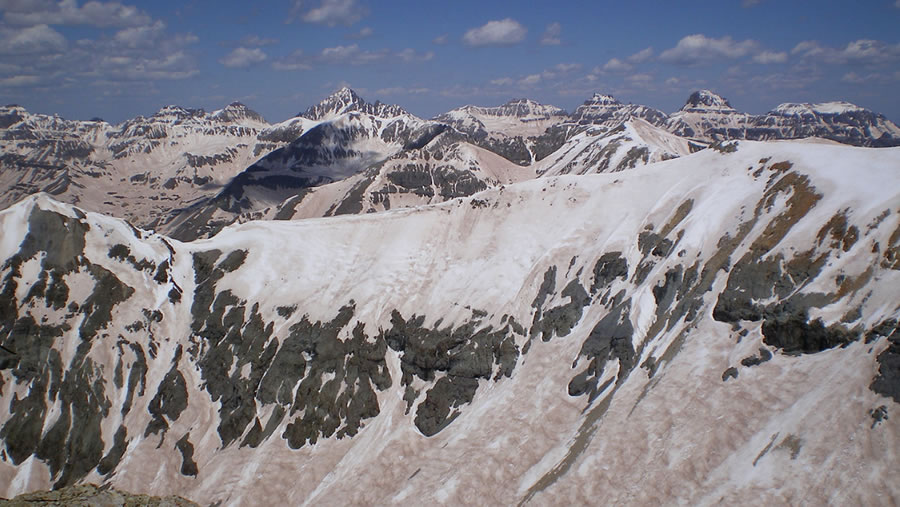 University of Utah and iUTAH researcher McKenzie Skiles has been in the news for her contribution to research on the effects of dust on mountain snowpack during spring runoff. Skiles received funding through an iUTAH Research Catalyst grant on snow hydrology along the Wasatch Front in 2017.
A media release provided by the University of Utah's science writer Lisa Potter said the "study has found that dust, not spring warmth, controls the pace of spring snowmelt that feeds the headwaters of the Colorado River. Contrary to conventional wisdom, the amount of dust on the mountain snowpack controls how fast the Colorado Basin's rivers rise in the spring regardless of air temperature, with more dust correlated with faster spring runoff and higher peak flows.
The finding is valuable for western water managers and advances our understanding of how freshwater resources, in the form of snow and ice, will respond to warming temperatures in the future. By improving knowledge of what controls the melting of snow, it improves understanding of the controls on how much solar heat Earth reflects back into space and how much it absorbs — an important factor in studies of weather and climate.
Coauthor McKenzie Skiles, an assistant professor in the University of Utah Department of Geography, said that while the impacts of dust in the air, such as reduced air quality, are well known, the impacts of the dust once it's been deposited on the land surface are not as well understood. 'Given the reliance of the western U.S. on the natural snow reservoir, and the Colorado River in particular, it is critical to evaluate the impact of increasing dust deposition on the mountain snowpack,' she said."
The article titled "Variation in rising limb of Colorado River snowmelt runoff hydrograph controlled by dust radiative forcing in snow" was published in the journal Geophysical Research Letters. Along with Tom Painter of NASA's Jet Propulsion Laboratory in Pasadena, California and McKenzie Skiles from the University of Utah, Salt Lake City, other coauthors are from University of Colorado, Boulder; and University of California, Santa Barbara.
Press: Jet Propulsion Laboratory website | UNews
« Back to list of all news articles