---

News Article
April 16, 2018
Bean Museum Involves Visitors in Local Watershed
The Bean Life Sciences Museum, located on the Brigham Young University campus, has partnered with iUTAH and the Natural History Museum of Utah to place an interactive display in the museum to help visitors learn about their local watershed. Based on a display developed by NHMU in 2015, the Bean Museum's version allows visitors to see and interact with live data collected from the Provo River watershed.
The exhibit uses the iUTAH network of aquatic and climate sensor stations from GAMUT, which stands for "Gradients Along Mountain to Urban Transitions." GAMUT sensor stations, located in three of Utah's most populated watersheds: Red Butte Creek, Logan River, and Provo River, traverse the landscape from mountain to urban settings. Data from these stations are monitored and used for solving a wide range of water-related problems. From diagnostics and restoration of impaired urban rivers to modeling future water availability, the data help identify irregularities in Utah's waterways.
Installed in February 2018, the display has been well received offering visitors the opportunity to explore the Provo River without leaving the comforts of a warm museum building. Visitors can become researchers, seeing and comparing changes in water levels and temperatures in real-time. They also learn to be water-wise citizens as they gain a better understanding of the impacts of pollution and population on their watershed.
"The Provo Watershed exhibit has been a great resource to teach kids about how different properties of water affect the wildlife," said Meagan Grasley, an educator at the Bean Museum. "Children have loved looking at the different wildlife that live at each part of the watershed. Overall, it has brought more awareness to the patrons of their local ecosystem."
This interactive display at the Bean Museum is just one of the many examples of legacy products that will be available for research and education long after the iUTAH project ends in July 2018.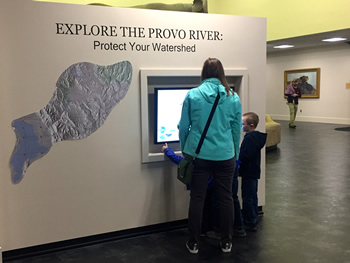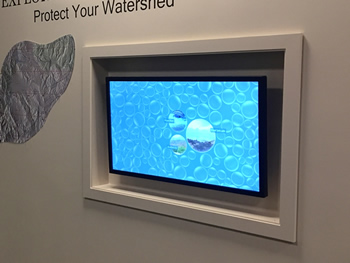 « Back to list of all news articles