---

External Engagement News
May 16, 2018
HESS Best Paper Award for iUTAH Collaboration
Former iUTAH postdoctoral researcher Erik Oerter, along with Molly Malone, Louisa Stark, and Gabriel Bowen, and others received the Jim Dooge Award 2017 for the best paper in the European Geophysical Union's flagship journal "Hydrology and Earth System Science."
The paper explains science outreach activities and lessons developed to teach high school students, university students and high school teachers about isotope hydrology and the water cycle. The approach connects common fruits to the global water cycle, offering examples through lecture, demonstration, and lab activities introduced at iUTAH's Summer Research Institute. Materials were also evaluated through pre- and post- tests tied to learning objectives, as well as participant feedback surveys.
The method and ideas explored in this paper offer readers a solid approach to the ways that outreach materials can engage students in learning activities about how humans interact and find patterns in their environment through examining the water cycle.
Paper: Oerter, E., M. Malone, A. Putman, D. Drits-Esser, L. Stark, and G. Bowen. 2017. Every apple has a voice: using stable isotopes to teach about food sourcing and the water cycle. Hydrology and Earth System Sciences, 21:3799-3810. 10.5194/hess-21-3799-2017.
Related news article: Classroom Lesson Leads to Publication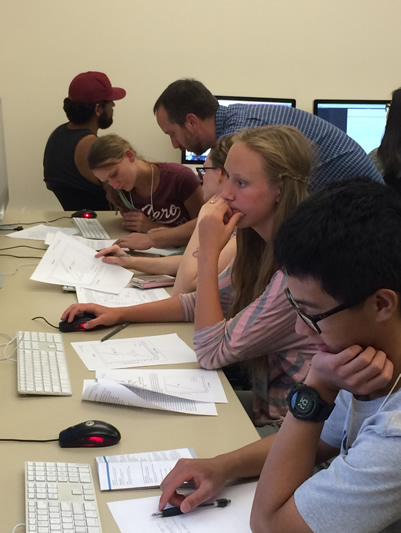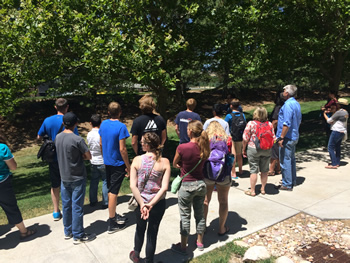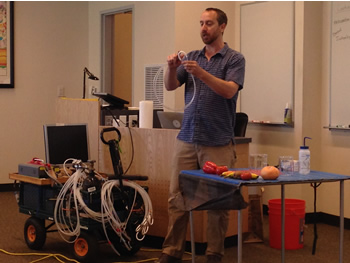 October 5, 2017
Classroom Lesson Leads to Publication
Former iUTAH postdoctoral researcher Erik Oerter has collaborated with Molly Malone, Louisa Stark, and Gabriel Bowen, and others to publish the paper "Every apple has a voice" in Hydrology and Earth System Sciences, a peer-reviewed open access journal.
In the summer of 2016, Oerter served as a mentor in the Summer Research Institute (SRI), a program supported by iUTAH from 2013 – 2016. The program offered students and teachers the chance to become scientists for one week each summer. He designed a one-day water science activity for the program, including lecture, a hands-on lesson about isotopes, food sourcing, and the water cycle, and a computer lab exercise. Participants, which included high school students, undergraduate students, and high school science teachers, then turned what they learned into a poster presenting their research results.
The effectiveness of the activity was assessed through pre- and post-lesson tests, as well as participant surveys. While the lesson was effective at teaching the basics of stable isotope hydrology and the water cycle, the computer lab needed to be more specifically tailored to each participant's abilities. Oerter felt that he learned much from the teachers while discussing his lesson. A highlight of the week was "seeing the light bulb go on" in the students as they understand complex concepts while creating their posters.
Oerter is currently working as a postdoctoral researcher at Lawrence Livermore National Laboratory in Livermore, CA. His research focuses on the intersection of hydrology and geochemistry, applying the isotope hydrology expertise gained through iUTAH to a broader set of national issues.
Originally, SRI was designed as part of CI-Water, a prior NSF EPSCoR-funded project that brought collaborating institutions in Utah and Wyoming together to address water issues in the West. Through the guidance of Director Louisa Stark and Senior Education Specialist Molly Malone from the Genetic Science Learning Center at the University of Utah, the program engaged 96 high school students and teachers, and undergraduates in 13 diverse research projects reflecting iUTAH's cross-disciplinary approach over four years.
Full study of the article is available below:
"Every apple has a voice: using stable isotopes to teach about food sourcing and the water cycle."
Authors: Erik Oerter, Molly Malone, Annie Putman, Dina Drits-Esser, Louisa Stark, and Gabriel Bowen.
Related news article:
Collaborative Paper wins HESS Best Paper Award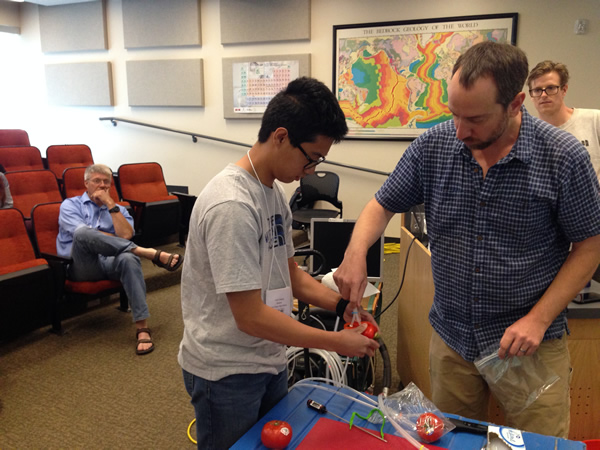 August 28, 2017
Changes in Utah Water Watch Staff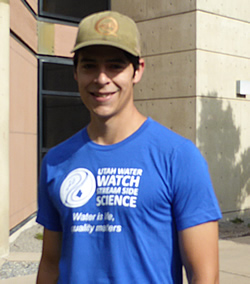 In June, Utah Water Watch (UWW), a Utah State University Water Quality Extension program, said goodbye to co-coordinator Eli Robinson. While working for Utah Water Watch, Eli spearheaded UWW's Harmful Algal Bloom (HAB) program. This program has been successful in working with citizen monitors to assist the Utah Department of Environmental Quality's Division of Water Quality in catching HABs before they release toxins and cause potential harm to people and animals. The UWW community will miss Eli's organizational expertise, sense of humor, and creativity, and wishes him well in the future.
With this change, Cade Andrus has joined UWW as the new co-coordinator. He is a 2017 graduate of the Quinney College of Natural Resources at USU and has a degree in environmental studies along with a strong interest in sustainable development. While in this new position, he hopes to reach a broader audience for water quality education and citizen monitoring. Cade's diverse background will bring new insights and ideas to the program.
In order to continue supporting and growing programs, UWW has added additional staff this season, including USU students Jose Pacheco, a senior in conservation and restoration ecology, and Hannah Johnson and Cole Patton, who are both incoming freshman and Quinney scholars studying conservation and restoration ecology.
UWW co-coordinator Ellen Bailey, based in Salt Lake City, works with watershed partners to develop advanced monitoring (Tier 2) volunteers in assisting with state monitoring needs, especially in measuring the effectiveness of projects to improve water quality. In her presentation this past July at the iUTAH Symposium, she shared the following numbers on the program's successes since 2012:
103 training events

1,025 volunteers trained

250 sites monitored overall in Utah
UWW maintains an active citizen science group supporting water stewardship in the state of Utah, including 100 active volunteers this year with 23 specializing in Tier 2 monitoring, and is a program that iUTAH is proud to partner with and support.
April 14, 2017
iUTAH Donates 235 Water Books to Area Libraries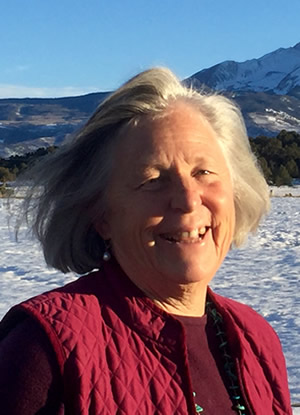 Each year in early May, Utah dedicates a week to public awareness and involvement in water issues, both locally and globally. This year, iUTAH is partnering with the Intermountain Section of the American Water Works Association (IMS-AWWA) in celebration of 2017 Utah Water Week (UWW) on May 7-13. Among the events and activities taking place, UWW brings water-related books, and occasionally their authors, to local libraries and schools across the state. This year, the award-winning Water Runs Through This Book is one of two UWW Library Books that have been chosen to educate people on the importance and scarcity of water. The production of Water Runs Through This Book by Nancy Bo Flood was supported by iUTAH to strengthen and promote an inclusive, diverse, water-wise community in Utah. Copies of the book are being donated to 210 libraries in Utah, and 25 libraries in southern Idaho.
Ellen Eiriksson, iUTAH Education, Outreach and Diversity Coordinator, said "iUTAH is thrilled to bring author Nancy Bo Flood back to Utah to help celebrate Utah Water Week and to be partnering with a variety of community, institutional, and education partners across the state, to share the book's view of water." A partial list of the libraries and schools Bo Flood will visit throughout Utah include:
Emery and Grand County, UT– May 2 - 5
Weber County Libraries – May 9 - 10
North Logan Library, North Logan UT– May 10, 7 p.m.
Edith Bowen Laboratory School – May 11
Logan Library, Logan UT– May 12, 3 p.m.
"This book captures the spirit of our connection to water, while also addressing and celebrating the different ways people worldwide interact with this resource," said Eiriksson. "Nancy will be bringing this discussion to audiences state-wide, asking people to reflect on and celebrate their connection to water, while also examining on how we can be better stewards of it." Bo Flood will also speak at the Water Education Awards Banquet honoring the winners of the Utah Division of Water Resources Young Artists Poster Contest, an event attended by 4th grade students from around the state, and their families, and teachers.
"I have been a professional in environmental education since 1972 and have seen many water education books," said Barbara Middleton, Friends of the North Logan Library board member. "What I like about this book is the international focus, the images and the succinct clarity of how water runs through our lives."
iUTAH's partner, Utah Water Watch, will present various citizen science opportunities for water quality monitoring throughout the state during Water Week. Please check out the 2017 Utah Water Week website for a complete list of activities and events.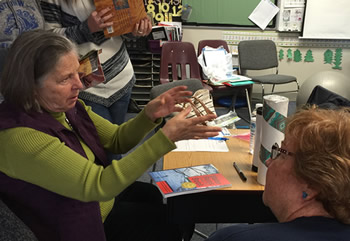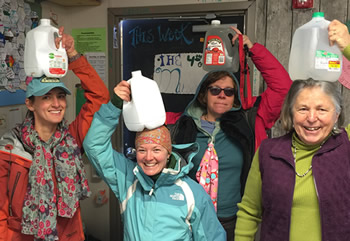 December 9, 2016
WSU Students Present Undergraduate Research
A mini-symposium was held for the fourth straight year on the campus of Weber State University. It featured research posters and presentations from iUTAH's Summer Institute and the Undergraduate Research Fellows (iFellows) Program. The event was co-hosted by Carla Trentelman, associate professor of Sociology, and Dan Bedford, professor of Geography and WSU honors program director, and attended by students, faculty, administrators, and friends of iUTAH
"The Weber State iUTAH team, and this is very much a team effort, has felt from the beginning that it was important to give our iUTAH students the chance to share their experiences with the WSU community more broadly," said Bedford. "We've had great representation from excellent students in all four years of the iFellows and Summer Institute programs, and it's good for everyone to see what excellent research our students were engaged in."
Faculty mentors also use the event as a recruitment tool, reminding all in attendance to start thinking about upcoming summer iFellows program, which students may apply for starting in January 2017. Students who attended this program included 2015 iFellow André Valle; Andrew Hackett and Cynthia Elliott, 2016 iFellows; and William Soule and Maggie England, representing two of the five 2016 Summer Institute peer mentors.
"The iUTAH collaboration has provided great opportunities for our faculty and students to engage in research and scholarship related to water resource management in the state, said Charles "Chuck" A. Wight, president of WSU. "I'm grateful to the faculty at Weber State, Utah State University and the University of Utah for their roles in mentoring our students while carrying out the research and in preparing their work for publication and presentation."
It is always an enriching experience to visit our partner institutions and see what the students have learned and gained on reflection, after returning to their schools in the fall.