About iUTAH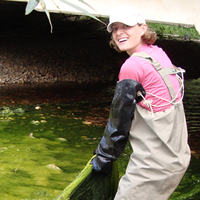 iUTAH, innovative Urban Transitions and Aridregion Hydro-sustainability, is a statewide effort dedicated to maintaining and improving water sustainability in Utah. Funded by the National Science Foundation's EPSCoR program (Experimental Program to Stimulate Competitive Research) this five-year, $20 million competitive award will assist in building the human and research infrastructure needed to sustainably manage Utah's water resources. The award went into effect August 1, 2012.
NSF provides $20 million to strengthen Utah's research infrastructure
Award Announcements:
Interviews:
As the nation's second driest state (356 mm annual average rainfall), water is critical to Utah's continued growth and economic development. The delivery of freshwater resources is in jeopardy both in the immediate future and in the long-term. iUTAH will invigorate statewide research productively through an integrated program that enhances research, human, and CI capacities related to understanding how population pressure coupled with a changing climate and altered land use affect water resources and the sustainability of urban and natural systems.
iUTAH is an interdisciplinary effort among researchers from Utah State University, the University of Utah, Brigham Young University, and two dozen other Utah institutions of higher education, government agencies and industry and non-profit partners. EPSCoR partners in Alaska and Wyoming are also collaborating. The Utah EPSCoR (Experimental Program to Stimulate Competitive Research) Office coordinated the multi-partner effort, with the support of USTAR.
iUTAH will build critical observatory and modeling facilities across watersheds; create transdisciplinary research teams from many Utah institutions, government agencies, and the private sector; and enhance expertise and diversity through strategic recruitment of faculty and students. The novel and transformational activities of iUTAH include: the development of fully integrated hydrologic and social sciences observatories that encompass whole watersheds along an urbanization gradient; collaborative activities to create a community of scholars across the state to address sustainability of coupled human-natural systems; and integrated education and outreach activities such as participatory and collaborative modeling efforts to communicate and collaborate with stakeholders and policy makers.