Taking Learning Outdoors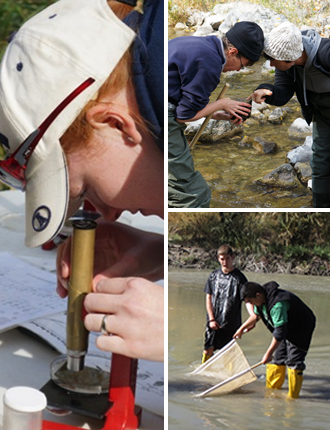 Taking Learning Outdoors is a place-based learning program for educators, coordinated through the Natural History Museum of Utah and supported by iUTAH. The program helps teachers use nature to provide authentic learning experiences for their students. Geared primarily towards teachers in grades K-8, Taking Learning Outdoors offers a 5-part workshop series that combines field trips with classroom visits and innovative educational resources centered on topics about water quality and quantity, sustainability, and Utah's natural environment. During the workshops, teachers learn through interactions with other classroom teachers, scientists, graduate students and informal educators. Workshops take place periodically over the course of the school year.
After having spent the past three years in iUTAH's study watersheds – Red Butte Creek in Salt Lake City, the Middle Provo River in Heber Valley, and the Logan River in Cache Valley – Taking Learning Outdoors is moving its workshops to rural southern Utah. This year's program focuses on water resources in southwestern Utah and will involve teachers in the Iron and Beaver county school districts. Planning has already begun for shifting to southeastern Utah for 2016-17. Here is the schedule for this year's program.