Diversity Enhancement
iUTAH's Diversity Enhancement team looks for opportunities to increase the individual, disciplinary, institutional, and geographic diversity of STEM activities in Utah to address the water sustainability issues facing Utah and the Mountain West.
About Diversity Enhancement:
Utah is an increasingly diverse society. According to the U.S. Census Bureau, 18% of the state's population is comprised of people who identify as Hispanic, African American, Native American, and Pacific Islander, and the minority segment of the population is growing fast. Yet the percentage of under-represented minorities in college in Utah is less than 10%, and percentages at Utah's research institutions is smaller still. Similarly, women are under-represented in science, with only 20% of STEM degrees in Utah awarded to women. That's why iUTAH's diversity enhancement efforts are looking for ways to improve minority and women's participation in water and STEM (science, technology, engineering and mathematics) careers.
iUTAH activities specifically target women, Native Americans, Hispanic Americans and rural audiences. We have hosted workshops designed to help iUTAH students, researchers, and their colleagues gain state-of-the-art knowledge about diversity issues, with emphasis on recruitment and retention of under-represented groups in water science. Taking Learning Outdoors, our place-based learning program for elementary and secondary teachers, is helping educators in rural southern Utah learn to use the natural world as a teaching tool. Author and educator Nancy Bo Flood uses Water Runs Through This Book to bring water awareness to diverse communities, including the southeastern corner of Utah, conducting workshops, readings, and lectures. Another iUTAH-sponsored program, iUTAH WaterGirls, offers middle school girls a chance to explore water and the natural environment doing field activities alongside female scientists so that their natural curiosity is nurtured and they recognize that science is indeed for girls as well as boys. We have led STEM career sessions at events targeted to minority high school students, and have hosted Native American students from Utah State University's campus in Blanding in iUTAH labs during the summer.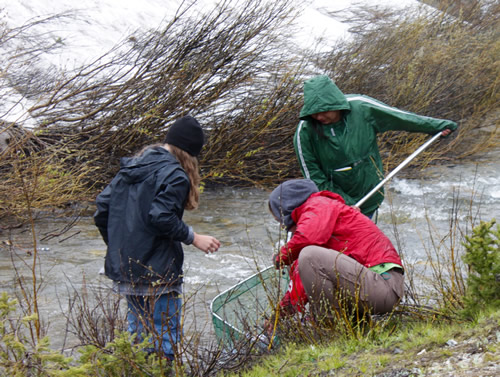 Related Programs:
Diversity Enhancement News and Highlights:
October 28, 2016
Students Present Research at National Diversity Conference
June 13, 2016
USU's Native American STEM Mentorship Program Holds Poster Session
December 4, 2015
Collaborations at 2015 SACNAS & AISES Conferences
December 3, 2015
Diversity Conference and Fall All-Hands Meeting
August 5, 2015
Book Project Raises STEM Awareness