iUTAH is an interdisciplinary research project dedicated to preserving Utah's water resources. Comprised of a vast network of researchers, universities, governmental agencies, industry partners and non-profit organizations statewide, this is the first water monitoring project of this scale to be attempted in the history of the state. Funded by the National Science Foundation, this five-year, $20-million award went into effect August 2012.
The Problem: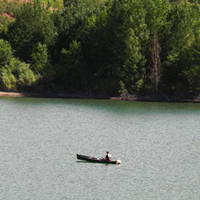 Rapid urbanization and climate change represent major challenges for water management in the intermountain west. Not only is Utah the second driest state in the nation, it is among one of the fastest growing. With over 2 million residents, this population is expected to double over the next decade. As the state's population continues to increase, so too will the demand for water. Currently, Utah residents and industries receive their water from the mountains. However, models are predicting major shifts in this water supply as it transitions from snowpack to precipitation, creating critical consequences for the delivery of water along the Wasatch Front.
In 2013, approximately 85% of Utah's water was used for agricultural purposes, leaving the remaining 15% for industries and other consumers.  With so much of our state's water being used for agriculture, the Environmental Protection Agency (EPA) warns that future water shortages could lead to failed crops, damaged industries, and higher prices charged to consumers for food and water.  Protecting and efficiently managing our water is absolutely essential for Utah's continued prosperity, growth and economic development.
Our Approach: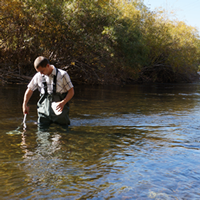 In order to address these critical water issues, iUTAH has established a statewide network of researchers to explore how variables such as population growth, climate change and land use affect water sustainability. iUTAH's three research areas focus on:
Monitoring the relationship between water and ecosystems;
Assessing water use behaviors and decisions, and how these influence the urban environment; and
Establishing uniform data sets for a variety of audiences to convey research discovery
Achieving water sustainability in Utah will only be possible by understanding how the water system operates as an integrated physical, chemical, biological and social system. Proactively preparing Utah decision makers, citizens and stakeholders for a changing climate will further equip the state for more beneficial adaptability –– ensuring the vitality of Utah's iconic environment, nationally acclaimed business status, growing population and expanding economy.
iUTAH in the News:
Grant Announcements:
Interviews: