Research Focus Area 3: Making the Connection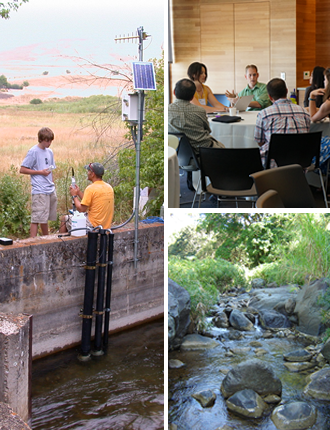 Coupled Human-Natural System: Understanding the ties between human and environmental water systems.

Urbanization, climate and ecosystem change present major challenges for water resource managers, who must address changing patterns of water supply and water demand. Utilizing the knowledge and information acquired from iUTAH's research focus areas 1 and 2, research area 3 focuses on understanding the ties between human and environmental water systems.
In order to address current and future water challenges across the state, Research Focus Area 3 establishes a framework to better understand the linkages between decision-makers, infrastructure, and water resources.  This framework consists of three primary components:
Water quantity and quality:  Derived from Research Focus Area 1, this component focuses on the sources, quality, and availability of Utah natural water supply.
Actors:  Actors represent the individual and organizations that make water-related decisions, including usage patterns and management decisions.  Individuals represent the homeowners, residents and farmers, whereas organizations are groups and agencies that have water management, allocation, or enforcement authority.


Structure:  This component consists of three types of structure:  natural (ecosystems, climate), built (landscaping, infrastructure), and social (demographics, laws, culture).   These structures shape how water moves through the system and enables or constrains actors' water decisions and behaviors.
This framework of understanding how water quantity and quality, actors, and structures impact one another will provide state decision-makers with important knowledge of how to address current and future water resource management challenges.  Additionally, it should be a useful tool to facilitate communication and coordination across existing research activities, as well as the creation of new collaborations as research gaps are identified.