External Engagement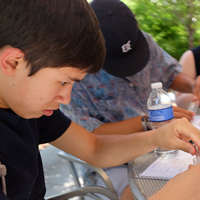 iUTAH's external engagement programs advance our goals of promoting a diverse, well-prepared STEM workforce and a scientifically literate public regarding water issues in Utah. We support citizen science, museum partnerships, public radio series, school programs, teacher trainings, and other outreach activities to engage Utah residents in the science and sustainability of water resources.
Partnership
While iUTAH maintains an outreach staff of its own, much of our work is accomplished through partnerships with existing educational entities. This allows us to reach audiences that other groups have already built, while contributing our resources to enhance those organizations' programs. For example:
iUTAH's citizen science program:
Utah Water Watch, educates and engages citizens in the monitoring of Utah's streams and lakes through a collaboration with USU Water Quality Extension and the Utah Division of Water Quality.
Student Engagement:
Public school students from grades K-12 have learned about water through activities developed in partnership between iUTAH, university faculty, and school districts:

Other external partners:

Partnerships with the Utah Education Network have connected the iUTAH project with individuals and ideas supporting comprehensive science resources. The Crowd and the Cloud, a public television series about citizen science, crowdsourcing and mobile tech, is one of these endeavors.
EOD Innovation Awards
iUTAH's Education, Outreach & Diversity Innovation Awards program was developed to expand iUTAH's external engagement efforts in Utah.  The program provides small grants that allow schools and nonprofits to increase their outreach capacity on water issues. For example, in 2015 the awards supported new educational materials at the Natural History Museum of Utah; The Leonardo, Salt Lake City's downtown science and technology museum; and the Garth and Jerri Frehner Museum of Natural History at Southern Utah University. Also funded were The Source radio series on Utah Public Radio, the iUTAH WaterGirls program developed by Salt Lake Community College, and public school programs at Salt Lake City's Rose Park Elementary School and the University of Utah.
External Engagement News and Highlights:
December 3, 2015
2015 Salt Lake County Watershed Symposium Honors
June 9, 2015
Learning What People Want to Know About Water
June 2, 2015
May 13, 2015
Taking Learning Outdoors Workshop
March 11, 2015