Red Butte Creek Watershed
Red Butte Creek originates in the mountains of northeastern Salt Lake County. The Red Butte Reservoir, initially built to supply water to Fort Douglas, is currently used as a habitat for June sucker (i/Chasmistes liorus/i), an endangered species of fish endemic to Utah Lake and the Provo River. After exiting the canyon, the creek makes a rapid transition to built-out, urbanized land use through The University of Utah campus and into Salt Lake City before discharging into the Jordan River.
The Red Butte Creek GAMUT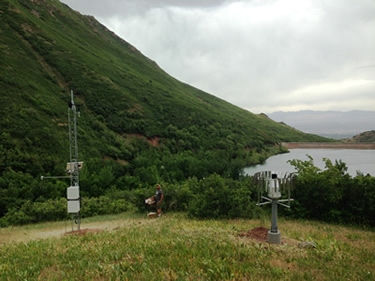 The Red Butte Creek GAMUT (Gradients Along Mountain to Urban Transitions) is comprised of four climate stations, and five aquatic monitoring stations. These stations, along with similar stations in the Provo and Logan River watersheds form the backbone of a monitoring network that was designed to help researchers better understand issues related to water quality and quantity along the Wasatch Front in Utah.  Climate stations record the following variables of environmental data: air temperature, humidity, wind speed, wind direction, barometric pressure, precipitation, snow depth, radiation, soil moisture, and soil temperature. All aquatic stations record: electrical conductivity, pH, turbidity, dissolved oxygen, water temperature, and water depth.  Select 'advanced' aquatic stations also record data on dissolved organic matter and algae. 
As of October, 2013, all four climate stations and four out of five aquatic stations are fully functional in the Red Butte Creek watershed. Up to date provisional data for all installed sites can be found at:  http://data.iutahepscor.org/mdf/Data/Red_Butte/.  For detailed information about Red Butte Canyon publications, history, geology, hydrology, ecology, flora, and fauna, see: http://redbuttecanyon.net.   

Select projects currently underway in Red Butte:
Rachel Gabor, a postdoctoral research fellow at the University of Utah, is using a variety of chemical tracers to identify the flowpaths by which urban impacts reach streams. By combining hydrologic measurements along with measurements of isotopes, nutrients, and conservative solutes, she has been able to identify the importance of groundwater in contributing to urban impacts to water quality.

Andrew Gelderloos, a master's student studying water resources at the University of Utah, is using 100 years of climate data from all seven creeks which flow into the Salt Lake Valley, including Red Butte Creek, to identify the role of landscape in how stream flow responds to changing climate.

Mallory Millington, a master's student at the University of Utah, is investigating the role of urban surfaces in contributing solutes to storm water. During storm events, samples are collected from roofs, streets, parking lots, and storm culverts to identify the contribution of different surfaces. She is conducting this research with Julie Leri, who is working on master's degree in science education.