---

News Article
February 10, 2015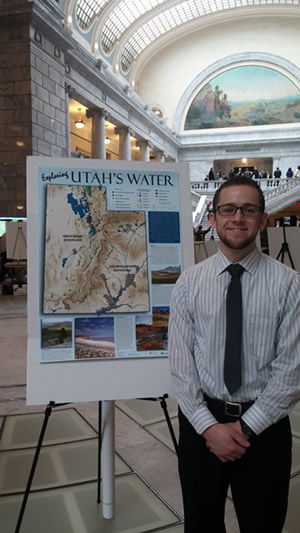 Timothy Beach, an undergraduate student mentored by Sarah Null in the Watershed Science Department at Utah State University, represented iUTAH at this year's Maps on the Hill event at the State Capitol. Tim was an iUTAH iFellow last summer. During his research, he created a Utah water map with the assistance of Utah Valley University and iUTAH scientist Suzanne Walther and the sponsorship of iUTAH.
His water map describes statewide water resources, demands, and management to help visualize Utah's current and future water scarcity challenges. Tim presented his water map in English and Spanish to gain more access to a more diverse audience.
The 4th annual Maps on the Hill event is supported by the Utah Geographic Information Council (UGIC) and AGRC (Automated Geographic Reference Center).
This event held on January 28, 2015 offered a good opportunity for students and professionals to share maps, mapping tools, and mapping projects with elected officials, fellow practitioners, and the public. Participants included both individual mapping projects and organizations.
The event included a map display event that was held the first Wednesday of the 2015 Legislative session. The focus of the event was presenting interesting maps or map technology projects that are applicable to a wide audience.
According to Tim, "The presentation on the Hill went well! The few hours I was there ended up being a pretty good experience for me. School groups, legislators, and the general public were all there. There were a good amount of 9th graders that were interested in the map; they asked lots of questions about dams, water usage throughout the state, and GIS/map making. I brought some extra copies of the poster to give out to people and ended up giving two maps away to legislators, which I felt was a success. A few of the people even asked if it was available online. I also had a lot of good conversations with professionals who work with GIS and I think overall, Maps on the Hill was a success."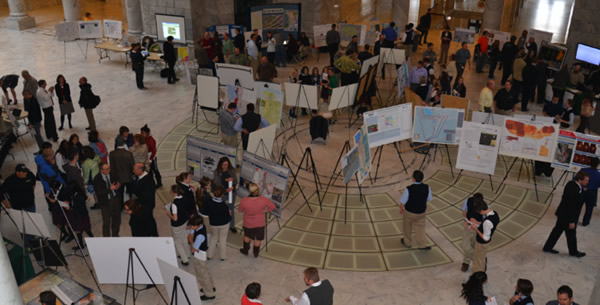 « Back to list of all news articles