---

News Article
April 5, 2017
iUTAH Graduate Student Wins ISS Poster Competition
Pratiti Tagore, a PhD student in the City and Metropolitan Planning at the University of Utah, won the 2017 Intermountain Sustainability Summit poster competition at Weber State University. Her poster discusses the link between environmental habits and context as applied to water saving behavior and urbanization levels in Salt Lake, Cache, and Heber Valleys, and is based on iUTAH research that she has conducted with faculty mentor Sarah Hinners.
Tagore's project titled Can Urbanization Level of a Place Act as a Predictor of Water Saving Behavior? A Study of Salt Lake Valley, Cache Valley, and Heber Valley focuses on the high per capita water use in the state, limited policy planning, and water saving behavior connected to living in a more urban area, such as Salt Lake Valley. She also finds home ownership status and demographics influence water saving behavior, where Cache and Heber Valley households act similarly.
This year was the eight year for Intermountain Sustainability Summit at Weber State University, which has grown to 550 participants this year including over 25 student posters. The summit hosted its first Higher Ed Forum this year, which was a participant-driven event for higher education faculty, students and facilities management staff. Next year's ISS will take place on March 1 -2, 2018.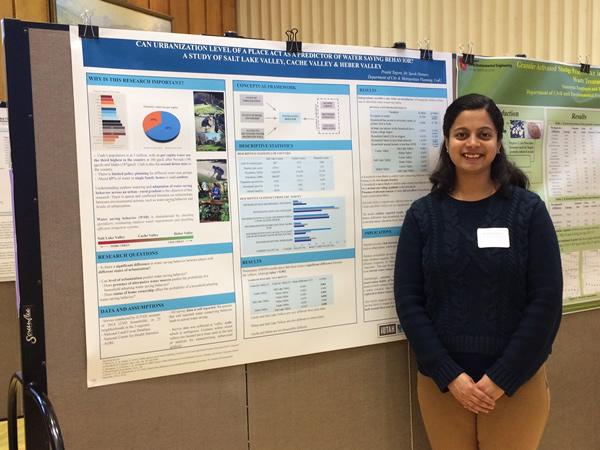 « Back to list of all news articles