---

News Article
July 17, 2017
USU Symposium Concludes 5-year, NSF-funded Water Science Effort
While attending the final iUTAH Symposium held July 13 and 14, Kevin Opsahl, Herald Journal reporter, highlighted these insights about the project's origins and impact on the local community in northern Utah. He starts by saying "USU professor Jeff Horsburgh remembers being on a committee years ago with his colleagues from USU and other Utah schools trying to come up with a proposal to get money from the National Science Foundation.
'It was really kind of interesting. We were trying to feel out people from the other institutions because there can only be one proposal like this from the state when we became eligible for this pot of funding from NSF,' said Horsburgh, assistant professor of civil and environmental engineering, before the iUTAH Symposium, July 13 and 14, at Utah State University. 'We emerged with a great proposal.'"
The article also talked with Project Director Michelle Baker who said " 'Water is one of our most limited resources for our economic development and wellbeing of Utah's population,' she said. 'Our goal is to really enable people who are interested in science for Utah's water future. We have programs to stimulate research discovery and training students.' Baker believes iUTAH's biggest accomplishment was 'lowering barriers for collaboration across the state…. iUTAH doesn't think of itself as a USU project,' she said. 'The people from USU who participated in it always tell me the thing they think is the best thing is getting to know their colleagues in Salt Lake City, Cedar City and things like that.'
Lance Houser, an engineer who works for Logan, remembers five years ago when engineers were trying to evaluate the city's water quality without using extra staff. Houser heard about iUTAH and it turns out USU researchers were curious about many of the same things Logan officials were regarding the city's water. So Logan provided USU areas in the city were researchers could do sampling and monitoring for water flow and quality.
Houser is pleased iUTAH has yielded results he can actually use. 'It's nice to have a program that's focused on Utah instead of just back east,' Houser said. 'A lot of the decisions that have been made in the past have been made on studies and research done in … a lot of areas back East, decisions on management procedures. So, dealing with EPA, we now have another data source that says, 'Maybe this is not the best approach in this part of the country.' "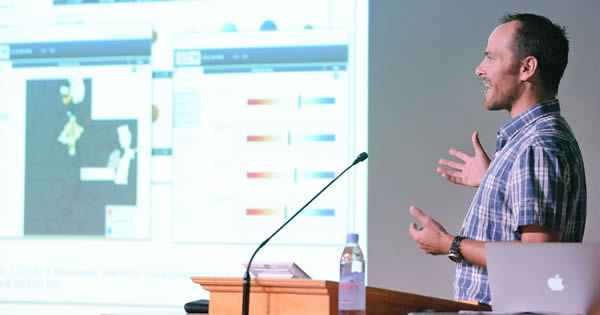 « Back to list of all news articles