---

News Article
August 8, 2017
Engaging Community in Watershed Education at Utah Lake Festival
"Do you know what a watershed is?" This is the question asked of nearly 800 people by Erin Jones, Dylan Dalstrop, and Scott Collins who together ran an iUTAH/Brigham Young University booth during this year's Utah Lake Festival, which took place on June 3, at the Utah Lake State Park. Of those asked, only a few people, mostly 4th graders, were able to respond with any kind of coherent answer.
Asking this open-ended question led to a discussion on how a watershed is an area on the landscape where all the water drains to one place. In Utah, Utah Lake is one of these places, with water eventually making its way downstream to the Great Salt Lake. Through use of a hands-on display of a watershed, students were able to simulate a rainstorm by squirting spray bottles over the plastic model, and watch pollution they added flow down into the pretend lake.
After playing with the model, people were given examples of the personal connections they have to local water sources and what individuals and communities can choose to do to improve the water quality in their own landscape. Some of these choices that make a difference include picking up pet waste, not washing vehicles on lawns, and using less fertilizer and pesticides that flow back into Utah's waterways.
People visiting the booth were then told about iUTAH and shown the Utah Lake data on the Time Series analyst available to check on current water conditions at both GAMUT and Utah Lake sites. In the five years since the iUTAH started, the project has reached over 210,000 people through over 390 public outreach events statewide. Educational opportunities such as the Utah Lake Festival demonstrate the importance of ongoing outreach and education in building and maintaining a water-wise citizenry in the state.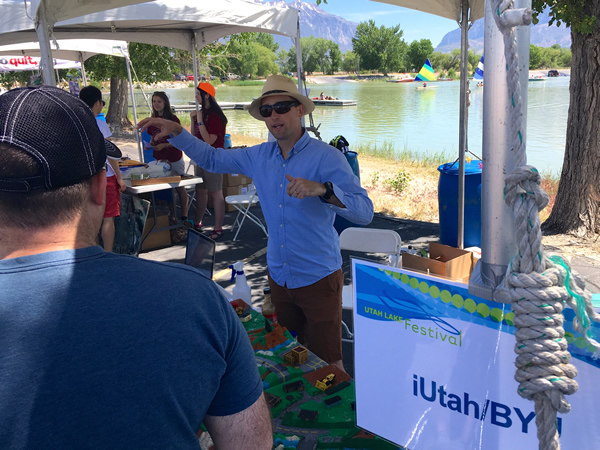 « Back to list of all news articles