---

External Engagement News
December 3, 2015
2015 Salt Lake County Watershed Symposium Honors
The 9th Annual Salt Lake County Watershed Symposium took place on November 18 - 19, in West Valley City, UT. This year's conference included water quality experts, policy makers, environmental advocates, industry, academics, students, and the general public. Speakers and sessions covered a broad range of topics -- from general interest to technical -- with local, regional, and national relevance.
Besides having an informational table, iUTAH was well represented with collaborators from the University of Utah, Salt Lake Community College, and Utah State University all leading sessions.
Awards presented at the close of the conference, were based on voting by symposium attendees. Brian Greene and Maura Hahnenberger won the "Tony Award" for the most engaging presentation with their talk entitled "Don't Drink The Water? Testing Water Quality for Science and Outreach."
Other iUTAH winners included Gabe Bowen, Samantha Weintraub, and Yusef Jameel also won the "Sulu Award" for Best Science for their group presentation of "Water and Nutrients in The Urban Center and Surrounding Wildlands."
This year's symposium had the largest attendance the event has seen to-date, with 35% of registrants being first-time attendees.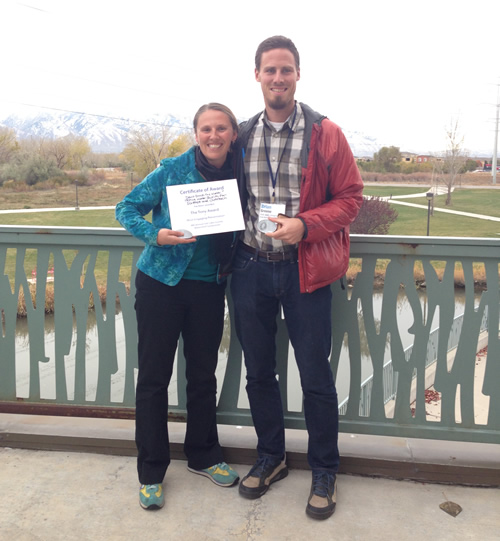 Maura Hahnenberger and Brian Greene
June 9, 2015
Learning What People Want to Know About Water
iUTAH and USU's ENVS 6410 Translational Ecology course are developing a web page that will help people find answers to the questions they have about water sustainability in Utah. At Science Unwrapped they asked people to take a survey that helped us learn which water-related questions are most important to Utah residents.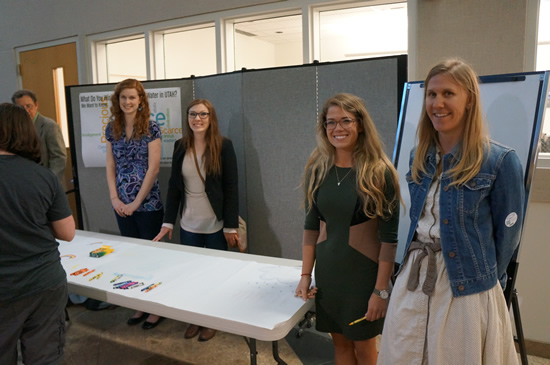 June 2, 2015
Michelle Baker, Jeff Horsburgh, Dan Bedford, Rita Teutonico and Stephanie Mitts participated in the NSF Incubating Transformations event on April 15, 2015. They presented on the importance of EPSCoR in transforming the research culture within the state of Utah.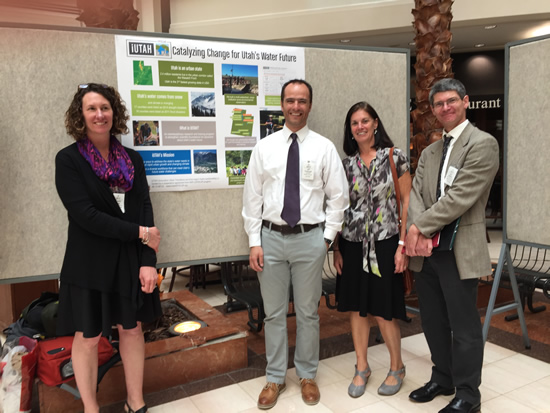 May 13, 2015
Taking Learning Outdoors Workshop
March 14 marked the day of iUTAH's spring Taking Learning Outdoors Workshop at the Ogden Nature Center. Teachers investigated and measured water quality from various water bodies around the property, honed their bird watching skills, discovered the problems of invasive plant species, and even tried their hand at removing these plants. The Cache Valley teachers, who have been participating in outdoor field workshops and classroom visits with the Natural History Museum of Utah (NHMU) educators since September, had the opportunity to learn from iUTAH and Nature Center experts about ecological processes in northern Utah. They also learned how water impacts everything from biological diversity to bird migration.

The Spring T.L.O. Workshop is the last interaction teachers have with NHMU educators and iUTAH scientists before the final symposium May 21 at Utah State University. At this symposium, teachers will share what they discovered throughout their yearlong program participation and highlight their experiences engaging their students in outdoor learning while using the natural world as a classroom.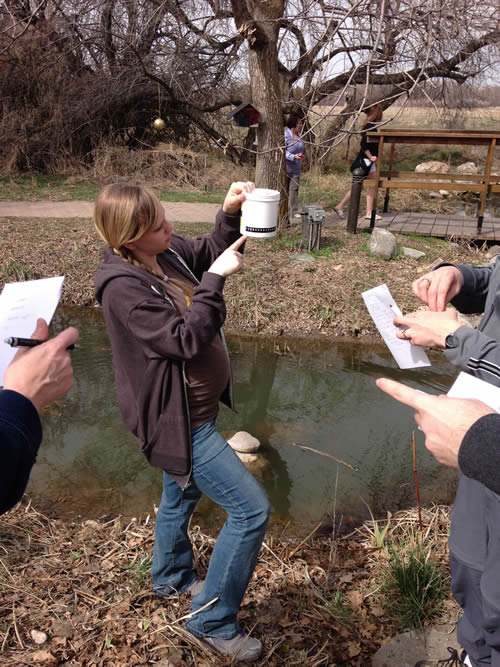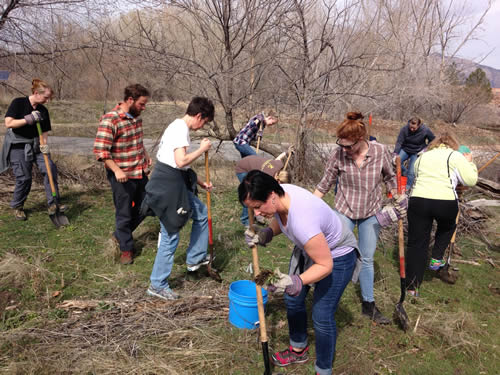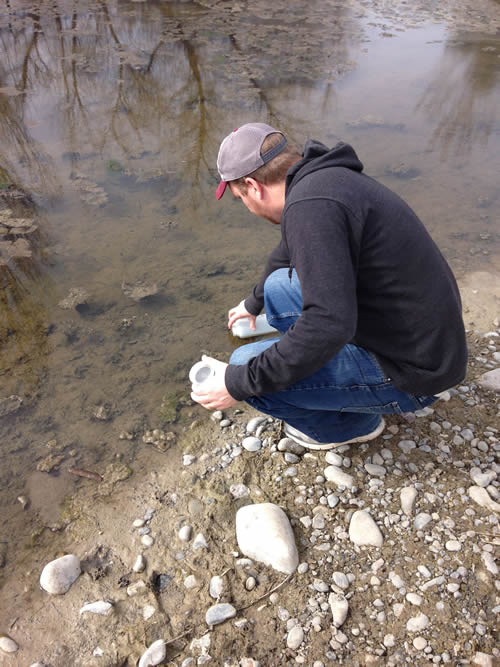 March 11, 2015
This month's Science Unwrapped tackled the topic of Utah wetlands and the invasive Phragmites plant. iUTAH had a booth at the event with a simple experiment to explain the importance of wetlands in the Great Salt Lake ecosystem. We demonstrated how wetlands act as a natural filter or sponge by absorbing rain and floodwater, using a household sponge and muddy water to create a mini wetland ecosystem. iUTAH EOD staffers Caitlyn Lewis and Mark Brunson were at the booth to explain the experiment and answer questions about the iUTAH project.
"Wetlands are among Utah's most critical ecosystems," says Utah State University wetlands ecologist Karin Kettenring, feature speaker at this month's Science Unwrapped. During this event, Kettenring explained the importance of wetlands and the role of wetland ecologists. She also described that the Great Salt Lake wetlands are vulnerable to a number of threats, including pollution and loss of habitat from development, climate change and invasive plants such as Phragmites.
There were many booths at the event that provided information and hands-on activities for the whole community. A Phragmites maze showed kids just how tall the pesky plants can be, while Kettenring's graduate students taught about different wetland plants, animals, and soils. Science Unwrapped continues throughout the spring semester with the theme of "Great Salt Lake Today" during the USU "Year of Water".