iUTAH Opportunities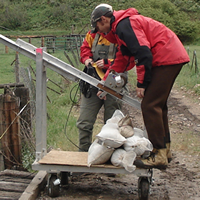 iUTAH will have opportunities, resources and project activities available to support the involvement of students, teachers and researchers at all academic levels. Also check out the Related Opportunities page for additional opportunities that are not directly iUTAH related.
Volunteers needed for water monitoring around Cedar City
When: Nov. 6th 4:00 - 5:30 PM
Where: East Canyon Park, 500 E Center St. Cedar City
What: Volunteer training to learn how to help monitor water quality

Utah Water Watch needs volunteers to assist the Cedar/Beaver watershed coordinator with monitoring water quality. This is a special opportunity to collect scientific data and monitor local restoration projects. We need a network of trained volunteers that can periodically assist the watershed coordinator with monitoring. This is a great service opportunity for clubs or organizations, students, or adults. It is a fun way to get outdoors and learn more about your local water ways while giving back.
Volunteers will learn how to collect a water sample, measure stream flow, and use a water quality sensor to gather important scientific data to monitor stream restoration projects. If you are interested we will hold an initial meeting and training session on Nov. 6th from 4-5:30PM at East Canyon Park (500 E Center St.) in Cedar City.
If you have questions or to register for the training please contact Brian Greene (brian.greene@usu.edu) at 435-797-2580. Registration is not required, but encouraged.
Research Catalyst Grants call for proposals

Deadline: December 1, 2014
iUTAH Research Catalyst Grants (RCGs) provide opportunities for faculty and students from Primarily Undergraduate Institutions to develop partnerships with faculty at their own or other undergraduate institutions or with Utah's research universities (USU, U of U, BYU), or with community or professional partners. The purpose of these partnerships is to engage with the research objectives of iUTAH: specifically, maintaining and improving water sustainability in Utah, and to build the capacity of participating institutions to conduct further research in the area of water sustainability. Applicants are strongly encouraged to learn more about iUTAH. Applications are especially welcome from people traditionally under-represented in science, technology, engineering and mathematics (women, ethnic minorities).
iUTAH Undergraduate Opportunities
Undergraduate Opportunities
Learn more about the undergraduate opportunities available though iUTAH. Includes a Spanish version.


Internship Opportunities
Internships give students the opportunity to gain valuable applied experience and mke connections in professional fields they are considering for career paths. It also give employers the opportunity to guide and evaluate talent.