iUTAH Opportunities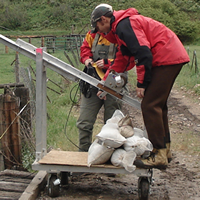 iUTAH will have opportunities, resources and project activities available to support the involvement of students, teachers and researchers at all academic levels.
EOD Opportunities
EOD Catalyst Grants Application
Application Deadline: October 9, 2014
iUTAH is now accepting applications for new iUTAH EOD Catalyst Grants.
As a statewide program focused on water sustainability, iUTAH is dedicated to broadening our engagement with a wide range of stakeholders across Utah. We are currently looking to extend the reach of our collaborations, so are inviting existing or potential partners to submit ideas for proposed new activities that align with iUTAH's goals.
Successful new activities will closely align with iUTAH Education, Outreach and Diversity milestones and engage iUTAH target audiences. These audiences and milestones are outlined in the iUTAH Strategic Plan.
iUTAH Position
iUTAH Assistant Director/Project Administrator

Utah State University seeks an Assistant Director/Project Administrator to coordinate, manage, and integrate the day-to-day activities and mission functions of the iUTAH EPSCoR project and associated activities of the Utah NSF EPSCoR Program. The iUTAH (innovative Urban Transitions and Aridregion Hydro-sustainability) Project focuses on understanding how relationships among water, people, and nature affect water resources and ecological processes in both montane and urban settings along the urbanizing Wasatch Front.  The project is funded by an award from the National Science Foundation.

iUTAH Undergraduate Opportunities
Undergraduate Opportunities
Learn more about the undergraduate opportunities available though iUTAH. Includes a Spanish version.


Internship Opportunities
Internships give students the opportunity to gain valuable applied experience and make connections in professional fields they are considering for career paths. It also give employers the opportunity to guide and evaluate talent.