iUTAH Opportunities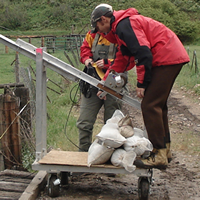 iUTAH will have opportunities, resources and project activities available to support the involvement of students, teachers and researchers at all academic levels. Also check out the Related Opportunities page for additional opportunities that are not directly iUTAH related.
iUTAH Summer Institute
June 15-18, 2015 (Institute) and July 17, 2015 (Symposium)
Utah Valley University, Wasatch Campus, Heber City, UT
Application Deadline: April 30, 2015
Like to spend time outdoors learning about your environment? Join us for a week spent performing research in the Heber Valley along the Middle Provo River Watershed and contribute to the bigger picture of water sustainability in Utah.
During the Institute you will:
Work in small teams of high school students, undergraduates, teachers and graduate students.

Perform hands-on research in the field related to: microbiology and water quality, vegetation and soil moisture, and the influence of geology on water quality.

Gain insight into what scientists do and how they collaborate.

Work together to analyze your data and prepare a poster to share your research findings.

Earn a stipend for your participation.
Job Opportunities
Graphic Design/Marketing Assistant
The National Science Foundation funded iUTAH project is in need of a part-time undergraduate student graphic design/marketing assistant to join its Communications Team.  The graphic design/marketing assistant will design, implement, and produce all types of visual and text materials for project initiatives.  Specific tasks may include logo/wordmark/slogan/ad development, poster and flyer design, presentation templating, infographics, online material, etc.  We are looking for an individual who is motivated, creative, and dependable, and who is excited about joining an interdisciplinary team of professionals working to secure a water future for the state of Utah.  The position is for up to 20 hours/week; scheduling is flexible.  Pay is commensurate with experience.
Qualifications:
Required: Extensive demonstrated experience with Adobe Creative Suite (Illustrator, Photoshop, InDesign), Powerpoint, etc.; excellent written and verbal communication skills; demonstrated ability to excel in managing task priorities and work under deadlines; ability to work as part of a team; ability to complete tasks with minimal supervision.
Preferred: Junior in Graphic Design, Marketing, or JCOM (Public Relations).  Interest in and familiarity with marketing/branding concepts, demonstrated ability to work within and beyond an existing visual identity.
How to apply:
Apply online at  www.usu.edu/career/htm/career-aggie
Position will post on February 25, and remains open until a suitable candidate has been identified.
Questions?  Email Andy at andy.leidolf@usu.edu
Technician Assistant
The National Science Foundation funded iUTAH project is in need of a part-time undergraduate student to assist with research and maintenance activities in the Logan River Watershed. Activities include measurement of Logan River discharge rating curves. This work involves working in and around the Logan and other rivers in Northern Utah to obtain flow measurements. The student will also assist with calibration and maintenance of a climate and water monitoring network. Tasks involve a mixture of field and office work including: sensor calibrations and cleaning, measurement of river discharge, sensor repair, data entry, data monitoring, and data quality control. Due to the nature of field work, the applicant must be able to commit to at least one full workday per week.
Qualifications:
Basic: Applicant should have an interest in earth science, hydrology, climate, and/or biology. Driver's license and experience driving pickup trucks. Willing to work year round for 2 years due to training requirement.
Preferred: Sophomore or Junior level undergraduate, year round outdoor experience, familiarity with snowmobiles, experience with computer programming, experience with or interest in sensors and electronics.
How to apply:
Apply online at  www.usu.edu/career/htm/career-aggie
Questions?  Email Chris at chris.cox@usu.edu
PhD Research Assistantship
Agent-Based Modeling of a Hydrological-Human-Ecological Water Systems
Utah State University (USU) invites applicants for a PhD-level graduate research assistant position beginning in August 2015. The research assistant will develop an agent-based model to couple hydrological, human, and ecological components of an integrated water system. The assistantship is part of a multi-year, National Science Foundation-funded iUTAH project aimed at understanding water resources sustainability in Utah's urbanizing Wasatch Front.
iUTAH Undergraduate Opportunities
Undergraduate Opportunities
Learn more about the undergraduate opportunities available though iUTAH. Includes a Spanish version.


Internship Opportunities
Internships give students the opportunity to gain valuable applied experience and mke connections in professional fields they are considering for career paths. It also give employers the opportunity to guide and evaluate talent.