iUTAH Opportunities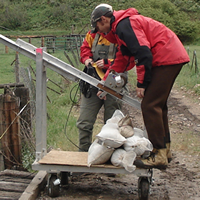 iUTAH will have opportunities, resources and project activities available to support the involvement of students, teachers and researchers at all academic levels. Also check out the Related Opportunities page for additional opportunities that are not directly iUTAH related.
PhD Research Assistantship
Agent-Based Modeling of a Hydrological-Human-Ecological Water Systems
Utah State University (USU) invites applicants for a PhD-level graduate research assistant position beginning in August 2015. The research assistant will develop an agent-based model to couple hydrological, human, and ecological components of an integrated water system. The assistantship is part of a multi-year, National Science Foundation-funded iUTAH project aimed at understanding water resources sustainability in Utah's urbanizing Wasatch Front.
iUTAH Undergraduate Opportunities
Undergraduate Opportunities
Learn more about the undergraduate opportunities available though iUTAH. Includes a Spanish version.


Internship Opportunities
Internships give students the opportunity to gain valuable applied experience and mke connections in professional fields they are considering for career paths. It also give employers the opportunity to guide and evaluate talent.