---

Diversity Enhancement News
October 28, 2016
Students Present Research at National Diversity Conference
Two iUTAH students, Joydino Beyale and Luis Vidal, were among the many undergraduate students presenting research at the Society for the Advancement of Chicanos/Hispanics and Native Americans in Science (SACNAS) National Conference for Diversity in STEM in Long Beach, CA, on October 13-15, 2016.
Research for their presentations at SACNAS started last summer, when the two students were accepted into the iUTAH iFellows undergraduate research experience. This 11-week program culminated in the creation of a formal presentation and paper on the topics listed below.
Joydino Beyale, USU Eastern in Blanding, presented on Determining the Quantity and Quality of Rainwater Drainage from Various Rooftops
Luis Vidal, University of Utah, presented on Cross Cutting Relationships Among Community Concerns and Green Urban Infrastructure in the Jordan River Corridor


Ellen Eiriksson, iUTAH Education, Outreach and Diversity Coordinator, said "iUTAH is proud to not only provide research opportunities for undergraduate students from across Utah, but also support students in sharing their research at relevant conferences"
"It was a little intimidating at first with so many people" said Vidal, a junior studying Geology and Environmental Science at the University of Utah. "There was a great sense of inclusion in the conference and being around other students with similar backgrounds, especially when meeting other earth scientists of similar backgrounds."
For Beyale, who is finishing his general studies at Utah State University Eastern in Blanding and plans to major in Environmental Engineering, the best part was the "many workshops and people to talk to, " adding "being part of SACNAS has opened up a whole new beginning for me."
While time was tight at the conference, which had record turnout with more than 4,000 attendees, and 1,000 student research presenters, students found opportunities to learn about graduate schools and internships, meet faculty and students from schools throughout the U.S., and get information about key resources and programs. The 2017 SACNAS National Conference will be held on October 19-21, 2017 in Salt Lake City, Utah, providing more Utah students and researchers a chance to attend.
"Both Luis and Joydino's iFellows research allowed them to connect with a wide audience" said Eiriksson. "Their iUTAH faculty mentors helped the students develop skills to share this research on a national scale, and we hope they now feel empowered to use this research and skills to positively impact their communities."
When asked what advice they would give to other students interested in going to undergraduate conferences, Beyale said "work hard, get involve with your college, and most importantly be connected with your mentors and professors."
Press: Utah State Today | UU News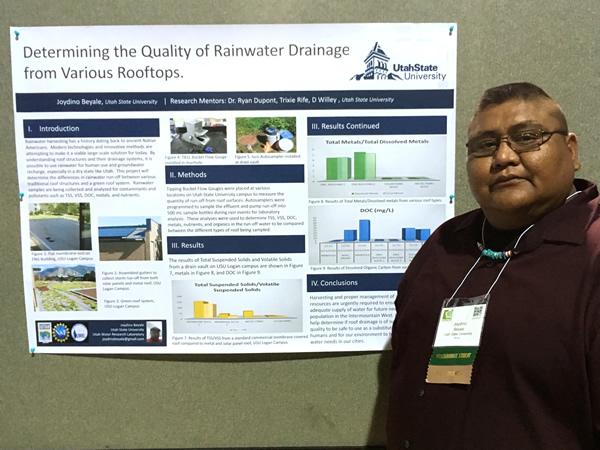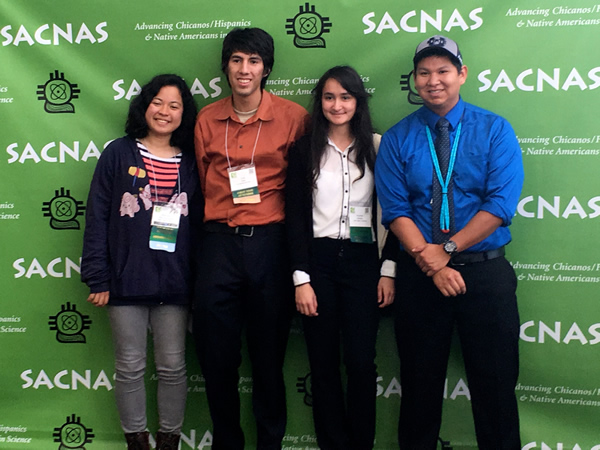 June 13, 2016
USU's Native American STEM Mentorship Program Holds Poster Session
Students from Utah State University Eastern's Blanding campus presented posters showing what they learned during this summer's Native American STEM Mentorship program held on USU's Logan campus. Two students, Leander Rockwell and Anna Sagg, were among the 23 undergraduate researchers. Leander and Anna worked with on iUTAH research in Ryan Dupont's and Mark Brunson's labs, alongside graduate, undergraduate, and iFellow peer mentors.
"This is the second year we've been involved with the program, and I can't be more pleased with how it's gone," said Mark Brunson, iUTAH Education, Outreach and Diversity director. "Engaging with the Native American Student Mentorship Program is a perfect fit with our iUTAH goals of enhancing the diversity of participants in our state's STEM workforce and to offer research experiences to students at colleges and universities that primarily serve undergraduates."
The poster session, held on June 6, featured studies ranging from electrochemical water splitting to thermochronology of Utah's Wasatch Fault together with iUTAH projects involving the effects of vegetation on stormwater and surveys on water perceptions in the state.
"This was a great event, and it was great to see it so well attended, said Andreas Leidolf, iUTAH Assistant Director and Project Administrator. "I was impressed with how excited these students were to present their experiences of participating in this program to the campus community. Hearing first-hand what a difference a faculty or graduate student mentor has made in these students' lives in such a short span of time is really quite awe-inspiring, and a testament to the supportive and inclusive environment Utah State University has created."
Now in its second year, the NASM program, started with grant funding from the national Native American-Serving Nontribal Institutions initiative, encourages to students to explore advanced STEM educational opportunities and careers.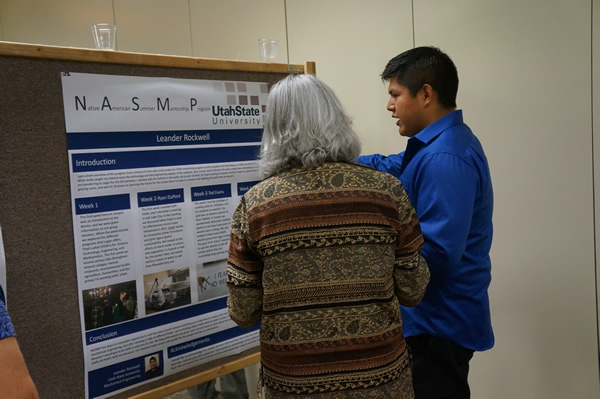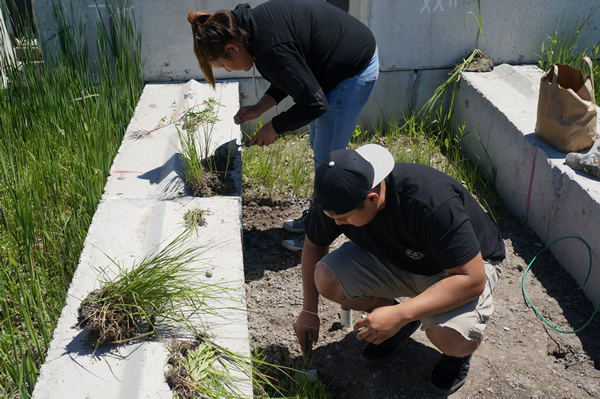 December 4, 2015
Collaborations at 2015 SACNAS & AISES Conferences

iUTAH collaborated with other EPSCoR jurisdictions this fall at two national conferences; the 2015 Society for Advancement of Chicanos and Native Americans in Science (SACNAS) annual conference, and the American Indian Science and Engineering Society (AISES) National Conference.
This year's SACNAS conference took place at the National Harbor just outside of Washington, DC, from October 29-31, 2015, and hosted more than 3,200 students and professionals. EOD Coordinator Ellen Eiriksson joined EPSCoR colleagues from Delaware, New Hampshire, Vermont, and Wyoming to staff an information table. In addition to sharing EPSCoR opportunities with attendees, 13 collaborating students were given the chance to network more closely with EPSCoR students from other participating jurisdictions at the conference.
iUTAH also had representation at the AISES National Conference, held November 19-21 in Phoenix, Arizona. With 1,800 participants each year, the conference attracts high school and college students, educators, professionals, tribal nations and tribal enterprises, universities, corporations, and government agencies. EPSCoR colleagues from New Mexico and Alabama gave out information on iUTAH programs and opportunities at a shared EPSCoR Booth.
Collaborations at both SACNAS and AISES are excellent examples of collective outreach and recruitment efforts. These efforts increase visibility while reaching a more diverse audience within EPSCoR. EOD Coordinator Ellen Eiriksson said that she hopes "experiences like these prepare and empower students attending conferences," adding that "this was a first experience at a national conference for many of the students in attendance."
Over these first two years, collaborations have increased from five to 15 states participating. iUTAH EOD looks forward to continuing student recruitment partnerships like these at future conferences.
December 3, 2015
Diversity Conference and Fall All-Hands Meeting

In an effort to bring demographic and diversity issues to the forefront of iUTAHns' minds, 72 participants met for an All-Hands Meeting in Salt Lake City. This year's meeting was held on November 13, 2015 at the Natural History Museum of Utah.
In her opening remarks, iUTAH Project Director Michelle Baker discussed developments, activities, initiatives, and the positive evaluation from the Year 4 Reverse Site Visit with the National Science Foundation. She also recognized iUTAH as a catalyst for "communicating lessons learned, relationships forged, mindsets changed, and cultures transformed, " urging participants to continue to communicate their successes to the iUTAH Project Office, and the greater community of stakeholders and constituents of which we are a part.
The morning keynote address was given by Pamela Perlich, Director of Demographic Research at the Kem C. Gardner Policy Institute, at the University of Utah, who talked about understanding the changing demographics of Utah, asserted that "change is our constant companion."
In a conversation after her talk, Perlich said "an important and urgent reality to consider is that we have new people in our community who are not being given a voice, not being given the opportunity to be a part of important decision-making processes. Their inclusion in our problem solving, in our creative processes, would lead us to better solutions more quickly."
"Humans have solved problems long before there were markets, or money, or even numbers, let alone data," said Perlich, adding that "Data is just information."
In addition to formal talks, much time was devoted to networking and the sharing of information. Over lunch, iUTAH postdoctoral scholars Rachel Gabor, Melissa Haeffner, Krishna Khatri, and Erik Oerter gave updates on their work. The importance of dialogue and exchanges such as these were expressed in Melissa's talk as she said, "you mention water in Utah, and people start talking."
Later in the afternoon, Angela Enno, Program Coordinator with the Multicultural/Access and Diversity Center at Utah State University discussed collective identity. Her talk focused on promoting the participation of diverse groups of students, faculty, and staff in STEM fields.
Drawing on data from her work with the Society for Advancement of Chicanos/Hispanics and Native Americans in Science (SACNAS), Enno shared the preliminary results of interviews focused on measuring the importance of helping minority groups find communities in higher education.
The last part of the day was devoted to RFA breakout sessions, where thoughts, ideas, and actions were discussed.
The next iUTAH All-Hands Meeting is scheduled for April 6, 2016, and will be held in conjunction with the Spring Runoff Conference at Utah State University in Logan, Utah.
August 5, 2015
Book Project Raises STEM Awareness
One of iUTAH's core missions is the education and diversification of the next generation of our state's STEM workforce. To help us achieve this mission, iUTAH has supported the production of a new book on water by author/educator Nancy Bo Flood, who has published several books written from a Navajo perspective. "Water Runs Through This Book," illustrated by Jan Sonnenmair's photographs, weaves science and poetry together to stimulate awareness of and a conservation ethic toward water among readers of all ages. With the help of this book, raising awareness will be a focus of iUTAH education and outreach activities to diverse communities in the coming year.