---

Summer Rearch Intitute News
December 9, 2016
WSU Students Present Undergraduate Research
A mini-symposium was held for the fourth straight year on the campus of Weber State University. It featured research posters and presentations from iUTAH's Summer Institute and the Undergraduate Research Fellows (iFellows) Program. The event was co-hosted by Carla Trentelman, associate professor of Sociology, and Dan Bedford, professor of Geography and WSU honors program director, and attended by students, faculty, administrators, and friends of iUTAH
"The Weber State iUTAH team, and this is very much a team effort, has felt from the beginning that it was important to give our iUTAH students the chance to share their experiences with the WSU community more broadly," said Bedford. "We've had great representation from excellent students in all four years of the iFellows and Summer Institute programs, and it's good for everyone to see what excellent research our students were engaged in."
Faculty mentors also use the event as a recruitment tool, reminding all in attendance to start thinking about upcoming summer iFellows program, which students may apply for starting in January 2017. Students who attended this program included 2015 iFellow André Valle; Andrew Hackett and Cynthia Elliott, 2016 iFellows; and William Soule and Maggie England, representing two of the five 2016 Summer Institute peer mentors.
"The iUTAH collaboration has provided great opportunities for our faculty and students to engage in research and scholarship related to water resource management in the state, said Charles "Chuck" A. Wight, president of WSU. "I'm grateful to the faculty at Weber State, Utah State University and the University of Utah for their roles in mentoring our students while carrying out the research and in preparing their work for publication and presentation."
It is always an enriching experience to visit our partner institutions and see what the students have learned and gained on reflection, after returning to their schools in the fall.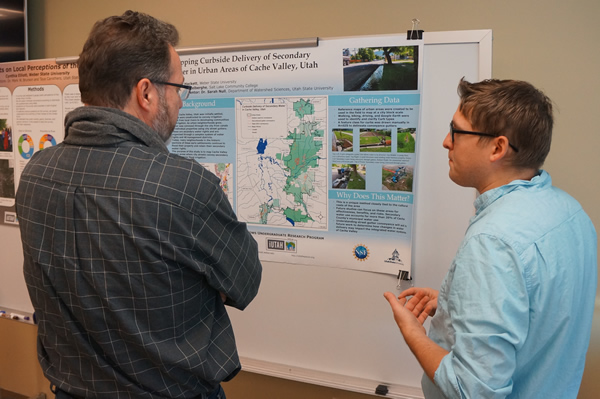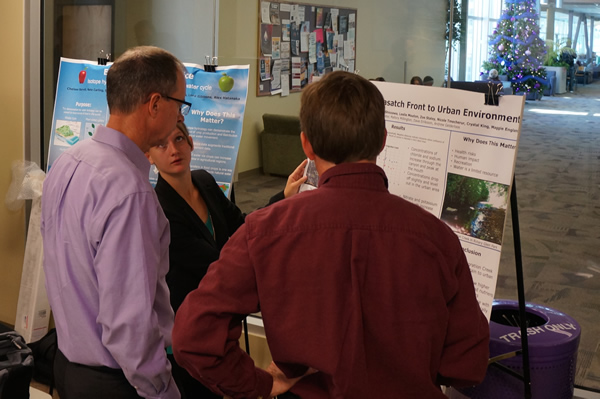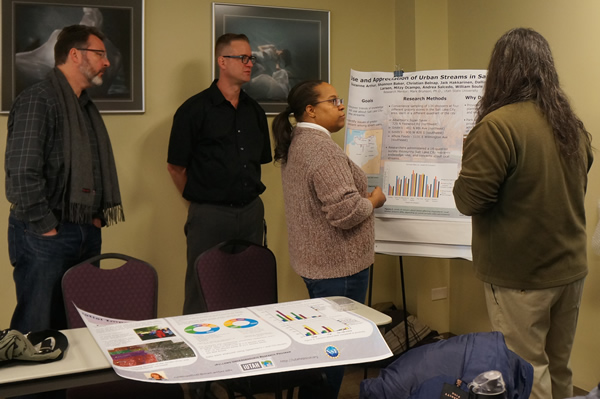 August 3, 2016
Just Add Water: iUTAH's Summer Institute Engages Students and Teachers

As the fourth and final year of the iUTAH Summer Research Institute came to a close in July 2016, students, teachers, and faculty members reflected on the impact the program has had on them. Among the articles written about the weeklong program, the U's article said that "A week of hands-on science projects changed the way Jose Galang, a junior at Juan Diego High School in Draper, thought about science. 'I used to think that scientists were really smart people just doing research and experiments by themselves,' he said. 'I never realized there were so many people working together to solve problems.' "
Galang was among nine high school students who participated in the National Science Foundation funded-iUTAH summer research institute July 11-15, 2016. The institute brought together high school students, secondary education teachers and undergraduate students to conduct research on water sustainability in Utah under the direction of faculty, postdocs and graduate students from universities across the state.
The group got a firsthand look at what research looks like in several disciplines. On the first day, they recorded observations about the conditions along Emigration Creek and collected water samples. The second day, they learned how to trace the origin of fruits and vegetables by analyzing isotopes in the water content. The third day, they divided into groups across the valley and conducted social science research by surveying people about their access to water. The week culminated in a poster session, where participants presented their work and findings.
'This program provides a really unique opportunity to bring together students and educators from all along the STEM pipeline,' said Louisa Stark, director of the iUTAH Summer Research Institute and U professor. 'There was a lot of peer mentoring going on between the high school students and undergraduates and among the secondary education teachers and the university faculty.' "
The article includes comments by other students and Rachel Gabor, iUTAH postdoctoral researcher, and can be read in its entirely below.
Press: UU News | Deseret News | KUSU Radio
March 17, 2016
iUTAH Institute takes teachers, students back to Salt Lake City
The iUTAH Summer Research Institute will return to the Red Butte Creek watershed for five days, starting July 11, 2016. Beginning in 2013, the Institute has encouraged an interest in water science by including high school students, teachers, and undergraduates in iUTAH-related research projects. Each year, the program has traveled to different research sites, institutions, and watersheds, including Red Butte Creek, the Logan River, and the Provo River.
Led by faculty, graduate students, and postdoctoral researchers, participants become involved with iUTAH-related research in each watershed. Past lessons include learning about vegetation, stream health, stormwater management, computer modeling, views on water issues, and the effects of insects on forest hydrology.
In addition to this multidisciplinary focus, participants learn how to analyze and interpret data, and present their findings through a poster shared at the annual iUTAH Symposium. Coordinators Louisa Stark, University of Utah professor, and Molly Malone, both of the University of Utah's Genetic Science Learning Center, use the information gathered at the Institute to create curriculum for teachers. This resource for Utah educators is available online, and updated after each program ends.
Throughout the program's three-year history, the Institute has engaged 23 high school students, 22 undergraduate students, and 24 secondary education teachers. Surveys of student participants confirm an increased interest in pursuing scientific careers. Teachers say that the themes, research, and experiences will impact their future classroom lessons.
Thanks to the leadership of Louisa Stark and Molly Malone, and the dedication of iUTAH researchers, the Institute is moving into another promising year of water science exploration. With the program's return to Red Butte Creek, participants will dive into new research at the watershed, engage in near-peer mentorship, and gain new tools and inspiration to continue pursuing science education in their own. Applications for the upcoming iUTAH Summer Research Institution are now being accepted online through May 1, 2016.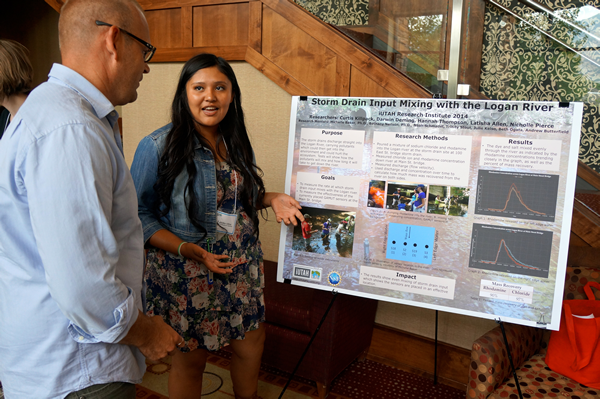 November 8, 2013
Summer Institute Dates Announced
The iUTAH Summer Research Institute 2014 will be July 7 to 11 at Bear River watershed in Logan. More details to come.
Read More...