---

News and Highlights
August 8, 2017
Engaging Community in Watershed Education at Utah Lake Festival
"Do you know what a watershed is?" This is the question asked of nearly 800 people by Erin Jones, Dylan Dalstrop, and Scott Collins who together ran an iUTAH/Brigham Young University booth during this year's Utah Lake Festival, which took place on June 3, at the Utah Lake State Park. Of those asked, only a few people, mostly 4th graders, were able to respond with any kind of coherent answer.
Asking this open-ended question led to a discussion on how a watershed is an area on the landscape where all the water drains to one place. In Utah, Utah Lake is one of these places, with water eventually making its way downstream to the Great Salt Lake. Through use of a hands-on display of a watershed, students were able to simulate a rainstorm by squirting spray bottles over the plastic model, and watch pollution they added flow down into the pretend lake.
After playing with the model, people were given examples of the personal connections they have to local water sources and what individuals and communities can choose to do to improve the water quality in their own landscape. Some of these choices that make a difference include picking up pet waste, not washing vehicles on lawns, and using less fertilizer and pesticides that flow back into Utah's waterways.
People visiting the booth were then told about iUTAH and shown the Utah Lake data on the Time Series analyst available to check on current water conditions at both GAMUT and Utah Lake sites. In the five years since the iUTAH started, the project has reached over 210,000 people through over 390 public outreach events statewide. Educational opportunities such as the Utah Lake Festival demonstrate the importance of ongoing outreach and education in building and maintaining a water-wise citizenry in the state.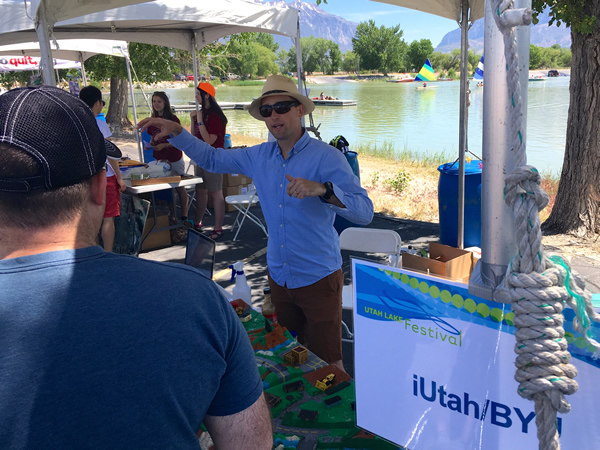 August 7, 2017
Carol Rosenthal, our administrative assistant, completed her commitment to the iUTAH project office. While working as part of the office administration team, Carol handled a diverse portfolio of tasks, including event planning, staff/participant travel, and assisting with educational activities, such iFellows. Many of the events iUTAH has hosted this spring and summer would not have been possible without her hard work and organizational skills.
We will all miss Carol's dedication to the task at hand, and would like to thank her for her work on the iUTAH project. While we are sad to see her go, we are happy that she will be returning to full retirement and an active schedule of her own choosing, including more time to spend with her canine companion, Bella.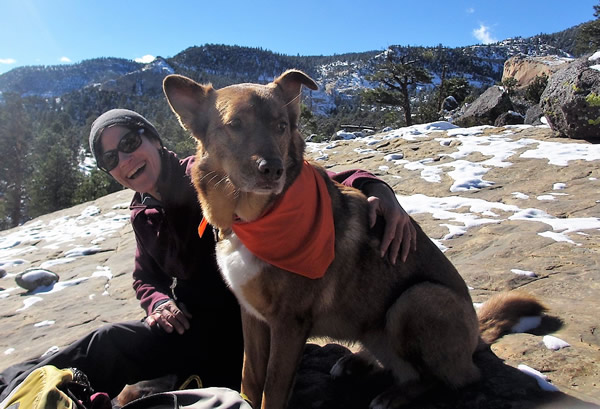 July 25, 2017
Michelle Baker Receives Pioneers of Progress Award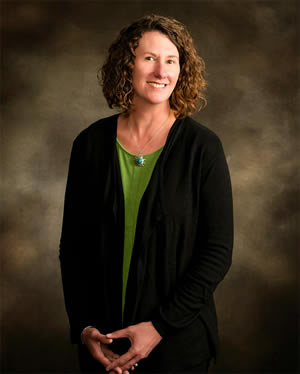 Professor of Biology, Michelle Baker, who leads water research efforts in the state as the project director of iUTAH, was recognized for her pioneering efforts in science and technology.
Baker, an associate of the Ecology Center at Utah State University, is one of six Utahns honored "who perpetuate a legacy of industry and integrity." Candidates are nominated by fellow Utah citizens, and selected by a committee, for their contributions to science and technology, business, education, creative arts, and civic engagement.
Baker says that her "life's mission is to understand and protect healthy freshwater ecosystems," and adds that "through collaboration and working as a team that we can make some big progress for water in Utah."
USTAR Executive Director Ivy Estabrook nominated Baker, and has this to say about her work, "she has been able to pull a team together from multiple institutions. She has trained students… and has done this in a team setting."
"Part of our mission has been to engage kids from kindergarten all the way up through graduate school," says Baker. "We've had almost 300,000 interactions with the public through outreach events."
Press: Deseret News | Days of '47 KUTV | Utah State Today
July 24, 2017
USU Professors Advise State Government on Water Policy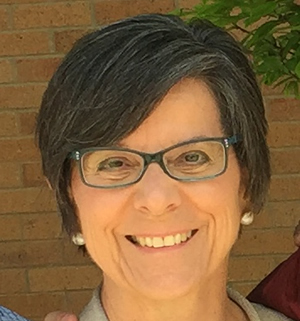 iUTAH researcher, Joanna Endter-Wada, professor of natural resource policy and social science in the Utah State University Quinney College of Natural Resources is one of two professors from USU serving on Utah Water Policy task force. The group of more than 40 people with a wide array of expertise, delivered a strategy for developing Utah water policy to the governor in mid-July.
A media release provided by USU writer Lynnette Harris said, "Utah State University Professors Joanna Endter-Wada and Robert Gillies, who also serves as the state climatologist, were among those tasked with looking at many aspects of water use in Utah and developing strategies to help the state manage the convergence of two important distinctions: being one of the driest states in the nation and also one of the fastest growing. As the report's executive summary points out, the '…challenge is magnified by climate projections from the state climatologist that show a significant decrease in Utah's snowpack, which presently provides more annual water storage capacity than all of Utah's human-made reservoirs combined.' "
Press: Utah State Today | The Herald Journal
July 20, 2017
Undergraduate Student Research to Sustain Utah's Water Future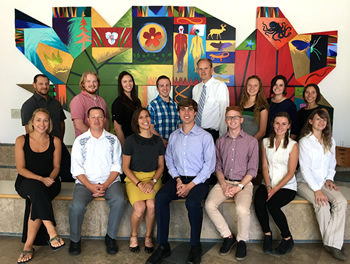 The iFellows program is an 11-week research experience program for undergraduates. For the past five years, a large number of students apply in early spring from universities across Utah for the opportunity to spend the summer doing water research with faculty members from Utah State University, the University of Utah, and Brigham Young University.
This year, 15 undergraduates from across the state were selected, and have spent the last 10 weeks doing water research in connection with the iUTAH project. Their experiences included fieldwork, research, and analysis. Working with faculty and student mentors, these students learned about the challenges and solutions needed to sustain the state's water supply over the next few decades.
The iFellow students have chronicled their work online in weekly recaps. Below is a list of this year's iFellow undergraduate researchers along with hometown, current institution, and iUTAH faculty mentor:
"We have a great group of engaged and eager iFellows this summer," says Ellen Eiriksson, iUTAH Education, Outreach and Diversity Coordinator. " In addition to building and expanding skills in research and data analysis throughout their time in the program, our hope is that iFellows become stronger science communicators."
In addition to posting weekly updates on their research experience, each student develops multiple research products to present. Students will present their findings individually during a conference on the University of Utah campus, on Wed. July 26.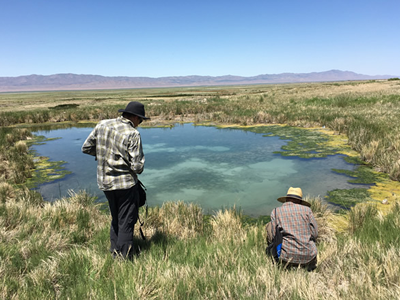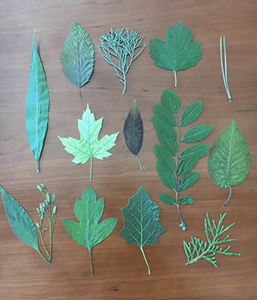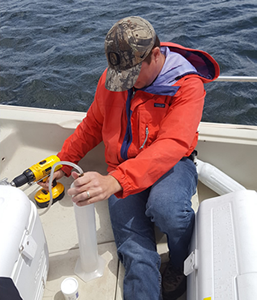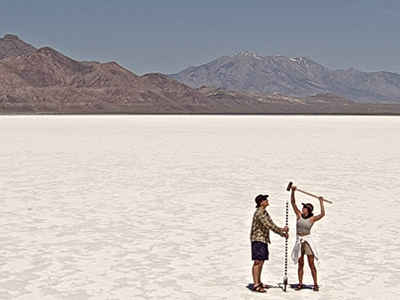 July 17, 2017
USU Symposium Concludes 5-year, NSF-funded Water Science Effort
While attending the final iUTAH Symposium held July 13 and 14, Kevin Opsahl, Herald Journal reporter, highlighted these insights about the project's origins and impact on the local community in northern Utah. He starts by saying "USU professor Jeff Horsburgh remembers being on a committee years ago with his colleagues from USU and other Utah schools trying to come up with a proposal to get money from the National Science Foundation.
'It was really kind of interesting. We were trying to feel out people from the other institutions because there can only be one proposal like this from the state when we became eligible for this pot of funding from NSF,' said Horsburgh, assistant professor of civil and environmental engineering, before the iUTAH Symposium, July 13 and 14, at Utah State University. 'We emerged with a great proposal.'"
The article also talked with Project Director Michelle Baker who said " 'Water is one of our most limited resources for our economic development and wellbeing of Utah's population,' she said. 'Our goal is to really enable people who are interested in science for Utah's water future. We have programs to stimulate research discovery and training students.' Baker believes iUTAH's biggest accomplishment was 'lowering barriers for collaboration across the state…. iUTAH doesn't think of itself as a USU project,' she said. 'The people from USU who participated in it always tell me the thing they think is the best thing is getting to know their colleagues in Salt Lake City, Cedar City and things like that.'
Lance Houser, an engineer who works for Logan, remembers five years ago when engineers were trying to evaluate the city's water quality without using extra staff. Houser heard about iUTAH and it turns out USU researchers were curious about many of the same things Logan officials were regarding the city's water. So Logan provided USU areas in the city were researchers could do sampling and monitoring for water flow and quality.
Houser is pleased iUTAH has yielded results he can actually use. 'It's nice to have a program that's focused on Utah instead of just back east,' Houser said. 'A lot of the decisions that have been made in the past have been made on studies and research done in … a lot of areas back East, decisions on management procedures. So, dealing with EPA, we now have another data source that says, 'Maybe this is not the best approach in this part of the country.' "