---

News and Highlights
January 12, 2017
iUTAH Making a Difference Brochure
Our state faces water issues that have economic, ecological, and human consequences. To sustain Utah's water resources, we must be prepared to address a highly complex array of environmental processes and social concerns. Since 2012, the researchers, educators, and resource managers in iUTAH have been working together to understand the water issues that have economic, ecological, and human consequences. Our research is contributing to predicting the effects of natural events and human choices on water systems, creating better understanding of threats and measurements of Utah's water systems, and informing citizens and policy makers about water and the ways we can sustain it for future generations.
With the help of the iUTAH Leadership Team, we have recently put together a 16-page brochure on "Utah's Water Future." The brochure features the efforts and successes of the iUTAH project while outlining "how iUTAH is making a difference" in the state. Features in the piece include the concerns, consequences, and contributions that are being made through your research, training, and educational efforts. While printed copies of the brochure are available for distribution, a digital version is available online in the brochures sections of the website, here.
Creating the piece is just the first step in raising awareness of these efforts. We ask that you review this piece, use it in your presentations, and let us know new ways that it should be used to reach key stakeholders in the state. The knowledge we're gaining and the tools we're developing will help water professionals and other decision makers make informed choices and take appropriate action to secure Utah's water future.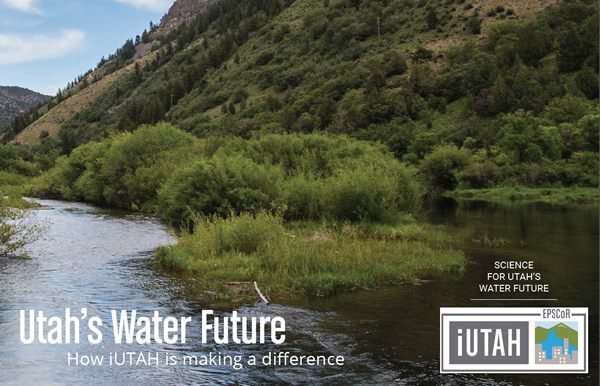 January 12, 2017
Utah Climate Scientists Anxious Over Threatened NASA Cuts...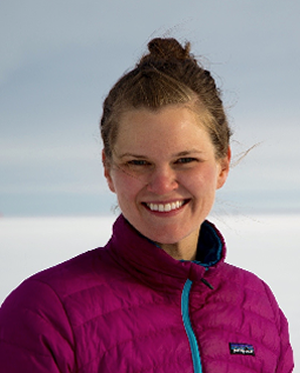 Utah Valley University and iUTAH researcher McKenzie Skiles was featured in the news. The Salt Lake Tribune recently reported on potential funding threats to NASA's climate research.
An excerpt from the news story said that Skiles "is worried about her ability to find future funding under Trump's administration. Her current funding doesn't come through NASA, Skiles said, but prior to accepting a position at UVU, she worked as a postdoctoral scholar in NASA's Jet Propulsion Laboratory. 'NASA is a place I would look to in the future" for funding, she said. "And if that funding is no longer available, that limits the opportunities.' Funding from NASA is especially important for young scholars."
Skiles is a recent recipient of an iUTAH 2017 Research Catalyst Grant which will fund her research looking at the constraining physical controls on snow hydrology along the Wasatch Front. The grant brings together collaborators from each of Utah's research institutions, including Janice Brahney, Utah State University, Greg Carling, Brigham Young University, and Jim Steenburgh, University of Utah.
Press: Salt Lake Tribune
January 10, 2017
UTAH iFellows Now Accepting Applications For Summer 2017
iUTAH is offering the iFellows Undergraduate Research Program for the fifth straight year on May 15 - July 28, 2017. The iFellows Program provides an opportunity for undergraduate students to gain first-hand research experience in the labs of iUTAH project scientists. iFellows are placed at either the U of U, USU, or BYU for the summer, and participate in valuable research, mentorship, science training and communication opportunities throughout the program.
We are recruiting undergraduate students from any Utah institution of higher learning. Students from institutions that primarily serve undergraduates and students of diverse cultural backgrounds are especially encouraged to apply. The program recruits students to assist with iUTAH-related research, which cover a wide range of academic disciplines. Applicants from any university major who are interested in research and water-related issues in Utah are welcome to apply.
Visit the iFellows Program page for information and to apply:
• The 2017 Program Application
• Information on the program, which offers a $4,500 stipend
• Recruitment materials (including printable flyers and a brief presentation)
Applications are due on February 10, 2017. Please contact Ellen Eiriksson, iUTAH Education, Outreach and Diversity Coordinator, for more information. We welcome you to share this exciting opportunity with students and faculty in your network.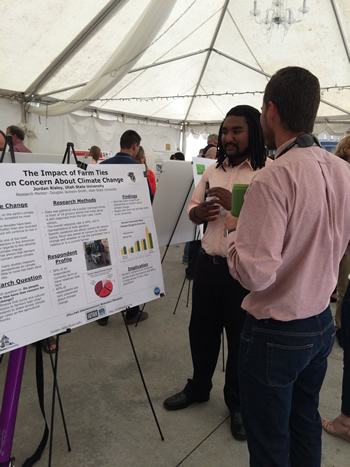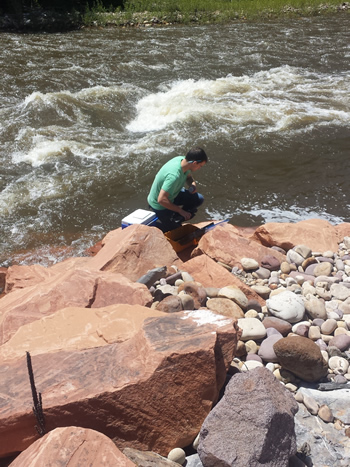 December 14, 2016
iUTAH Researchers Honored at AWRA Annual Conference
Three Utah State University researchers, Enjie Li, Joanna Endter-Wada, and Shujuan Li, were recognized with the 2016 William R. Boggess Award for their paper detailing water management challenges faces by the world's 28 megacities. The award was presented at the American Water Resources Association (AWRA) Annual Conference, held Nov. 13-17, in Orlando, FL.
An excerpt from a USU press release said that "supplying water is a major challenge for all of the study sites… each city's situation is unique. For example, Beijing and Mumbai struggle to supply sufficient drinking water, while dealing with too much stormwater. Los Angeles and Tokyo have the capability to recycle water to meet drinking water quality standards, but face social opposition to use of this water source.
'These challenges have serious implications - especially when you consider one in eight urban dwellers currently lives in one of the world's megacities,' Enjie Li says. 'Further, conservative growth projections by the U.N. predict another 13 cities will become megacities by 2030.' Though the Salt Lake City metropolitan area, with a population of about 1.14 million, is long from approaching megacity status, it also faces growing pressure from urbanization - especially in terms of water resources.
'There are common threads between big cities and little cities and we have much to learn from megacities,' says Endter-Wada, who serves as a team member for the statewide, NSF-funded iUTAH project. 'Utah is growing rapidly. It's easier to prepare for challenges, than to fix problems after the fact.' "
The article for which they won the awards was published in the Journal of the American Water Resources Association in June 2015, under the title Characterizing And Contextualizing The Water Challenges Of Megacities.
Press: EurekAlert!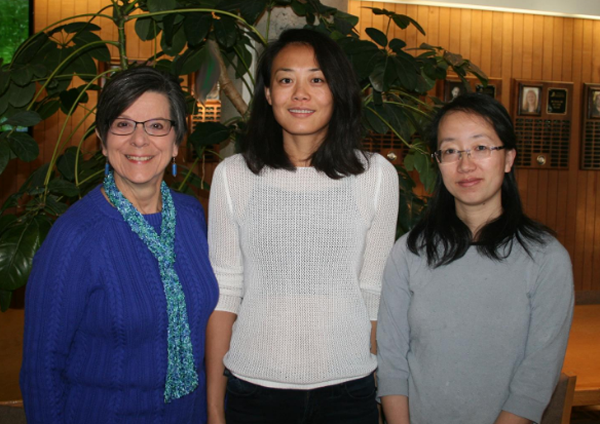 December 9, 2016
WSU Students Present Undergraduate Research
A mini-symposium was held for the fourth straight year on the campus of Weber State University. It featured research posters and presentations from iUTAH's Summer Institute and the Undergraduate Research Fellows (iFellows) Program. The event was co-hosted by Carla Trentelman, associate professor of Sociology, and Dan Bedford, professor of Geography and WSU honors program director, and attended by students, faculty, administrators, and friends of iUTAH
"The Weber State iUTAH team, and this is very much a team effort, has felt from the beginning that it was important to give our iUTAH students the chance to share their experiences with the WSU community more broadly," said Bedford. "We've had great representation from excellent students in all four years of the iFellows and Summer Institute programs, and it's good for everyone to see what excellent research our students were engaged in."
Faculty mentors also use the event as a recruitment tool, reminding all in attendance to start thinking about upcoming summer iFellows program, which students may apply for starting in January 2017. Students who attended this program included 2015 iFellow André Valle; Andrew Hackett and Cynthia Elliott, 2016 iFellows; and William Soule and Maggie England, representing two of the five 2016 Summer Institute peer mentors.
"The iUTAH collaboration has provided great opportunities for our faculty and students to engage in research and scholarship related to water resource management in the state, said Charles "Chuck" A. Wight, president of WSU. "I'm grateful to the faculty at Weber State, Utah State University and the University of Utah for their roles in mentoring our students while carrying out the research and in preparing their work for publication and presentation."
It is always an enriching experience to visit our partner institutions and see what the students have learned and gained on reflection, after returning to their schools in the fall.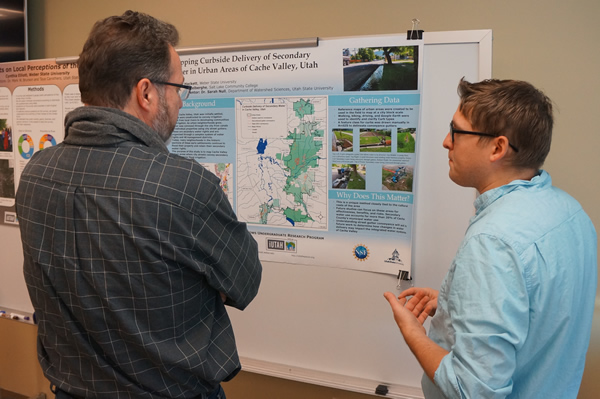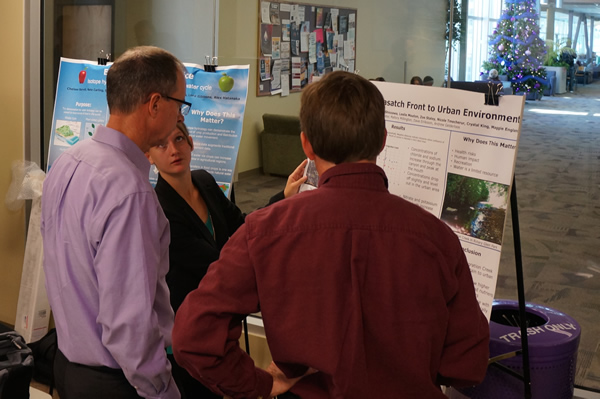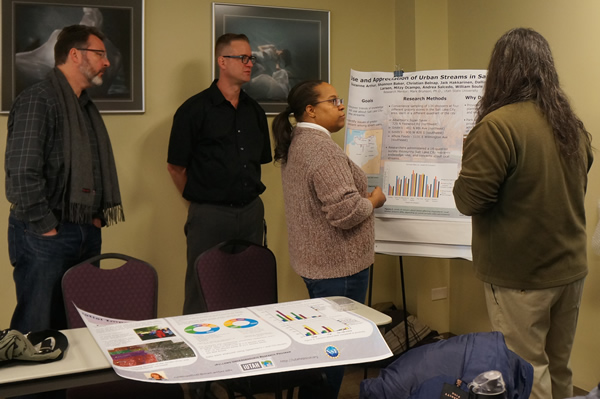 December 7, 2016
iUTAH is excited for its upcoming Spring All-Hands Meeting to be held on Friday, March 31 at the University of Utah in Salt Lake City. In building on past successful collaborations, we are partnering with the Office of the Vice President for Research at the U to provide a full-day forum and series of workshops for an in-depth look at integrating broader impacts into academic research activities. In the morning, a series of panelists and keynote speakers, representing both local and nationally renowned practitioners of broader impacts as well as engaged scholars from different areas of academia, will share their thoughts and approaches on science outreach and engagement working with, among others, K-12, citizen scientists, and under-represented minorities.
The afternoon workshops, led by many of the morning speakers, will be open to iUTAH participants, as well as faculty and students from universities and colleges from across the state. It will be especially helpful to those individuals looking to add strong broader impacts components into research proposals. In addition to workshops focused on career grant proposals and doctoral dissertation improvement grants, we anticipate adding workshops with topics ranging from K-12 to citizen science and beyond.
Pre-registration is required to attend, as we expect the event to fill quickly. Please watch our website for details on how to register, which starts in February 2017. There is no cost for the forum. Afternoon workshops will be interactive, and will include submission of a proposal, proposal idea, or call for proposals that a participant is working on. Workshop facilitators will select two submissions to be used as case studies for presentation and discussion during the workshop. Working in small groups, participants will receive feedback from workshop facilitators and other participants. "Learning by example" should engage and enhance all participants' experience in the hands-on activity.
Our goal is to train as many as 80 researchers and doctoral students in these workshops. We are confident that this will be a productive and enriching event that will further iUTAH's goal of advancing the STEM research enterprise in our state.