---

News and Highlights
December 6, 2016
Publication Highlights Web-Based Visualizations of Social Science Data
iUTAH's interdisciplinary approach to research creates interesting challenges and opportunities. One of these challenges involved the development of tools for communicating and disseminating the results of social science surveys. In general, survey data are typically interpreted by researchers and communicated with static reports and figures. Members of iUTAH's social science and cyberinfrastructure teams wanted to expand this approach and develop an interactive, web-based tool that would make the data available to a wider audience. Innovations in methodology, tools, and approach are featured in the October 2016 edition of the journal Environmental Modelling and Software.
Doug Jackson-Smith, Courtney Flint, and a number of other iUTAH social scientists conducted surveys assessing public attitudes toward water resources in Utah. As the project progressed, a tool was needed to help people visualize and access the results. Amber Jones and Jeff Horsburgh of iUTAH's cyberinfrastructure team became involved to determine the essential components of the tool. Code was then written by Mauriel Ramirez to create and implement the viewer.
"Most of my past experience has been working with biophysical data," said Amber Jones, iUTAH data manager and research engineer at Utah State University. "It has been rewarding to work with social scientists and learn about survey data." The result of this partnership is the survey data viewer, a website that allows direct access to the responses of the 6,000 adults who participated in the iUTAH Utah Water Survey. Questions range from attitudes about local water quality to concerns about environmental conditions. The results can be grouped by home ownership, age, or education level.
"The survey data viewer makes social science data accessible to anyone, and it is interesting to explore patterns in Utahns' responses," said Jones. "This collaboration and development wouldn't have been possible without iUTAH." Currently, the cyberinfrastructure team is working to apply the tool to additional surveys. This provides a simple interface to communicate the results of surveys to stakeholders, participants, and the general public. One example of how an iUTAH survey is being visualized with the interface and is serving the community can be found here.
Authors of the article include Amber Jones, Jeff Horsburgh, Doug Jackson-Smith, Mauriel Ramirez, Courtney Flint, and Juan Caraballo. The article can be viewed in its entirety under the title A Web-Based, Interactive Visualization Tool For Social Environmental Survey Data.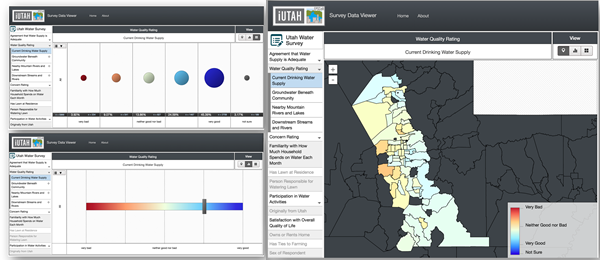 December 5, 2016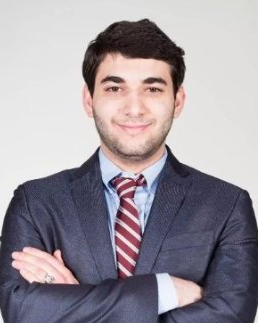 Areg Haytayan, our office assistant, is leaving in mid-December after almost a year and a half with iUTAH. While working as part of the office administration team, Areg handled a diverse portfolio of tasks, including event planning/management, staff/participant travel, and assisting with project outreach activities, such as student and participant tracking. Many of the events iUTAH has hosted over the past year and a half would not have been possible without his hard work and dedication.
We will all miss Areg's friendly personality, and would like to thank him for his work on the iUTAH project. While we are sad to see him go, we are excited for him to take this next step in his career, and we wish him well in his new endeavors in California.
November 23, 2016
International Cooperation: From Utah to Tyrol
University of Utah and iUTAH researcher David Bowling, was featured on University of Innsbruck website during his recent eight week visit to the university. An excerpt from the website news story said "Bowling spent eight weeks at the Institute of Ecology. The focus was on the joint work on the improvement of measuring instruments used in the investigation of the carbon cycle. The data are of great importance for climate change forecasts."
"We are concerned with how organisms are influenced by biological, physical and chemical factors in their natural habitats - and how these organisms in turn react to their environment," explains Bowling. "It is particularly important to understand which processes influence the metabolism of carbon, water or other nutrients."
Press: University of Innsbruck Newsroom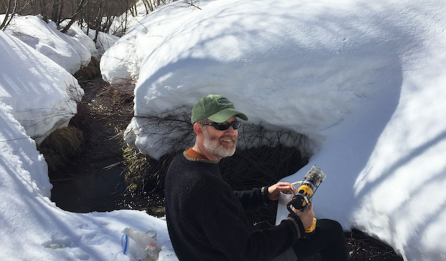 November 21, 2016
Travel Grants Help Participants Attend AGU
As part of ongoing professional development support for participants, iUTAH provides travel grants for presenting iUTAH research at conferences. Students, researchers, and instrument technicians have been funded to attend the 2016 American Geophysical Union (AGU) Fall Meeting, which starts December 12 in San Francisco, CA. This year's funded participants include:
Hannah Checketts, graduate student, BYU
Dylan Dastrup, GAMUT instrumentation technician, BYU
Dave Eiriksson, GAMUT instrumentation technician, UU
Rachel Gabor, iUTAH postdoctoral research fellow, UU
Amber Jones, iUTAH data manager and research engineer, USU
Brian Packer, graduate student, BYU
Matt Randall, graduate student, BYU
Undergraduate students, as well as other participants are encouraged to apply. To request funding for an upcoming conference, visit the iUTAH Participant Portal, and select the Support tab. In order to receive funding you must be presenting iUTAH-related research. It is recommended that you have a commitment of matching funds from your academic institution.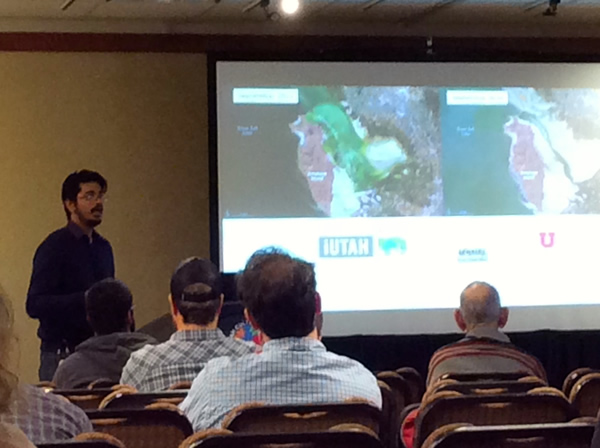 November 15, 2016
Fall All-Hands Meeting Looks to the Future
iUTAH held its third All-Hands meeting of the year on Friday, November 4, 2016, at the Courtyard Marriott in Provo, UT. The conference attracted nearly 70 participants who came together to discuss the "Focus on Facilities" theme, in hopes of inspiring initiatives and grant writing opportunities for research, training, education, and outreach as we move into iUTAH 2.0. Participants at the meeting shared their progress as our facilities were highlighted as catalysts for the next generation of iUTAH collaborative, multi-institutional, interdisciplinary research.
The opening welcome and conference overview was given by iUTAH Project Director Michelle Baker where she reviewed project goals and strategies for sustainability of the program. She also introduced GAMUT, GIRF, Visualization Lab (iVL), and Cyberinfrastructure as facilities that would be explored in more detail throughout the day.
Presenters at the meeting included Jeff Horsburgh, Taya Carothers, Amber Jones, Dave Eiriksson, Christine Pomeroy, Pratibha Sapkota, Martin Buchert, and Melissa Haeffner, all with iUTAH. Students Tony Melcher, Utah State University, and Treven Edwards, University of Utah, presented on research they had done with iUTAH Mentors. The final presentation of the day given by Laura Hanson of the Jordan River Commission, and was titled "How an Inventory of Open Space along the Jordan River Corridor is Assisting Regional Land Use, Conservation, and Natural Resource Management Planning." It highlighted the successful collaboration between her organization and the iVL group in the development of models.
"The meeting was a wonderful example of people having moved past the point of getting to know each other," said University of Utah professor and State Program Director of EPSCoR Paul Brooks. "Now it was almost difficult to get through the program because there were so many just incredibly important, engaging conversations about the future, about accomplishments, about look what we've done, and looking to what we could do."
In addition to presentations, participants also had ample opportunity to connect in networking sessions with other collaborators from across the state. Some presentations can be found on our website in pdf form:
Cyberinfrastructure and HydroShare
—Dr. Jeffery Horsburgh, iUTAH Cyberinfrastructure Co-lead, Utah State University
GAMUT: The Final Frontier
—Amber Jones, iUTAH Data Manager, Utah State University
Research Activities and Opportunities at the iUTAH Green Infrastructure Research Facility (GIRF)
—Dr. Christine Pomeroy, iUTAH RFA2 Co-lead, University of Utah
The 2017 iUTAH Spring All-Hands Meeting will take place on Friday, March 31, 2017 at the University of Utah in Salt Lake City, UT, as part of a larger Broader Impacts in Research Conference hosted in partnership with the Office of the Vice President for Research at the University of Utah.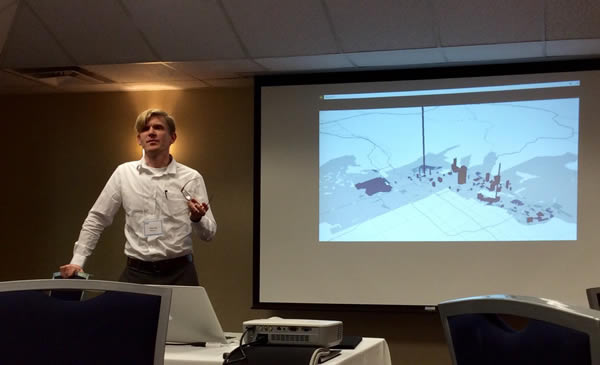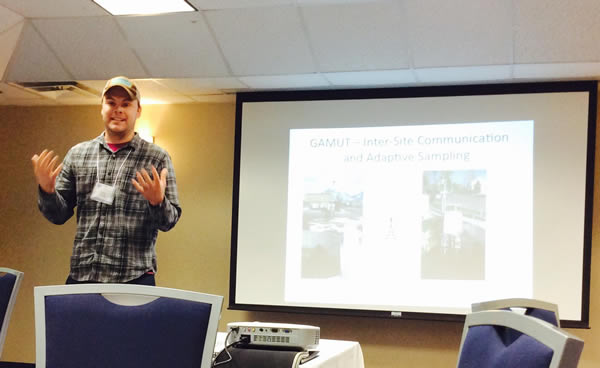 November 8, 2016
Computer Model Tracking Precipitation Makes The News
University of Utah and iUTAH researcher Court Strong was recently featured in the news. Fox 13 News recently revisited a report prepared for Governor Huntsman a decade ago that made some predictions about warming in Utah.
An excerpt from the TV news story said that "a third prediction in the report was that more precipitation would fall as rain instead of snow. Dr. Court Strong, a professor at the University of Utah, uses high-tech computer models to track precipitation. 'At some of the lower elevations we do see a decline in the snowpack,' he said. His research indicates we are still in the beginning stages of this transition. But because of warming, less precipitation comes as snow. Once it's on the ground, the snow that does fall melts earlier and faster."
Revisiting each prediction showed that the decade-old report has come true as Utah continues to see bigger storms, warmer temperatures, less snow, and compromised water quality that will continue.
Press: Fox 13 News