---

News and Highlights
February 23, 2017
Student Research on Utah Water Voices Survey Published
iUTAH undergraduate student researchers Phillip André Valle from Weber State University and Zack Oldroyd from Utah State University, along with sociology professor Courtney Flint and colleagues from USU, featured their work with the Utah Water Voices survey conducted in summer 2015 in a recently released paper. A summary analysis of the study has been published in the Journal of Rural Social Science.
Both Valle and Oldroyd were part of the iFellows program, a research experience for undergraduates focused on iUTAH water projects in the state. The paper and project highlighted public water perspectives in parks in two Utah cities using an interactive form on iPad tablets to guide paperless interviews, which were also audio recorded. More information and audio samples can be found at Utah Water Voices.
The abstract of the paper states that the "undergraduate research assistants played key roles in carrying out this intercept survey project, highlighting potential for future application of this method with students, community groups, or citizen scientists."
In addition to this paper on "Public Intercept Interviews And Surveys For Gathering Place-Based Perceptions: Observations From Community Water Research In Utah," the publication includes Carla Trentelman's research on "The Case for Personal Interaction: Drop-Off/Pick-Up Methodology for Survey Research," and "Effectiveness of the Drop-Off/Pick-Up Survey Methodology in Different Neighborhood Types," by Doug Jackson-Smith, Courtney Flint, Carla Trentelman, Grant Holyoak and others.
Journal Reference: Journal of Rural Social Science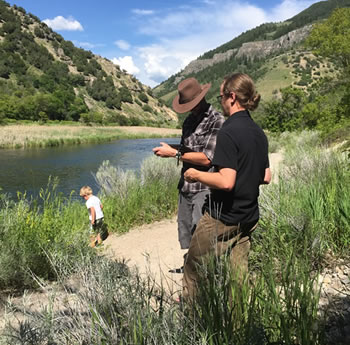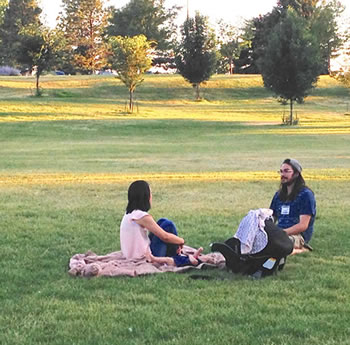 February 22, 2017
Welcome iUTAH's New Administrative Assistant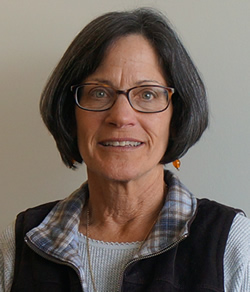 iUTAH welcomes Carol Rosenthal to its staff as our new administrative assistant. We are fortunate to have enticed Carol away from the delights of early retirement to join our team. She retired in 2012, after working 21 years within the Utah State University's Academic Success Center, where she was extensively involved in teaching, developing academic support programs, materials, and services to support USU students in achieving academic success. She looks forward to supporting iUTAH and its critical and challenging mission during these few months by helping out with clerical, reporting, and event coordination tasks.
Carol is well aware of the value and importance of iUTAH's mission of water research and sustainability, as she has embraced Cache Valley's magnificent mountains for 30 years. Since retiring, she has passionately pursued daily hiking, biking, and cross country skiing, as well as many road and camping adventures – all with her previous and current beloved canine companions. If you ever come across a ginger-colored Shepherd Husky cross with orange ribbons flowing from her collar, you have met Bella Rose and her human, Carol.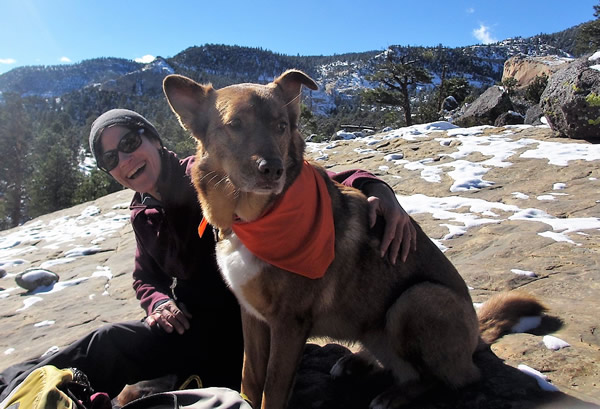 February 22, 2017
USU Sociologist Returns from Antarctica
Melissa Haeffner, a post-doctoral sociologist at Utah State University and iUTAH researcher, returned from an Antarctica science expedition in early January 2017. She was one of 76 women from 15 countries chosen to take part in the 'Homeward Bound' expedition - a new initiative aiming to boost the impact of female scientists.
The expedition's purpose was to facilitate research collaboration and leadership development for women in science. Scientists came from a variety of backgrounds, including astronomers, engineers, physicists, and doctors. Haeffner's goal was to study the human participants. She returned with interviews, pictures, and insight from her participation in the largest ever all-female expedition to Antarctica.
"As a social scientist who is more interested in the strange species of scientists than penguins, I relished the opportunity to study some of the top specimens in their fields" said Haeffner.
Since returning to Utah, she has been preparing reports and presenting her findings to students of all ages, scientists, and the community. Most recently, she presented to high school sophomores in Wisconsin via Skype, and to students and faculty at Utah State University.
When not traveling to far away places, Haeffner is part of iUTAH EPSCoR, a National Science Foundation funded interdisciplinary project where she uses a variety of social science methods to examine how people's views shape what we know relating to water resources in Utah.
Press: KUSU Radio | The Herald Journal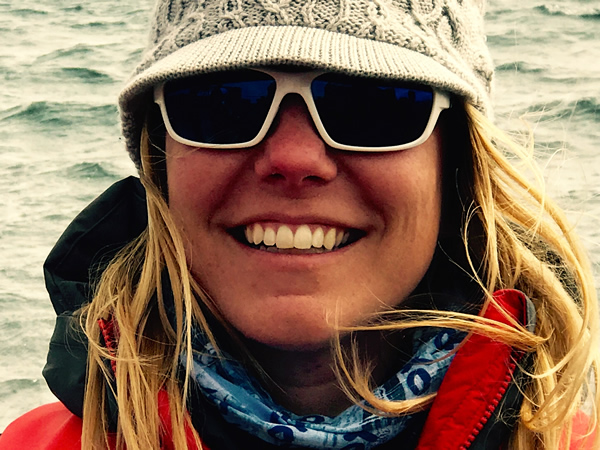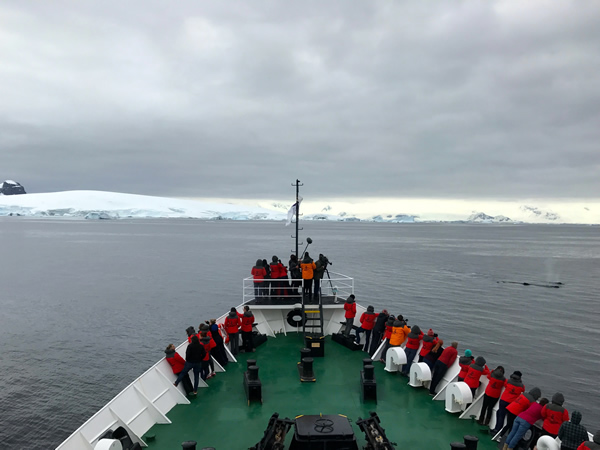 February 15, 2017
iUTAH Project Administrator Selected as AAAS Fellow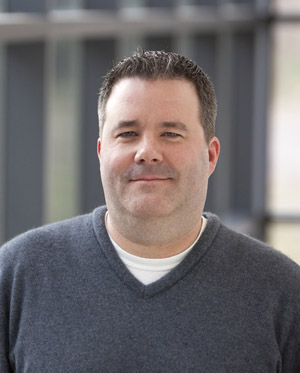 The American Association for the Advancement of Science (AAAS) has selected Andreas (Andy) Leidolf, iUTAH Assistant Director and Project Administrator, as one of 19 inaugural Community Engagement Fellows. The AAAS Community Engagement Fellows pilot program, aimed at improving collaboration and community building in science, provides orientation and support to professionalize and institutionalize the role of community engagement managers in the scientific community.
The initial cohort of fellows attended an orientation session in Washington D. C. for a week in January. At that session, they were introduced to AAAS leadership, content experts, and community managers using established engagement models to engage scientific communities. Among the tools that Andy brings back to Utah is a network of professionals and training in Trellis, a digital communication and collaboration platform developed by AAAS. He will return to AAAS for two additional trainings in 2017.
"USU was very pleased to have Andy Leidolf selected as an AAAS Community Engagement Fellow, and believes this prestigious honor underscores the value of Andy's contributions to iUTAH, and the critical role that collaborative science can play in helping Utah plan for future growth and development," said Jeff Broadbent, Associate Vice President for Research and Associate Dean, USU Office of Research and Graduate Studies.
Press: Utah State Today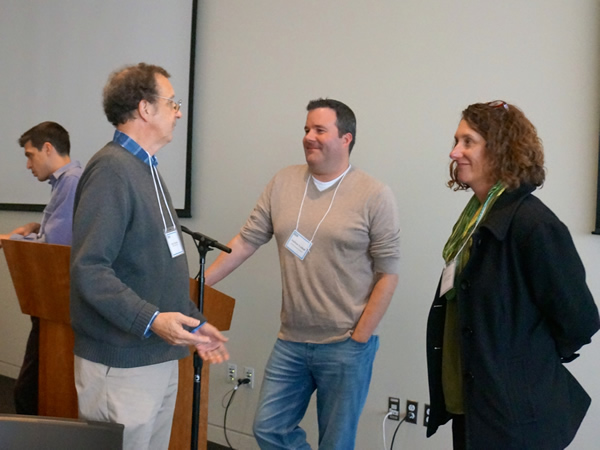 February 15, 2017
Sarah Null Receives Prestigious NSF CAREER Grant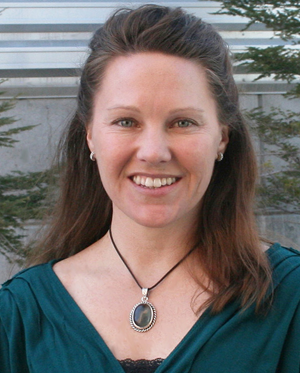 The National Science Foundation (NSF) has named Utah State University junior faculty member Sarah Null winner of an Early CAREER award. Sarah is one of four faculty members at USU to be chosen to receive the prestigious CAREER Award this year. Null's award provides a five-year grant of $510,000.
An excerpt from a USU press release said " 'Most water resources models consider flow volume and timing, but I want to look further,' says Null, who serves with the statewide iUTAH water project and USU's newly formed Climate Adaptation Science graduate program. 'My research aim is to explore water management effects on ecosystems and ways to improve aquatic ecosystem representation in water resources models.'
Using water resources systems analysis and physical geography, Null is developing mathematical models to explore processes and interactions of both built and natural water systems. Her research also includes field studies.
'With undergraduates and graduate students, our team will collect data on multiple aquatic habitat parameters, including temperature, dissolved oxygen, gradients and stream flow on the Intermountain West's Weber and Bear Rivers,' she says. 'We'll develop mathematical models to estimate processes and interactions of human and environmental water resources objectives and test them with field data.'
Such analysis, she says, will enable her team to quantify water supply, hydropower and aquatic habitat trade-offs to support water resource decision-making. 'Further, we can use models to predict climate change effects on hydrology, water quality and aquatic habitat,' Null says. 'Such information helps us identify promising adaptation and management strategies that are robust to change.' "
Press: EurekAlert! | Utah State Today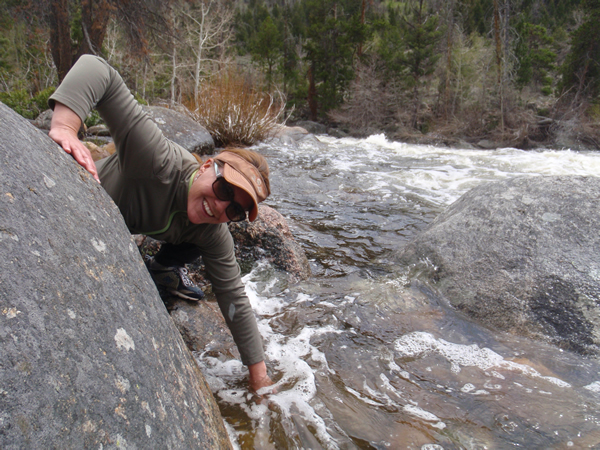 February 6, 2017
iUTAH Students Present Research on Capitol Hill
Undergraduate students from the University of Utah and Utah State University presented their research for Utah lawmakers in the rotunda of the state Capitol in Salt Lake City on Tuesday, Jan. 24, 2017. Due to weather-related issues, USU did not make it down for the event, and will showcase their work at a later date. Two iUTAH students were selected to present research:
Hyrum Tennant, USU student & iUTAH trainee, (mentor Beth Neilson)
Project title: Groundwater Influences on the Logan River Watershed
Adam Whalen, UU student & 2016 iUTAH iFellow (mentor Sara Yeo)
Project title: A Comparative Analysis of Attitudes Toward Drinking Water Between Utah and the Nation
The iUTAH project involves students in a wide range of academic disciplines all related to water research in the state. While participating in research, students learn valuable skills on poster development and engaging in one-on-one and group presentations. As a double major in Communication and Political Science, Adam Whalen said he was especially "excited about how involvement with research can have real world implications in government, and by extension, society," adding that "this presentation was a wonderful hybrid of my academic interests."

"Capitol Hill also proved to be a fantastic venue, it had an aura of importance and historicity that made me feel like I was a part of something greater for the state of Utah," said Whalen. "It one of the best experiences in my undergraduate career. It sparked the same creative drive I had during my time as an iFellow, and reminded me of why I got started in research in the first place."

More information on the event and participants is available in the articles listed below.
Press: UU News | Utah State Today | Deseret News | Daily Utah Chronicle