---

News and Highlights
August 16, 2017
iUTAH Research Links Urbanization to Groundwater Degradation
In a recent paper published in Environmental Science & Technology, iUTAH researchers examined the mountain-to-urban transition in Utah watersheds, specifically Red Butte Creek, to identify mechanisms by which urbanization impacts water quality. The article, published on July 21, 2017, found that urban-driven changes in water quality plays a significant role in urban degradation of surface water quality. After the sample analysis discussions, findings point to challenges of current water quality management and restoration efforts based on the use of popular stormwater management strategies in urban settings. Authors of the article include Rachel S. Gabor, Steven J. Hall, David P. Eiriksson, Yusuf Jameel, Mallory Millington, Trinity Stout, Michelle L. Barnes, Andrew Gelderloos, Hyrum Tennant, Gabriel J. Bowen, Bethany T. Neilson, and Paul D. Brooks.

The article can be viewed under the title "Persistent Urban Influence on Surface Water Quality via Impacted Groundwater."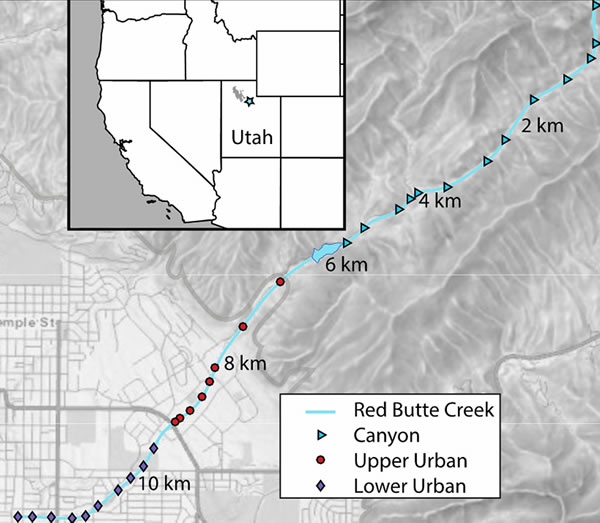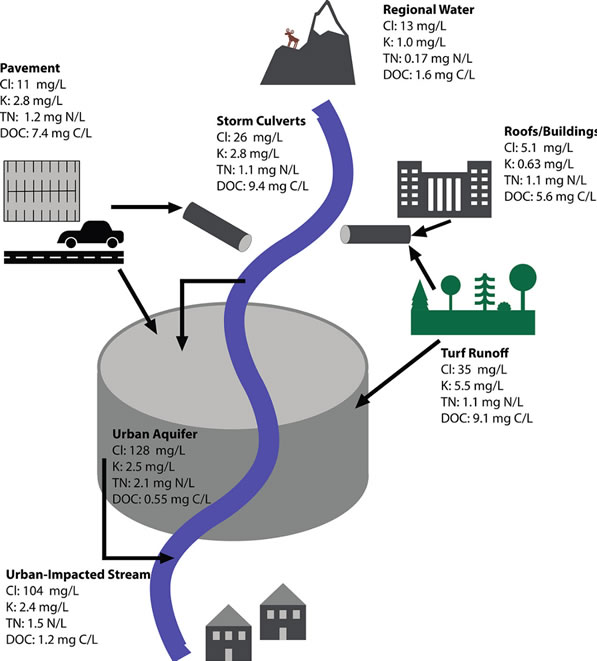 August 11, 2017
iUTAH Supports New Green Roof Display on USU Campus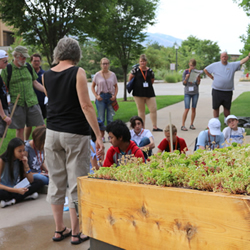 Middle school students and teachers from across the state were the first to see and learn about benefits of green roof construction in urban spaces through a new interactive display on the Utah State University Logan campus. Participants were part of the USU STARS! GEAR UP program, a combined effort of the Colleges of Engineering and Education at USU.
The display, located front of the Quinney College of Natural Resources, measures water runoff from traditional asphalt shingles verses green roof materials. In addition its visual appeal, the green roof portion is covered with a variety of living plants that slow down and cleanse the water runoff during storms. The side-by-side example allows students to see and count water amounts measured as they are coming off each roof. During a simulated rainstorm, the green roof reduced the amount of water running off to a surprising degree.
USU undergraduate student McKenna Drew said that development of the project came out of her experience working with Nancy Mesner, professor in the Department of Watershed Sciences and an Extension Specialist in Water Quality Extension at USU.
Drew said that while "teaching students and educators about ways that they could engage in monitoring water bodies throughout the state of Utah, she saw how effective hands-on activities were for learning."
"I saw an opportunity to implement this type of learning on campus," said Drew. "As a Landscape Architecture student, I thought that a green roof demonstration would be a great start to the potential of many more hands-on learning and research opportunities on USU's main campus," adding that "I have always had a big interest in green infrastructure and storm water management."
Drew was assisted in her project by USU faculty mentors, Nancy Mesner, Bo Yang, an associate professor of Landscape Architecture and Environmental Planning, and Mark Brunson, professor in the Department of Environment & Society and iUTAH Education, Outreach and Diversity director, as well as many others. She graduated in May 2017 with a Bachelor of Landscape Architecture, and now works for the Bureau of Land Management in Salt Lake City, UT.
The project was supported financially by iUTAH, a water research and education program funded by the National Science Foundation. The iUTAH project supports green infrastructure education programs on the University of Utah and Southern Utah University campuses, as well as at USU. They have partnered with groups such as Utah Water Watch on this project, and other education outreach signage to strengthen and promote an inclusive, diverse, water-wise community in Utah.
"My hope is that instructors on campus, and throughout Cache Valley, will not shy away from utilizing the display as a teaching opportunity and that people can see how easy it is to implement green infrastructure," said Drew. "I also hope that this project is a start to seeing more research displayed and monitored on campus, and am thrilled with the result of the display, thanks to the efforts of facilities, colleagues, mentors, and friends."
Press: Utah State Today | The Hearald Journal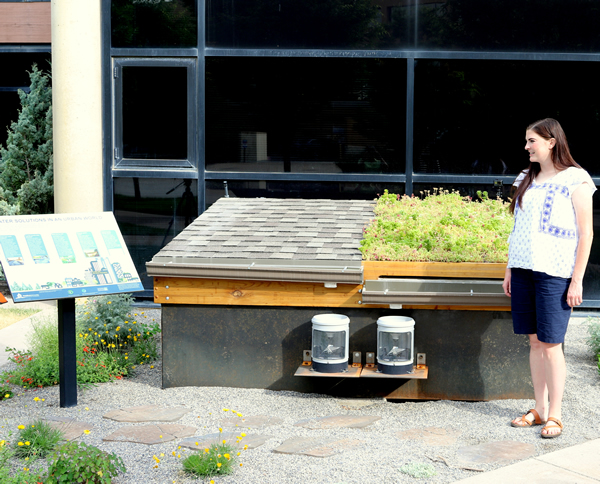 August 9, 2017
BYU Researchers Study Utah Lake Algal Bloom
iUTAH researchers Erin Jones and Scott Collins, along with associate professor Zachary Aanderud and GAMUT technician, Dylan Dastrup, have been in the news recently in connection with their research of Utah Lake's algae phenomenon. Here's what the research team and state agencies had to say to reporter Anna Bryner, in an excerpt from the August 3 article in Brigham Young University's The Daily Universe:
"'Once isolated, we can put (the cyanobacteria) in controlled environments and manipulate just a few variables at a time to really establish the values for which the bacteria respond by either growing exponentially or producing toxins,' Jones said.
The team will also analyze the nutrient levels of the varying forms of phosphorous and nitrogen in the lake. 'We'll be able to see what factors correlate with the algal growth for the different species that we find from sequencing,' said Jones. 'By (taking samples) weekly, we hope to be able to catch conditions leading up to blooms, which is where the environmental triggers actually occur.'
The researchers have also been collecting extra samples to send to the Utah Department of Environmental Quality, where the samples are analyzed to provide information to the public. 'They're a real big help for us because we don't have the resources to go down there on a weekly basis,' said Ben Holcomb, environmental scientist for the Utah Division of Water Quality.
According to Jones, collecting an extra sample for the department is 'not really much of a sacrifice.' 'They're spread pretty thin, so we're happy to do what we can to help contribute to the public health awareness that the cyanobacteria represent,' Jones said.
As part of the collaboration, the Utah Department of Environmental Quality provides data to the researchers about the analysis of the samples. 'It saves us a little bit of money and time by them being able to provide that analysis for us,' Jones said. According to Holcomb, the benefits are mutual. 'We're kind of complimenting each other on our needs, so it's been a really helpful process,' Holcomb said.
According to Donna Spangler, the Utah Department of Environmental Quality communications director, algal blooms are naturally occurring. The conditions that cause blooms to spread include sunlight, heat, stagnant water and an excess of nutrients. 'Under certain environmental conditions … (algal bloom) certainly has a tendency to spread,' she said."
Read the full article below for more details on how the iUTAH/BYU research team and state agencies are working together to help protect public health.
Press: The Daily Universe | Deseret News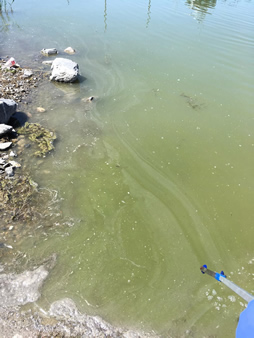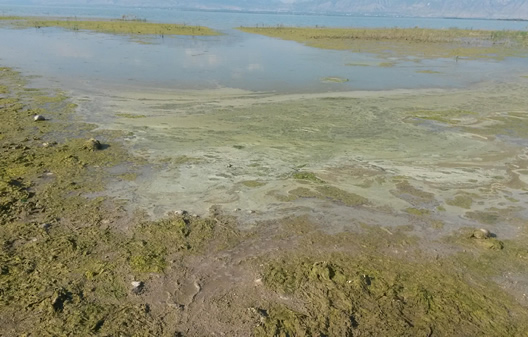 August 8, 2017
Engaging Community in Watershed Education at Utah Lake Festival
"Do you know what a watershed is?" This is the question asked of nearly 800 people by Erin Jones, Dylan Dalstrop, and Scott Collins who together ran an iUTAH/Brigham Young University booth during this year's Utah Lake Festival, which took place on June 3, at the Utah Lake State Park. Of those asked, only a few people, mostly 4th graders, were able to respond with any kind of coherent answer.
Asking this open-ended question led to a discussion on how a watershed is an area on the landscape where all the water drains to one place. In Utah, Utah Lake is one of these places, with water eventually making its way downstream to the Great Salt Lake. Through use of a hands-on display of a watershed, students were able to simulate a rainstorm by squirting spray bottles over the plastic model, and watch pollution they added flow down into the pretend lake.
After playing with the model, people were given examples of the personal connections they have to local water sources and what individuals and communities can choose to do to improve the water quality in their own landscape. Some of these choices that make a difference include picking up pet waste, not washing vehicles on lawns, and using less fertilizer and pesticides that flow back into Utah's waterways.
People visiting the booth were then told about iUTAH and shown the Utah Lake data on the Time Series analyst available to check on current water conditions at both GAMUT and Utah Lake sites. In the five years since the iUTAH started, the project has reached over 210,000 people through over 390 public outreach events statewide. Educational opportunities such as the Utah Lake Festival demonstrate the importance of ongoing outreach and education in building and maintaining a water-wise citizenry in the state.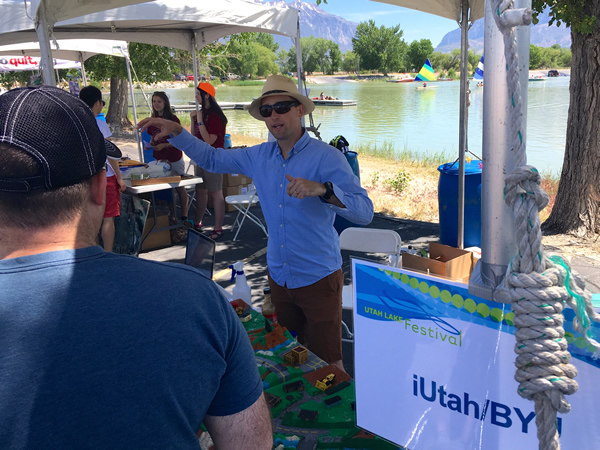 August 7, 2017
Carol Rosenthal, our administrative assistant, completed her commitment to the iUTAH project office. While working as part of the office administration team, Carol handled a diverse portfolio of tasks, including event planning, staff/participant travel, and assisting with educational activities, such iFellows. Many of the events iUTAH has hosted this spring and summer would not have been possible without her hard work and organizational skills.
We will all miss Carol's dedication to the task at hand, and would like to thank her for her work on the iUTAH project. While we are sad to see her go, we are happy that she will be returning to full retirement and an active schedule of her own choosing, including more time to spend with her canine companion, Bella.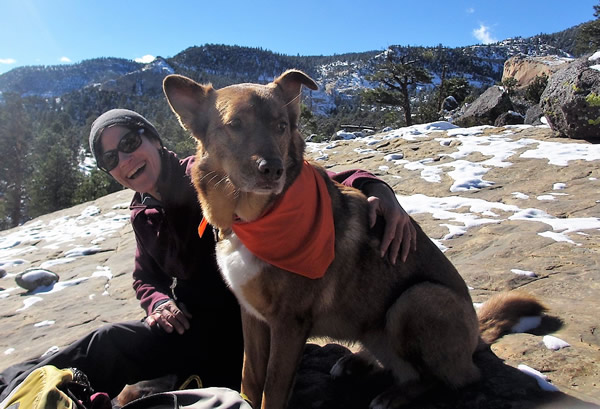 July 25, 2017
Michelle Baker Receives Pioneers of Progress Award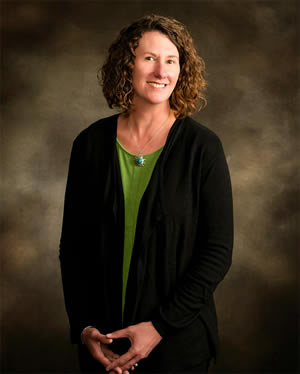 Professor of Biology, Michelle Baker, who leads water research efforts in the state as the project director of iUTAH, was recognized for her pioneering efforts in science and technology.
Baker, an associate of the Ecology Center at Utah State University, is one of six Utahns honored "who perpetuate a legacy of industry and integrity." Candidates are nominated by fellow Utah citizens, and selected by a committee, for their contributions to science and technology, business, education, creative arts, and civic engagement.
Baker says that her "life's mission is to understand and protect healthy freshwater ecosystems," and adds that "through collaboration and working as a team that we can make some big progress for water in Utah."
USTAR Executive Director Ivy Estabrook nominated Baker, and has this to say about her work, "she has been able to pull a team together from multiple institutions. She has trained students… and has done this in a team setting."
"Part of our mission has been to engage kids from kindergarten all the way up through graduate school," says Baker. "We've had almost 300,000 interactions with the public through outreach events."
Press: Deseret News | Days of '47 KUTV | Utah State Today